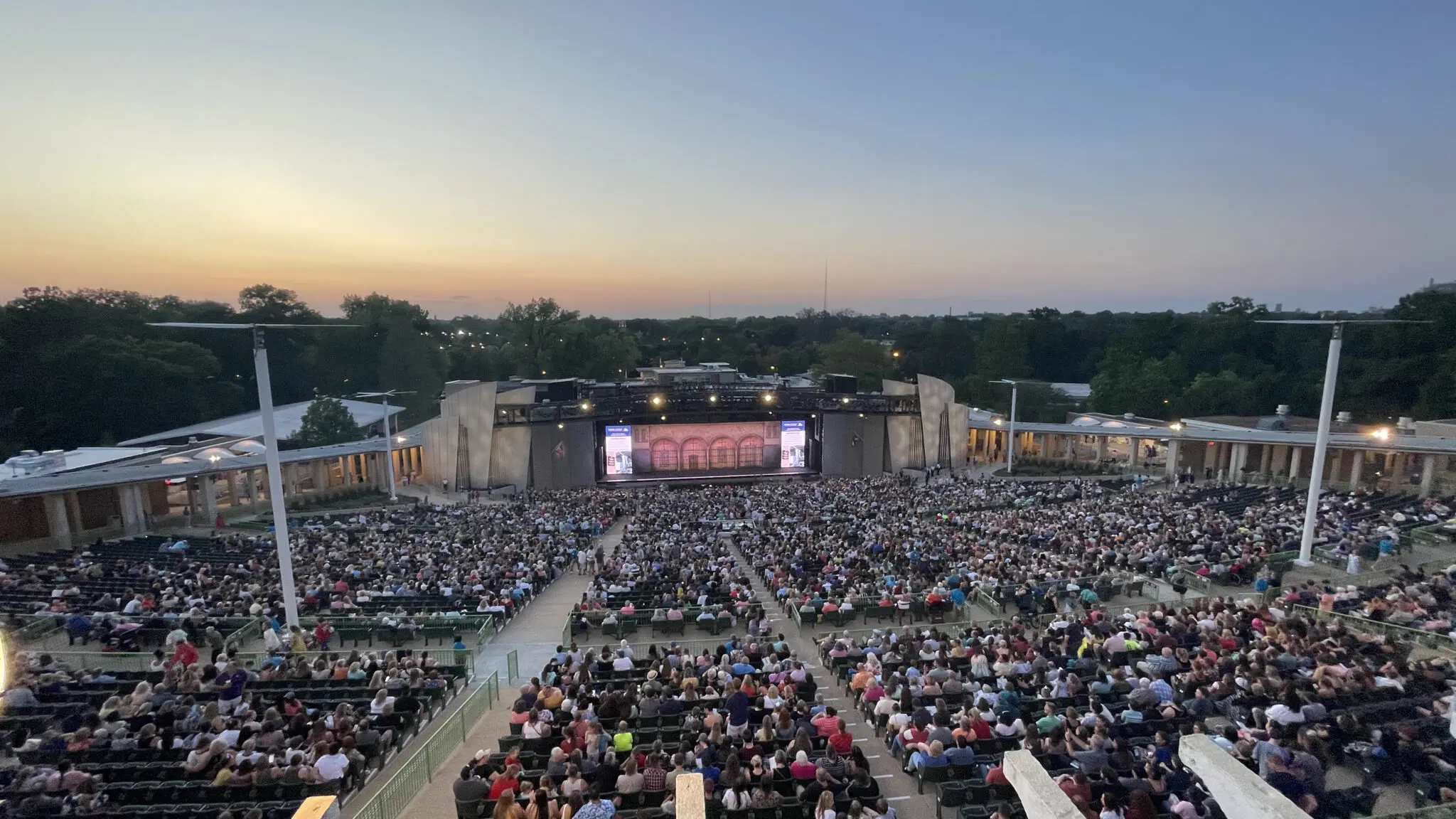 Second Century Campaign
MAGIC REIMAGINED
The Muny lives on BECAUSE OF YOU
"On behalf of everyone at The Muny, thank you," says Muny President & CEO Kwofe Coleman. "You have guaranteed that the tradition of this great institution—for and by the people of this great community—will thrive for generations. Your gifts are being used to evolve both our physical campus and the scope of opportunity and experience we are able to provide."
We announced this once-in-a-century campaign at our Centennial Gala in 2018 with an ambitious $100 million goal to ensure we all can enjoy a great show under the stars…created right here in St. Louis…for generations to come.
Renovations began in fall 2018, and to date our 11.5-acre campus has undergone a complete transformation and our endowment has more than doubled. The impact of this campaign will be felt for decades!
We are grateful for every gift made to this campaign – from first-time donors who attended one show and gave through a program envelope to multi-million dollar gifts from community leaders.
In spring 2022, we will dedicate a new donor plaza on the east lawn to permanently commemorate this historic effort. This new gathering spot will be a place to celebrate our past, honor all our donors and enjoy the national treasure that is our Muny. Make plans to joins us there for a pre-show picnic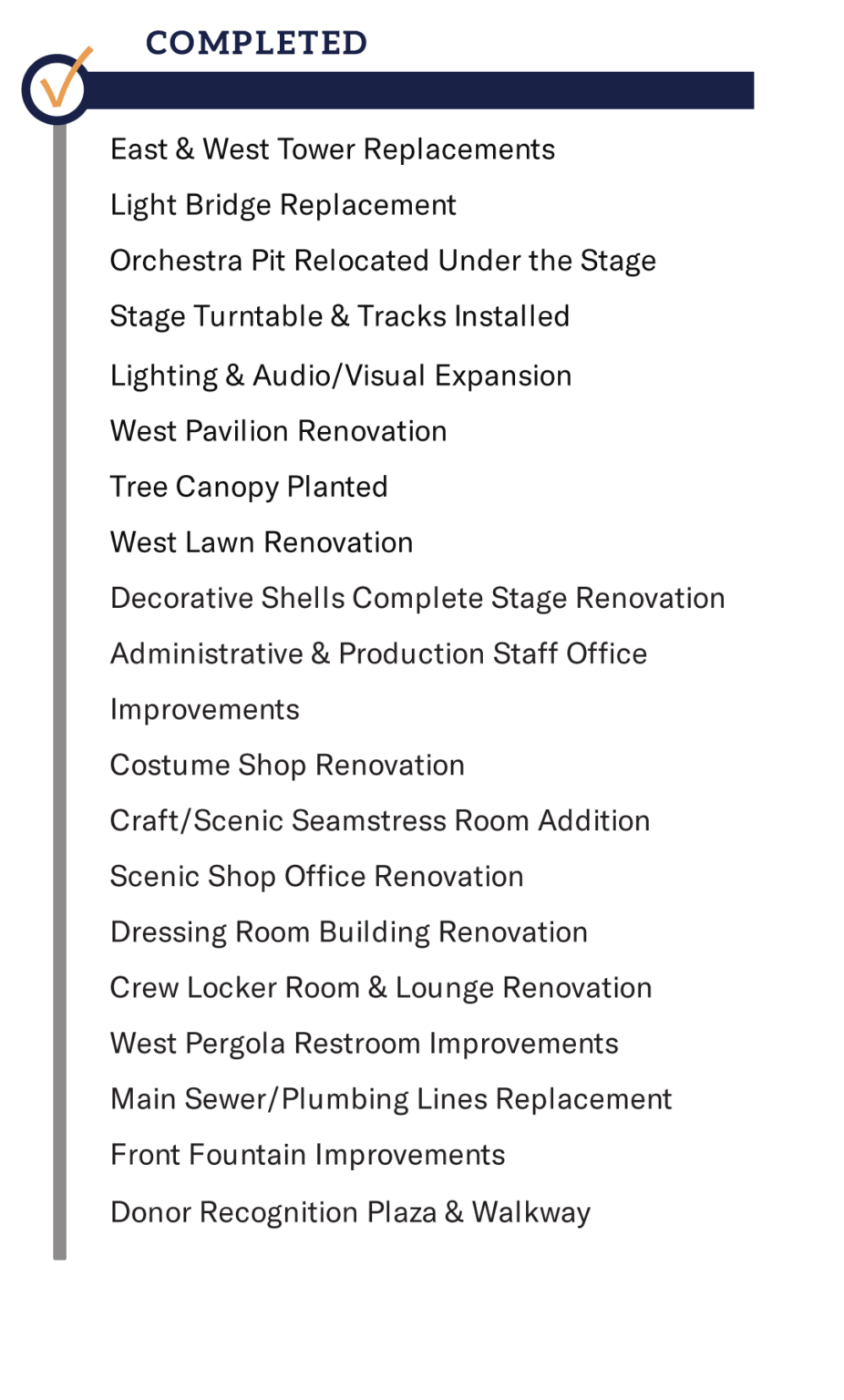 My father loved The Muny and would take the whole family. Those summer nights in Forest Park are among my happy memories, as are those of taking my own children and grandchildren to The Muny. I'm proud to know that this campaign will help to make it possible for my grandchildren to share the same tradition with their own families someday. There's music and magic on that stage, but behind the scenes are the technologies and the infrastructure that hold it all together. This is our chance to give a gift of great value to generations we can only imagine now.
One of the most fundamental means to bring people together is through the arts. The arts encourage different types of people to share a common experience, and enables them to use that opportunity to learn about themselves and each other. The Muny is an institution that has provided us that opportunity for nearly a century – what an irreplaceable, treasured blessing this community has in The Muny! For us, preserving this incomparable asset, for the coming generations to share, is incredibly important.
There have been very few great theatres in this country that have celebrated their 100 year anniversary. We are!! And we need to significantly invest in and transform The Muny to maintain and build upon its tradition of excellence. It's up to all of us to make The Muny the best that it can be—for our community, our children and future generations. I invite you to consider what The Muny means to you and to St. Louis, and to join me in making a gift to the Second Century Campaign. I can't think of a better way to celebrate The Muny's 100th season and to say thank you for the memories and the magic!
The Muny revealed to me at a very young age the limitless possibilities for a rewarding career in theatre arts. The training I received during those summers was paramount and has been instrumental in the development of my career. Thank you Muny for allowing me to be a part of your beautifully magical family.
It's a beautiful thing that The Muny has done. Every night there are 11,000 people packing that theatre. It's amazing! St. Louis loves The Muny.
For seven decades, generations of our family have shared evenings together at The Muny! It's an amazing place, with productions that have only improved over the years. I am so proud that St. Louis is the home of The Muny and that it has garnered such an amazing reputation around the country. May the next 100 years bring delight to many more generations.
For a hundred years St. Louisans have enjoyed their first experiences with musical theatre at The Muny, beginning their own summertime tradition to be shared with generations of family and new lifelong friends. And they have come to expect the best.

We embark on this Second Century Campaign with the ultimate goal of making sure that The Muny continues its tradition of unparalleled excellence and that it will, forever, be the place where St. Louis comes together.
The Muny helped me to learn what it is like to work with professionals and has showed me how fun it is to work in theatre. I have made lots of great friends here!
At the moment of our extraordinary anniversary, we honor our celebrated past by taking the vital steps to ensure The Muny remains "Alone in Its Greatness."

With your help, The Muny will continue to be a true national treasure, a powerful testament to the soul of St. Louis, and a gift to our citizens for the next 100 years, the women, men and children who will cherish this big, bold, beautiful theatre.
News and Notes