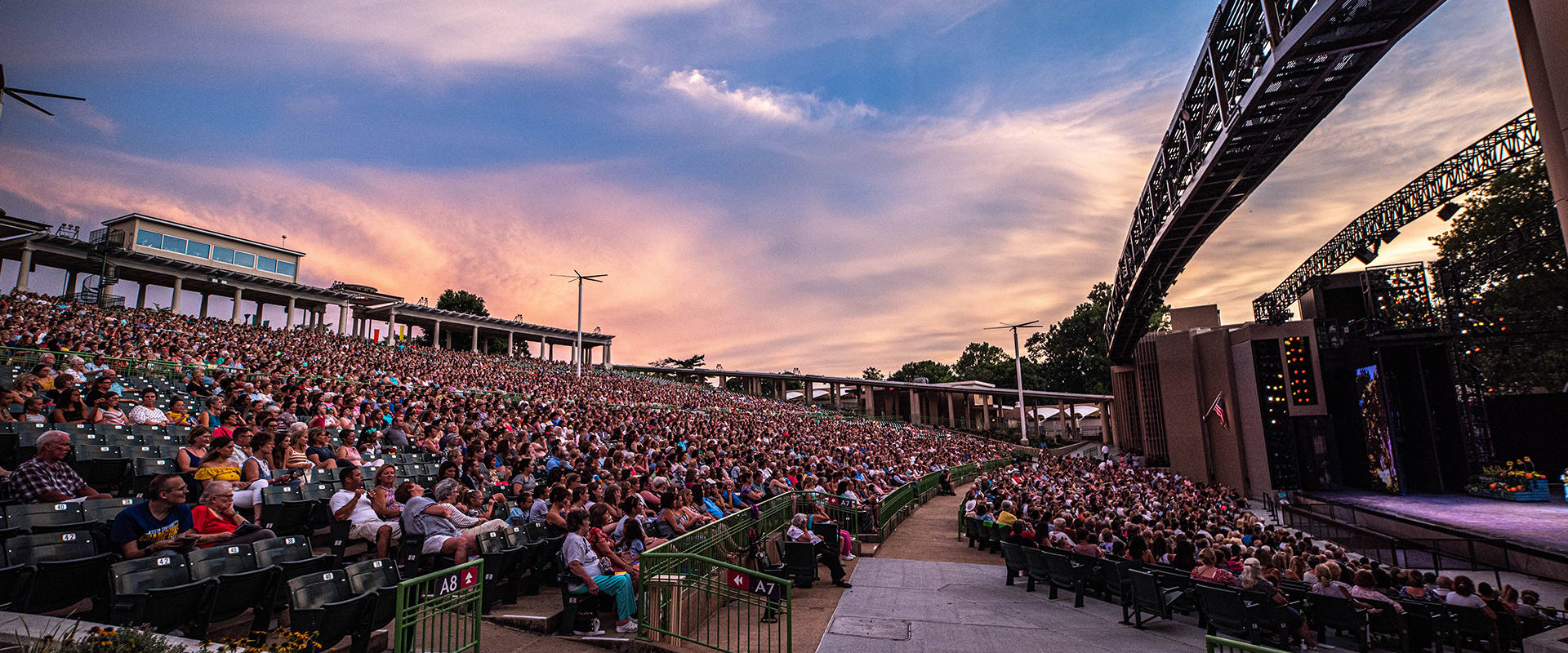 Visionaries
Muny Visionaries Honor Roll
Thank you to the following Muny Visionaries who made a gift to The Muny during the summer of 2020.
This incredible support from over 2,200 of our friends and community partners has helped our future remain bright. This donor class of "Visionary" was uniquely created during the unprecedented postponement of our season on stage in Forest Park.
Muny Visionaries join the ranks of philanthropic supporters who have been the backbone of The Muny since its first days. With their help and support we have emerged even stronger for season 103 in 2021 and onward into our second century.
Corporate and Civic Partners
Albers/Kuhn Family Foundation

Ameren

Augusta Winery and Montelle Winery

Bayer Fund

BMO Harris Bank

Centene Charitable Foundation

Crawford Taylor Foundation

Drury Hotels

Edward Jones

Emerson

Missouri Lottery

Pipe and Duct Systems

Safety National

SSM Health Cardinal Glennon Children's Hospital

Tarlton

Thomas A Kooyumjian Foundation

U.S. Bank

U.S. Bank Foundation

Wells Fargo

Welsch Heating & Cooling

World Wide Technology
---
A
Anonymous (300+)

Anonymous Wednesday Friends

Cheryl & Murray Abrams

Laura & Bruce Abrams

Stanley & Ann Abrams

Aleda Ackerburg

Frank Adam, III

John & Sandra Adams

Larry & Nancy Adams

Viki Aghetta

John & Natalie Alberici

Lisa & Michael Albers

Tim & Brenda Albers

Carolyn Albert & Tracey Baird

Judy Albo

Rose & Peter Albrecht

Deborah Alcorn & Diana Voorhis

Emily Alevy

Carolyn Alexander-Nelson & Teresa Alexander

Dorothy L. Alexander

Mr. Dale L. Allen

Al & Bea Amato

American Medicare Counselors

Milan & Jagu Anadkat

Joseph Anderson

Robert & Barbara Anderson

Mr. & Mrs. William Anderson

Mike & Becky Andert

Kurt Andrew

Elouise & William Andrews

Anne Angle

Tonia Angle

The Anzalone Family

Sandra Applegate & Karen Torretta

Travis & Lisa Arends

Mrs. Deborah A. Armbruster

Jim & Mary Armistead

Liz Armstrong

Ted & Kathryn Armstrong

Laura Arnold & David Kimball

Nathan, Sara & Ellie Arunski

Harlan Ashton

Mary V. Atkin

Tom & Cindy Atkinson, Jr.

Susan & Forrest Attaway

Thomas C. & Lorraine M. Atwood

David & Jennifer Aubuchon

Elayne & Rich Audrain in memory of Margaret Arnold

Tracey & Shaylea Auer

Ann Austin

Don & Becky Austin

Cary Aye
B
Ann Baker Babington

Algis & Elizabeth Babusis

Cathy Bach

Karen Bade, Elizabeth Swoboda, Beverly Sumpter & Marsha Burns

Anne & Jack Bader

Mr. & Mrs. Thomas Bahn

Linda Baker, 4th Generation Season Ticket Holder

Mary Baker

Larry & Carole Balsamo

Mr. & Mrs. Philip Bamberger

Andrew Banning

Julie & John Bantle

Mike & Barbara Baranovic

Naomi Barasch

Mrs. Ann M. Barclay

Dottie & Steve Bardon

Wayne & Mary Jo Barker

Barlow Photography, Patrick Barlow

Joycelyn & Mark Barnes

Trisha Barney

Barrett Partners, LLC

Dan W. Barrett

The Bartley Family

Neil & Cheryl Bartnett

Heidi & Morgan Barton

George & Cindy Baskin

Basler/Guiett Family

Martha Bassler

Thomas E. Bauer

Jennifer & Daniel Baumann

Estate of Andrew N. Baur

David & Jill Baxter

William & Angela Bay

Anisa & Jonathan Bear

Julie & Lee Bearman

Mr. & Mrs Don Beaver

Cindy Beckmann

Tom & Michele Beger

Alice & Pat Behan

Patti Behlmann in memory of Ruth & Calvin May

Linda Behrmann

Gail Beisman

Belden, Inc.

Christy Bell

Shelly Bell & Carol Davis

Karen Norris Bellville

Melanie & Lindsey Bennett

Traci Bennett

Ms. Amy C. Benoist

Rose Anne Bense

Judy Benson

Bob & Diane Bentz

Amy Berg & Lisa Kuthe

Lee Berger

Benjamin Bergman

Phil & Tina Bergman

David & Elaine Berland

Paul & Carol Bernache

Karen Bernstein

Nancy Bernstein

Bertha's Girls

Rob & Anna Reby Bertman

Margaret & Quent Besing

R. Beuc Architects, Inc.

Gary & Debra Bextermueller

The Biagi Family

Mr. & Mrs. Timothy Bidwill

Dan & Barbara Bindler

Adam Birenbaum & Gretchen Sander

Mr. & Mrs. Ben M. Bishop, Jr.

Marion & Van-Lear* Black

Susan & Ron Black

Chad & Heidi Bladow

Dennis & Terri Blase

John Blase

Mrs. Marian S. Bleeke

Chris & Patti Blumeyer

Helen Boatright

Leonard Bobrowski

Ms. Lynn Bodenheimer & Mr. Ray Finegan

Steve Boemler & Rosa Brefeld

Gwendolyn & Larry Bogan

Sheri & Shawn Bogener

Angie Boger

Dr. & Mrs. George Bohigian

Michael & Rhoda Bohlmann

Linda Bohn

Stacey M. Bohning

Jeff Boland

Sandra Boll

Mary & Tony Bommarito

Patricia Bommarito

Patti Bone

Rick & Kim Bonin

Laura Bonskowski & Christine Harper

Jim Book

Joe & Betty Bordeaux

Karla Boresi

Margie Borges

Barbara Boschert

Carol Bostick

Bottorff/Foy Family

Kathleen & Kristine Bouckaert

The Bowers Family

Rob & Susan Bowman

Patricia Ann Bowolak

Carolyn Dress Boyd

Craig & Louann Boyd

Charles & Jeanne Boyer

Kathy Boyer

Paul & Marcia Brackman Family

Glenn & Sharon Brady

Tim & Marianne Brady

Robert B. Branch, Sr.

Nancy Brand

Donna Brandt

John & Judy Brandvein

Mr. & Mrs. Roy Branneky

Mr. & Mrs. David Braswell

Mr. & Mrs. Stephen F. Brauer

Suzy & Beau Brauer

Christine Braun

Brave Inc.

Jim & Suzanne Breckenridge

David & Kimberlee Brede

Mark Breihan

Cory & Stephanie Brennan

Mr. Rick Brenner

Sue Brewer

B & J Bridgeforth

Barbara & Dolph* Bridgewater

Albert & Jean Briggs

The Brimmer Family

Mike & Genny Briner

Mrs. Judith L. Briscoe

Ely & Carla Britton

Mr. & Mrs. Bart Brnjac

Mr. & Mrs. Edwin B. Broadhurst, III

Lou & Gail Brock

Stephen & Alice Brod

Bill & Penny Broderick

Tom & Cheryl Broekelmann, Sr., Linda Straub, David & Linda Straub

Cynthia Brooks

P.A. Brooks-Gibson

Mike & Cherie Broughton

Thomas & Ruth Brouster

Christy & Steve Brown

David & Cathy Brown

Don & Joann Brown

Dr. Jane Brown

Joseph Brown

Julia & Robert Brown

Sandra Brown

Lisa Browner & Patty Wooff

Thomas & Sandra Brownlow

David & Lisa Bruce

Elizabeth Brune

In honor of Lillian Brune

Sharon Brunts & Linda Horodenski

Bruce & Michele Bryan

Pam Bryan

Barbara Bryant

BSI Constructors, Inc.

Jacqueline Bulaga

Becky Buncher

Lois & Laura Burch

Stan & Kathy Burcham

Dr. Stephen & Jessica Burger

Tony Burger

David & Liz Burke

Peggy Burke & Dolly Kirsch

Wade & Angie Burns

Shelley Burris

Janell Bursac

Donna Burshek & Mark Kennebeck

Jennifer Butler

Jim & Janet Butler

Steve & Karen Bynum

Michael Byrne & Sandra Duchon Byrne
C
Elizabeth Callan

Hilda Callol

Caminiti & Strohl Family

Elizabeth Henke Campbell in memory of Frances Henke

Bob & Sandy Cannon

Steve Cannon

Paula Canoy

Leasa Caperton

Jean Carey-Brendle & Steve Brendle

Cargal Girls

Jeff & Patti Carr

Nikki Carrow

Meri Cartee

Jeffrey Richard Carter, D.M.A.

Robert & Nancy Carter

Ann L. Case

Regina M. Burton Casey

Amanda & Carter Cashen

Cass Information Systems, Inc.

Jeff & Nancy Cassens

Deborah Cataldo & Catherine Puent

Louis & Rochelle Cella

Centene Corporation

Central Bank of St. Louis

Kent & Jennifer Cerneka

Barry T. Cervantes

Denise Chachere

Dave Chady

Roger & Tracy Chamberlain

Don & Susie Chamberlin

The Champaign Family

Cindy Chancy, Karen Buchheit and Ken & Diane Diekemper

Lesley Chaney

David Charak

Ashley Cheatham

David & Maggie Chi

Greg & Katie Chopin

Julie Christiansen

Connie & Gerry Christman

Paul & Jane Christman

Christy Industrial Holdings

Deborah Chuk

Mary & Robert Ciapciak

David & Barb Cimarolli

Sue Clancy

Maxine Clark & Bob Fox

Pam Clark

John & Marigrace Clarke

Jennifer Clarkson

Donald Claus

Clean Uniform Company

The Victor Clever Family

Deborah Clifton

Raymond Clyde

Richard Cochran

Ed & Laura Cockrell

Golda M. Cohen

Marjorie Coleman

Wayne K. Collier in memory of Patricia Suzanne Collier

Christine Collins

Barbara Combs & Family

Mr. & Mrs. Frank Condellire

Mr. & Mrs. Parker B. Condie, Jr.

Brian, Jodi, Elseah & Eli Congiardo

Consumer Collection Management

Jeff & Rebecca Cook

Jim Cooper & Natalie Fox

Joseph Cooper in memory of William P. & Beulah M. Cooper

Peggy & Michelle Cooper

Yvonne Marie Corcoran

Christine, Joseph & Giada Corio

Stephanie Cornelius

Tonya & Mylisa Cowin

Andrew & Susan Cox

Mrs. Joe Cox

Michelle Crabbin & Pam Ganninger in memory of Wanda & H. William Palm

Dan & Anita Craig

Ruth Crawford

Lori Crossman

Mr. & Mrs. James E. Crowley, Jr.

Owen Crump

Mr. & Mrs. Stephen C. Culver

Daniel, Andie & Jordan Cuneio

Nelson, William & Albert Cunliff, Ruth Cunliff Russell Luke & Carol Luke Donelan

The Cupples Family

Betsy & Alyssa Cuquet

Durb & Ellen Curlee

Bob, Laura, Mark & Sarah Curtin

Ted & Judy Custer

Wesley A. Custer, Jr.

Dr. Gil & Laura Cyr

The Cytron Family

Cynthia Czaicki
D
Jim & Kathy Dacey

Sherri Dahlheim

Susan Daller

Mr. & Mrs. Thomas P. Daly

Nick & Hope Damato

Michael & Kimberly Dambach

Dr. & Mrs. Ralph Damiano

Chris & Molly Danforth

Bob, Carolyn & Todd Daniels

James D. & M. Anne Daniels

Tom & Tim Danis Charitable Trust

Hank & Vicki Darabcsek

Connie Dauphinais

Bonnie David

Clark & Jeanie Davis

John & Susan Davis

Pat & Joe Davis

Shelly Davis

Dawn, Elizabeth & Mallory

Jo & Tom Dawson

Dorothy & Randy Dean

Tom & Laura Dean

Mr. & Mrs. David Deatherage

Pamela Debandt

Barbara Decarolis

Daniel & Julia DeFeo

Jonathan & Patricia Dehner

Delta Dental of Illinois

Tim & Martha DeMent

Dennis & Jan Denby

Stan & Jeanine Denton

Linda Deposki

Michael Dern

Wallace & Lynda DeShon

Sabrina Deterding & Frannie Menard

Deters Family

Verna Detmer

Glen & Patti Deutsch

Joan & Pat Devine

Sandra Devoto

Judy & Adam Dichsen

Ms. V.J. Dickson

Dierlam & Gettemeier Families

Gretchen Diether-Haake & Tom Haake

John Dietl

Jaime Dill

Mary DiMaria

Nickolas & Katherina DiMartino

Patricia DiMercurio

Gretta & Kathryn Dixson

Nettie Orthwein Dodge

Tony & Judy Doehring

Tina Doerr

Michael L. Donald

Donelson Family

The Donnellys

Dennis Donnelly & Rebecca McDermott

Sr. Pat Donnelly & Sr. Pam Harding

Ruth & Terry Donnelly

Dave & Kim Donermeyer

Thomas A. Dooley

Susan Dorn

Suzanne Dorris

Patrick & Carol Dorsey

Teresa Dorshorst

Jason & Margaret Doty

Dr. & Mrs. Charles H. Dougherty

Jill & Ed Dowd

Timothy P. Dower

Susan Doyle

G.S. Dragon

Mary & Fred Drakesmith

Tom & Jean Drazen

Matthew & Patricia Dreifke

Mildred & Alfred Dressing

Dr. Kara Driscoll & Mr. Derek Neathery

Robert Drury

Shirley & Charles Drury

The Dubach Cousins

Ellen & Henry Dubinsky

Kathy Duehren

Corine & James Duft

Dr. & Mrs. Joseph M. Dugan

Tom & Kathy Duggan

Laurie Dulle

Jan & Terry Dunaway

Patti & Colleen Dundon

Becky Dunn

Mark & Patrice Durham

Ms. Nina O. Durham*

Kim & Dan Dykas

Dan & Charla Dziedzic
E
The Eaton Family

Mr. & Mrs. William Eckert

Alice Eckhoff, Joyce Baker, Lorri King, Carolyn Cates & Sue Merz

Kevin & Debi Edwards

Don & JoBeth Effertz

Herb & Jackie Eggerding

Dan & Mary Eggleston

Mr. & Mrs. Lane Eichhorn

Rosalie Eickhoff

Edward Eigelberger

Margaret Eisenhart

Georgia Elder & Family

The Ellenhorn Family

Melissa & Robert Elliott

Susan & Howard Elliott

Ellis Dental

Lisa Ellis

Leslie Elpers in memory of Claire Krawll

Emerson

Empire Comfort Systems

Thomas & Celeste Engel

Susan J. Engelke & Lisa Jo Engelke

Kristin Engle & Judi Winker

Susan Erickson

Gene & Melissa Erker

Margaret Eschete & Pam Zavadil

Essex Industries

Mr. & Mrs. Otto Etzel, Sr.

Dr. & Mrs. Ronald Evens

Lloyd & Connie Evitts
F
Dr. Michael & Linda Faddis

Annette & Mark Faerber

Nuri & Sheri Farber

Dave Fahrenkamp & Kelly Hahs

Terese C. Fairchild

Mike & Trish Farano

Dr. & Mrs. Tom & Gretchen Farrell

Donald Fassold

Carolyn Fava

Robin & Gary Feder

Gary L. Feldman

Rose Ann Feldman

Stacy & Melissa Felps

Katie Fenlon

Joshua Fenner

The Ferguson Family

Leslie Ferguson

Michael & Janice Fernandez

Dr. Robert & Linda Ferrara

Cindy Fetter

Teresa M. Fey

Mr. & Mrs. William Fiala

Paula Fielder

Bob & Marlene Fields

Jacqueline Fields

Kristine M. Fields

Susan & Tom Fields

Steve & Linda Finerty

John & Marti Finkenkeller

Margaret Finley

Joyce Finneran

Barbara Koeger Fisher

Jim & Donna Fisher

Max & Cindy Fisher

Ruth & Tom Flanagan

James & Tonja Flannery

Jackie Fletcher

Michael & Kathleen Forbes

Denise Lampe Ford

Janet Ford

Jean Sims Fornango

Karin Forsythe

James & Virginia Foshage

Jim & Barb Foster

The Four Caleres Gals

4 Staunton, IL Ladies who love The Muny

Ray & Mary Fournie

June McAllister Fowler

Irene Fox

Sam & Marilyn Fox

Don & Ann Franke

Steve & Mary Beth Franzen

Mark & Kathy Fraraccio

Dr. Daniel & Norma Fraser

Matt & Jeannie Freeman

Diane Freiermuth

Phillip & Marianne Freiling

Joe & Kristin Freund

Ted & Billie Frey

John & Dawn Frierdich

John Fries, Jr. & Trudy Busch Valentine

Helene & Phil Frischer

Jo Ann & Gary Froehlich

Ron & Cheryl Fromm

Frontenac Engineering

Tony, Kristin, Holden & Sawyer Frost

Tom & Kim Funke

Sabrina & Tricia Furman in memory of Jeffrey Furman

Julie & Dan Furtwengler

Mr. & Mrs. Lou Fusz, Jr.

Dr. & Mrs. Charles D. Fuszner

Dena & Brenda Futrell
G
Chris Gaddy

Dan & Alison Gaffney

Mrs. & Dr. Jeff Gaffney

Christopher Gagliano

Marilyn Gagliolo

Margaret Gale-Wells

June & Charles Gallagher

The Gannon Family

Joe M. Garavaglia

Delia Garcia MD

Betsy & Spencer Garland

Laurie Garland

Dana Garner

Mr. Jerry Garrett

Connie & Bob Gasko

Robert A. Gau

Greg & Celine Geerling

Michele Geiger in honor of my mother & great aunt

Laura Geiser

Al & Ruth George

Sheila Gephardt

Debbie & Amy Geppert

Mrs. Jane R. Gerritzen

Alan Gerstein & Ilene Wittels

Joe Giaminetti

Mr. Jim Gianladis

Tom & Helen Gibbar

Florence Gibson

Linda & William Giese

Linda Gieseking

The Gifford Family

Charles A. Gilbert

Pam Gilbert

Joe & Melinda Gildehaus

Jane Gillam

Helena & Holly Gillette

Nicki & John Gillis

Dr. Richard J. Gimpelson

Marvin A. & Sandra Ruth Ginsberg Family

Pam Girard

Michelle Glass

Julia Gleason

Stephen & Donna Glenn

Jerome Glick

Leo, Rosemary & Mary Kate Gliedt

Ms. Linda Gnaegy

Jackie Godi

Susanne Goebel & Ingrid Soraghan

Trudie Goering & Carol Kilzer

Paula Goerss

Nancy Goessler

Patricia M. Goessling

Ed & Dorette Goldberg

Caroline & Etai Goldenberg

Devy & Jerry Goldenberg

Stacey Goldman & Tim Greenwald

Teresa Goldstein

Julia Goodell & David Barnes

Andy & Peggy Goodman

Terri Goodman in memory of Mark, Barbara, Barnett & Jayne Goodman

Alisa Gordon

Nicole & Gabriel Gore

Terry A. Gould

The Gouy Family

Tom & Kim Goyda

Jim & Mary Alice Grady

Ms. Donna Graef

Merry & David Graf

Sherry Graf

Charles & Mary Ann Graff

Maurice & Edna Mae Graham

Cheryl & Michael Grant

Wendy Grassmuck

Nancy & Phil Graul

Tim & Margaret Gravelle

Lisa Graves & Susan O'Mara

Mrs. Robyn Stetson Gray

Valerie Green

Stefanie Greenberg

Ted & Laura Greenberg

Caroline & Phil Greene

Raymond & Karen Griesedieck

Vineva & Toni Grimes

Mark & Julie Grimm

Robert & Susan Grimm

Robert & Jeanne Grone

Denise & Timothy Grosch

Carol & Rick Grosz

Myron & Carol Gruber

Julie & Dale Guariglia

Sandy Guber

Dick & Helen Gubser

Guccione Family

Mr. & Mrs. Thomas C. Guebert

Donald E. Guenther

Dwight & Sandra Guerrant

Carolyn & Bob Guest

Christine Guest

Laura Guinn

Paul & Mary Lee Gund

Patrick & Ann Gunn

Jennifer Gura

Alexandra & Eliot Gusdorf

In memory of James B. Guth

Dr. & Mrs. Gutmann

Lisa & Jacob Gutshall

Rick Guyton

Andra Gwydir
H
Robert Haar

Maureen Hacker

Robert Hackleman & Tim Cusic

John & Laurie Haffenreffer

The Hafner Family

Terri Haider

Diane Hall*

Rebecca Hall

Mr. & Mrs. Donald Haltenhof

Crissy Halterman

Sandy Haman

Mary Hammer & Family

Tim & Elizabeth Hampton

Frank Hamsher & Peggy Guest

Phil & Peggy* Hanel

James R. & Jayne I. Hanlin

Susan Hannasch

Charlotte G. & Robert* Hanpeter

Bob & Dee Hansen

E. Douglas Harbison

Earle & Suzanne Harbison

Jay & Vicki Hardy

Anne Hargis

Abigail, Rachel & Melanie Harms

Cheryl & Sarah Harness

Kenton Harper

Lynn Harris

Rick & Sue Harris

Stephen & Karen Harris

Joseph Harrison in honor of Joan Bardenheier Harrison

Connie & David Hartenbach

Tina Hartshorn

Cory & Hilary Hartung

Carol Hasten

Cyndi Hasten

Paul & Bettie Haug

Barb Havens

Nancy Millsap Hawes

Carolyn & Sarah Hay

Haywoods, Bussos, & Lunds

The Sandie Hea Real Estate Group

Pat Heacock

Nancy Hebert

Jeff & Brenda Hebrank

Michele Hebron

Benny & Jean Hedden

Mr. & Mrs. John Hedrick

Tom & Vickie Heeger

Don & Susan Heep

Christine Heet in memory of Felix M. Constant

Pat & Debbi Heffern

In memory of Alfred & John Hefti

Chandra Heinlein

Vicki & Rich Helfrey

Nancy Helle

Tom & Patty Hellwig

Sue & Mark Hendrix

The Henkes

Eugene & Linda Henke

Ruth Ann (Diel) Henke

Cullen & Jane Henson

Tina Henson

Lisa Herder & Ed Hejlek

Hermann Family Foundation

L. Shepley Hermann

Mr. & Mrs. Robert R. Hermann, Jr.

Dean Hess & Ann Marie Schutzius

Teresa & Phil Hess

Patricia Heutel

Laura & Kevin Hewgley

Milton Hieken & Barbara Barenholtz

Steven Higaki

Peg Higgins & Diane Hawn

Susan Hilbert

Greg & Cheryl Hild

Diane M. Hildebrand

Carolyn Hileman

Dr. Joe Hilgeman

Ms. Mary Corboy Hilgeman

Alene & Dennis Hill

Doug & Vicki Hill

Frederick W. Hill

Gary Hilmer

Judy Hinsley

Bill & Susie Hizar

Amber Hobbs

Steve & Celeste Hobbs

Ken & Dr. Sandra Hodel

Carol Hoefgen

Bob & Kim Hoehn

Bethany Hoekzema

Rachel Hofman

Christopher Hoffman

Robert J. Hoffman

Stu Hoffman & Rita Rothschild

Susan & Robert Hoffman

Brian & Kris Hogan

David & Catherine Hogan

Debbie Hogenmiller, Cathy Hippert & Michelle Elmore

Mr. & Mrs. William F. Holekamp

Edith Hollander & Julie Pryor

The Hollenbeck Family

Tom & Marge Hollis

Mr. & Mrs. David M. Hollo

Robin G. Hollrah

Jack & Judy Holmes

Jack & Barbara Holten

Holtgrieve & Company

Mr. & Mrs. Sidney Holthaus

Mary Holtmeyer

Kristen & Rick Holton, Jr.

Mary Christine Hood

Hope Press Incorporated

Mr. & Mrs. Bill Hopfinger

Sam & Pat Hopmeier

Anne Hoppe

Lore & Joseph Hormberg

Norma Hotz

Sean Houmes

Kathryn Howland & Judy Hess

Stephen Hoyne

Mike & Karen Hubbard

Mark & Hallie Huber

Hudson Company

Jennifer Huelsebusch

Dennis & Beth Hufford

Glenna & Michael Hughes

Juniper Kay Hughes

Roseann Hughes

Mrs. Garnett Huighe

Bill & Sherri Hulse

Brian & Joan Humes

Barbara & Mary Beth Hummel

Carol Hund

Katherine Hunter

Nora Hunter & Family

Michael & Barbara Hurst

Rebecca Hurst

Diane M. Hurwitz & Deborah Crouse Cobb

David & Anita Hylla in memory of Marcella Tilton
I
The Ihrig Family

Damon C. Ijames

Greg & Victoria Iken

Mr. & Mrs. Joseph F. Imbs, III

Edward & Margaret Imo

Joanne & Joel Iskiwitch
J
Jeffrey Jaeger

Michele & Dave Jackson

Rick & Mary Jacobs

Paddy & Steve Jacobsmeyer

Donna Jahnke

Christy Franchot James

Joann Augsburger Jana

Mark & Kathy Jansen

Steve & Susan Jansen

Tim Jansen & Audrey Ferris

Sue Januska

Jaudes Bakers Supply Company

Ms. Mary Kay Jaudes

Mr. & Mrs. Philip Jaworski

Ken & Mindy Jeffries

Mary Jellinek

Dennis M. Jenkerson

Randy & Valerie Jenkins

Mr. & Mrs. Robert Jenkins

Jennifer Belmont Jennings

Maureen Jennings

Danielle & Joshua Jensby

Chris & Denise Jensen

Mr. & Mrs. Dean & Cheryl Joerling

Ms. Delores Johanningmeier

Linda Johannsen

Bettie S. Johnson

Elizabeth & Scott Johnson

Karen Johnson

Mr. & Mrs. Stewart Johnson, Carrie Stetson & Greg Abrams

Virginia Johnson

Mr.* & Mrs. Henry O. Johnston

Kelsey Johnston & Kendall Gosch

Steven T. Johnston

Bud & Peggy Jolley

David & Barbara Jolley

Tom & Anne Jolley

Mrs. Dennis Jones

Drs. Gregory & Grace Jones

Dr. Jennifer Jones & Dr. Richard Fox

Michael & Lisa Jones

Opal M. Jones

Robert & Carol G. Jones

Shelley Jones

Stephen C. & Jody C. Jones

Gregory J. Joubert

Sarah & Randy Jozwiakowski

JPC Controls

Donald & Karen Jubel

Laura & David Judd

Judy, Linda & Lisa, Side by Side

Patrick Jugo & Kirsten Jory
K
Frieda Kaemmerlen

Jonathan & Kelly Kaiser

Amy Kalal & Andrea Dierkes

Rebecca Kalhorn in memory of Frank Burton

Kurt & Andrea Kallaus

Rick & Nanci Kallaus

Don & Jackie Kallstrom

Joel & Carol Kamil

The Kamp Family

Dennis & Susan Kane

Mr. Kenneth & Mrs. Rosemarie Karcher

Mr. & Mrs. Jeffery D. Karl

Karol, Kristin & Mary in memory of Marcie Werner

Barbara Kasper

Randy Kasper

Karen Kasten

Jeanne & Aron Katzman

The Kaufman Family

Allen & Christy Kaufman

Scott & Rebecca Kaufmann

Mr. & Mrs. C. John Keane, Jr.

William & Paula Keevan

Bob & Norma Keller

Dale Keller

Dawn Kellerman-Smith

Glen & Mary Kelley

John & Barb Kelly

Charmaine Kempen

Ashley & John Kemper

Loretta Kenny

Ron & Kris Keppel

David & Michelle Kerpash

Dr. David & Dr. Marsha Kerr

Koren Kerr

Tim & Elizabeth Kertz

Shirley Kessler

Jerry & Michelle Kester

Jo Ann & Jennifer Kesterson, Linda Craig, Liz Jeans & Jane Leitschuh

Mary Ruth Kettenbach

Gail Keutzer & Mary Ann Mercante

Hadley Key

Susan Kidder & Val Harris

Karen Kiel

Lisa Kientzel

The Kiesel Company

John & Vikki Killips

Renè Scandlyn Kincy

The Robert D. Kinealy Family

Steven King

Micki Kingsley

Richard Kinkelar

Lori Kitrel

Paul & Helen Klasing

Ann & Ray Kloppenburg

Cynthia Kluzak

Nancy M. Knapp

Kevin & Susan Knasel

Robert Knecht, Jr.

Nicole Knepper, Janet Knepper & Amy Pflasterer

Ed Kniep & Kathy Holman

Joyce Knolhoff

Mr. Pete Kobernus

Norm & Jan Koch

Susan Koeller

Mrs. Patricia Koeneker & Ms. Sarah Koeneker

Tim & Margie Kohl

Christine & William Kohlburn

Anne Koleson

Kimberly Kolk & Kristin Cotner

Bill & Nancy Konieczny

Vicky Koonley

Marie Kopetzky

Paul & Nancy Kopsky

Rosemary Korbecki

Mr. & Mrs. Steve Korbecki

Dr. Stuart Kornfeld

Julie & Todd Korte

James Kostelc

Jennifer & Christopher Koster

Sara Kotthoff

David & Kerrin Kowach

Dr. & Mrs. David F. Kowalczyk

Keith & Cheryl Kowalczyk

The Kramer Family

John & Sara Kramer

Marilynn F. Kramer

Paul & Laura Kramer

Nancy & Kenneth Kranzberg

Mark & Claudia Krasnoff

The Krause Family

Ron & Wendy Krause

Mr. & Mrs. Stuart J. Krawll

Gary & Karen Kreie

John & Mary Lou Krekeler

Robert Kremer & Christine Alivernia-Kremer

Keith & Tammy Krewson

Tom & Jennifer Kriegermeier

Bev Kriesky & Denise White

Bill & Sue Kroeger

Peter & Susan* Krombach

Andrew & Sarah Krueger

Norman & Joan Krumrey

Mr. & Mrs. F. Mark Kuhlmann

Rick & Mary Jane Kuhn

Mrs. Colleen Kulifay

Ken & Debbie Kurtz

Annette E. Kussmaul, MD, MPH

Jay & Amy Kweskin

Mia Kweskin in memory of Chick, Shirley & Linda Kweskin
L
Patty LaBelle & Maureen Polasek

Robert Lack

Denise & Matthew Lackey

Lisa Laflen

Robert & Candice Lallinger

Margaret Lamb

Scott & Eileen Lambert

Anita & James Lamont

Maggie LaMore

Russ & Timi LaMore

David Landau & MaryBeth Pereira

Jan & Bill Lane

John & Joanne Langan

Greg & Margie Lang

Dr. Daniel Lange & Ms. Susan Graveman

Mr. & Mrs. George Lange

Mike & Anita Lange

Linda LaPlante

Larry & Delia Larkins

Gayle Larson

Terry & Debbie Larson

The Lasater Family

Michael & Margaret Ann Latta

Patricia Laughlin & Michael Pendergast

Thomas Lauher

Karen Lawyer

Louis & Heather Lazarides

Seth & Cathy Leadbeater

The L'Ecuyer Family

Corey Lee

Kathleen & Chuck Lee

Amanda & Robert Lehn

Kim Lehnen

Michael & Janet Leigh

Paul & Rose Leightner

Elizabeth Leighton & Family

Mr. & Mrs. Ned O. Lemkemeier

Thel & Jamie Lemons

Mr. Fred Lenhart

Suzanne Leonard

Ryan & Beth Leslie in memory of Caleb Leslie

Dr. Philip Levens

Mike & Alison Levine

Barbara & John Lewington

Mike & Heather Lewis

Davida Lichtenstein

Jane Licklider

Lynnda M. Light

Ms. Sharon Lillard

Mrs. John K. Lilly

Bob & Barbara Lindecke

Jay & Joy Liss

Curtis & Michele Litchfield

Nancy Litzinger & Carol Stelmach

Ms. Diane Livingston

Laurie & Sean Lock

Rick & Stephanie Lodewyck

Grant Lodholz

Carol B. Loeb

Steve & Diana Lohr

Scott Lollar

Joan Long, Michael Reiser & Steve Reiser

Rebecca & John Long

Lombardi Family

Kathryn & George Love

Ronda Thornsberry Lowe & Braxton Bruemmer

Andy & Sharon Lowenthal

The Lowry Family

Christopher & Kelechi Loynd

Terry & Jim Lucas

Keith Luebbert

Ms. Laura Lukasek

Rockne M. Luke & John Daniel Gresham

Judy Lund

Mr. & Mrs. Dale E. Luthy

Luxco

The Lynn Family

Greg Lyon, Patrick J. Mooney & Dawn Lester

Lynn Lyons
M
Mr. Darren & Mrs. Kristen Maas

Kathleen Maas-Stokes

Boo & Geri Macauley

Steve MacDonough

Debra Mackin & Lindy Stacy

Mr. & Mrs. William H. Macon, Jr.

Carl Maddox in memory of Ellen Maddox

Cathy F. Maddux

Whitney & John Maddux

Madison Maes

Magnetic Power Systems

Mr. & Mrs. Thomas E. Maguire Jr.

The Mahone Family

Ellen Mains & Brian Smith

The Malkus Family

John R. Mallon

Mrs. Gayle Malone

Ted & Mary Maloney

Sylvia & Stuart Manewith

Bob & Janet Mann

Mary & Vito Mantese

Rebecca Joye Mantia

Mark & Patty Mantovani

Barbara Manuel

Mrs. Leslie Manula

Dominic & Sharon Marcellino

Randall & Kemlyn Mardis

Charles & Joan Marentette

Sharon & Martin Margherio

Randy Mariani & Patricia Redington

Cliff & Joan Maricle and Mark & Linda Rathz

Bob & Michelle Marischen

Jim & Michele Maritz

W. Stephen Maritz

Valerie Markarian

Dr. Wayne Markman

The Marr Family

Debbie Marshall

Charlotte A. Martin & Marti Reichman

Debbie Martin

Don & Angie Martin

Sharon, Paul, Catherine & Colleen Martin

Patti Martineau

Jack & Kathy Marty

Mary S. & Mary P.

Louise Mass & Michelle Brooks

Dr. William L. Mastorakos

Curt & Michelle Mattenson

Charlie Mattern & Michelle Depriest

Michael & Nancy Matthews

Sonia Matthews

Jeanette Mattingly, Luke Rutledge, Sarah Andrews & Patrick Irwin

Susan Carna Mattingly

Mrs. James F. Mauze

Mr. & Mrs. Scott Mays

Chris Mazdra

MC Mechanical

Ed & Pat McAllister

Jim, Pat, Sara & Kevin McAtee

Mr.* & Mrs. Lansden McCandless, Jr.

Mike & Toni McClary

John W. & Mary H. McClure

Richard & Sharon Buchanan-McClure

Ginny McCook

Ashley McCormack & Bill Lytollis

Dr. Art & Mrs. Belinda McCoy

Mr. & Mrs. James S. McDonnell, III

Megan McDonnell

Dorothy & Mac McDowell

Barbara T. McElroy

Gail McGee

Dan & Mary Kay McGinnis

Mr. & Mrs. Peter McGowan

Suzanne McGraw

Robyn & Jim McHale

Jim & Susan McHugh

Lesley K. McIntire

Jennifer & Nathan McKean

Margaret McKenzie & Patricia Coy

Ted & Tammy McKim

Ken & Jane McKinney

Leslie McKinney

Michelle McKinney

Bill & Jane McLaughlin

Charles & Mary McLaughlin

Jackie McManus in loving memory of Archie Hankins

Mike & Linda McManus, Cheryl & Emily & Jessica Eichenseer

Vinnie & Andy McMaster

Esther McNamee

Ronda McNellis & Juanita Ratley

Pam McReynolds & Maddy Oliver

Matt McSwain & Tammy Schwarz

Dana McWay

Dana & Guy Medaris

Carl & Diane Meier

Deborah Meier

Ed & Diane Meier

Linda H. Meierhoff

Dr. Robert & Heidi Meister

Mr. & Mrs. R. Wesley Mellow, III

Jack & Gail Melton

Deborah Mentz

Shari Menz

Mr. & Mrs. Ralph Merola

Holly Merz

Vera Meserole

Alex & Nancy Messina

METROTIX

Terra Metze

The Meyer Family

Eugene & Margaret Meyer

Michael G. Meyer

Mrs. Charles B. Meyerson

Julie Michael

Cindy Middendorf, Carol Koeller, Jeanne Koeller & Richard Bilodeau

The Migalla Family

Gail Miller

Jeannie & Jeff Miller

Kathleen Miller & Linda Kohne

Michelle & Kaitlyn Milligan

Ms. Suzanne Million & Ms. Beth Slama

Richard G. Millman

Kathy Milner

Mary Mindel, Carol Kennedy & Toni Hunt

Rebecca & Thomas Minogue

Keith A. Mitchell

Shannon Mitchell, Emily Mitchell & Hannah Murray

Dave & Gaye Mizell

Joan & Clarence Moehl

Stephen M. Moehle

Karen Moehlman

John Moellering & Mary Burtelow

Terry & Linda Moen Family

Denise Funk Molen

Ted & Carolyn Moll

Mary & Rick Monika

Mr. Ed Monser

Mary & James Moog

Kathleen Mooney & Erin Sydnor

Tara & Steve Mooney

Tim & Betsey Mooney

The Moore Family

James Moore

Mrs. John S. Moore, Jr.

June Moore

Thomas Moore

Kathryn Moose & Maureen Perez

Vicki Moritz in memory of Evelyn Kasper

Sam, Grace & Helen Mormino

Ben & Erica Morrison

Dessa & Gary Morrow

Lettie Morse

Gretchen Moser, Elise Moser & Rose Dickerson

Pat Mottershead

Stephanie & Keith Motz

Susan Deak Mudd

Cathy Mueller

Mr. & Mrs. Charles W. Mueller

Deanna Bates Mueller in memory of Steven Jon Mueller

Edie, Helene & Eric Mueller

Harry & Genie Mueller

Kristine Mueller in memory of Jack & Lillian Ryseff

Rita & Edward Mueller

Thomas & Celeste Mueller

Lynn & Stephen Muench

Barbara & Michael Mullen & Family

Mr. Wayne Munie

Ms. Jami Munson

Michael & Laurie Murphy

Michelle Murray
N
Gene & Carol Nachtweih

Dr. & Mrs. Daniel Narup

Mrs. Susan Nathanson

Judy Navarre

Dick & Virginia Navarro

Tom & Sara Neill

Barbara Nelson

Dr. Rik & Dawn Nemanick

Tim & Char Nenninger

Nestle Purina PetCare Company

Pamela Nettles

Andy & Peggy Newman

Kevin & Alexa Newton

Patty & Joe Neyer

Dale & Nancy Nichols

Pamela Nicholson

Niehaus Building Services LLC

Margie Niehoff

Jacqueline Niekamp

Mary & Lloyd Nigma

Sue Nilges

Howard & Carolyn Nimmons

Rich & Suzanne Nirgenau

Jerry Nissenbaum

Mr. & Mrs. Richard L. Nix, Jr.

Jay & Georganne Nixon

NL Productions, LLC

Seiichi & Kim Noda

Paul & Donna Norbet

Christopher Novak

Michael Nowak & Nirah Shomer
O
John B. Oates

Hans & Marcia Oberdorfer

Joann Oberlin

Scott & Annemarie Obermeyer

Kathleen O'Brien

Leah O'Brien

Maggie O'Brien

Anita & John O'Connell

Arlene O'Connell

John & Debbie O'Connor

Tom & Patti O'Connor

Christine O'Donnell

Jim & Patricia O'Donnell

Mel & Margaret Oelze

M. Bernadette Officer

Mr. & Mrs. Jerry & Jackie O'Guin

Michael & Linda O'Heron

Sue & Mark Ohlendorf

Terry & Susan Ohlms

Laura Ohren, Sandy Ohren, Bernice Brown, Pam Kennerly & Jamie Bozif

Elizabeth Oleson

Drs. Mark & Courtney Olmsted

Jim & Joan O'Loughlin

Nancy Olson

Diane & David O'Reilly

Cindy & Mike Ormsby

Betsy Ortmann

Cheryl O'Shea & Marie Benson

Thomas M. O'Shea

Ed & Isabel Ososki

Chris & Gene Ostendorf

Ms. Nancy Osterberg

The Ostertag Family

Gina Ostmann in memory of Bonita Kozak

John & Judy Otte

Andy & Sandra Overmyer

Kimberly Owen

Darlene Owens

Roger Owensby
P
Liz & Danny Pace

Diane Fadem Packman & Michael S. Packman

John & Denise Pahl / Chris Schmid

Janet E. Papageorge

Mary A. Paradowski

Matthew Parciak

John T. & Dotty Parker

Amanda, Ken, Patrick, & Matthew Parsley

Scott & Linda Parsons

Joann Pate

Don & Joyce Patt

Gaye & Michael Patterson

Cynthia & Stephanie Patton

Dr. Tricia Pavlopoulos

Pawlak Family

John Payne & Nicole Drayer

Libby Pedersen

Patrick & Andrea Pekkarinen

Pellikaan Family

Freda Pennewell Family

The Pentzer Family

Peoples Bank & Trust Co.

Cathy Peper

Ginny & Rick Perejda

Reynaldo Perez & By-Ron Entertainment

Mara Perry

Mark & Nancy Peterman

Jack & Cindy Petersen

Rob & Kari Peterson

Pamela Pfaff

Roy Pfautch

Rita Pfingsten

Linda Phillips

Lynn & David Phillips

Sue & Steve Phillips

Vicki Phillips in memory of MaryJo Hurocy

Jim Piasecki

Joel Picus

Mike & Cathleen Piel

Daniel T. Pijut

The Pinkard Family

Pinnacle Contracting

Anna Pisoni

William* & Mary Pitcher

Lee & Joan Plummer

Dr. & Mrs. David Pohl

Mr. & Mrs. Carl C. Polster

Ed & Sue Poniewaz

Becky Popejoy

Terese, Greg & Virginia Portell

Nancy Post

Christina & Eric Powell

Joyce Powell

Jean Pratt & Debi Spencer

Sue Prentice

Terri & Bailey Price

Diane Pridmore

George & Josie Pritchard

Mrs. Joyce Probus

Michelle & Bryon Prokopf and Jennifer Carcagno

Mary Jane Provance

Prow Girard Family

P'Sghetti's Pasta

Sonja S. Pullaro & Greg Rulon

Karen McWhorter Puricelli

Robert Puricelli & Guy Slay

Mrs. Toekie Purler & Family

Robert & Donna Puyear

Allison & Steve Pyatt
Q
Jennifer Quinn & Family

Mike & Barb Quinn

Sheri Quinn
R
Peter & Linda Racen

Jamie & Erin Rakey

Mr. & Mrs. Norfleet H. Rand, Jr.

Gary & Kim Randolph

Dan & Debbie Raskas

Dr. Heschel & Adinah Raskas

Mike & Rita Ratkewicz

Mimi Ravarino in memory of Helen M. Ravarino

John & Donna Rawson

Thomas & Linda Ray

Stan & Mary Ann Rea

Larry & Sharon Reader

Melissa & Thomas Rechtien

Kathy Rechtin

Ed & Mary Reck

Ashley Redstone

Curtis & Michele Reed

Jenny Reed

Katja & Michael Reed

Kelly Reeder

Dr. Charles & Debbie Rehm

Mrs. Winifred Rehmer

In honor of the Raymond Reichert Family

Steve & Karen Reid

Judy Reidelberger

Mary C. Reilly

Pat & Sharon Reilly

Mary Reinagel

Kathreen Reinder & Colleen Schuchardt

Donna & Roger Reinhardt

Dennis A. Reinheimer

Buddy & Jeana Reisinger & Children

Renee Johnson's Dance Studio

Jim & Julie Ressler

Mr. & Mrs. John Reusch

Reuther Heist Family

Eloise L. Reynolds

Kevin & Alison Reynolds

William C. & Carel Ann Reynolds

Mary Rice

Jodie & Sue Rich

Dave & Suzanne Richardson

Robert Richardson

John & Mary Ann Richmond

Janice & Michael Rick

Ann Campion Riley

Charles & Janet Riney

Dr. Nanette Ritchie & Family

David & Deborah Robert

Fern Audrey Roberts

Ken & Krista Roberts

Steven C. Roberts & Eva L. Frazer MD

Sue Robertson, Karen Gebel & Laurie Beining

Mr. & Mrs. Kenneth Robinson

Walmir & Jennifer Rocha

Karen J. Roche

Holly Rodman

Robin R. Rodriguez

Robert & Coleen Roe

Jane Roellchen and Melissa & Kendall Frick

Dolores Roesch

Audrey A. Roever

Carren Rogan

Karl & Susan Rogers

Marc & Allyson Rogers

Thomas & Karen Rogge

Dan & Laura Rohlfing

Jackie & Carol Roland

The Rooney Family

Jenny & Andrew Rosansky

Terry & Susan Roscoe

Lisa Rose

Phil & Bertie Rose

Dr. David S. Rosenberg & Linda Kline

Gretchen Ross

Nancy A. Ross

The Rosso Family

Richard & Patty Rothman

Kay & Philip Roush

Andrea & Charley Royce

Mr. Charles Ruedebusch, Sr.

The Rueter Girls

Dawn M. Ruez

Dr. Theodore & Kathryn Rummel

The Rumph Family

John H. Russell

Sherri & Mary Russell

Terri Russell

Ruth Ann, Kara, Myra & Sadie—3 Generations

Bob & Betty Rybacki
S
John Sabourin

Sabrina & Jennifer

Mr. & Mrs. William Sackett

Mary E. Safire

Ms. Annette Sak

Suzanne Salmo

Martine & Joe Samocha

Carolyn Marie Samuels

Bobby & Mic Sandage

Bill & Rene Sanders

Debbie & Robert Sanders

Leslen Sanders

Kathleen SanFilippo

Mr. Mark Sanford

Larry & Beverly Sapaugh

Sardiña Family

The Peter E. Sargent Family

Katie & John Sauer

Donna Savage

Vernon & Kathleen Schaeperkoetter

Neil & Melody Schaffer

Lynn & Roger Schallom

Cheri Scheer

Mr. & Mrs. William Scheffel

Lorraine Scheffer

The Schaneman Family

Sandy Schierbaum

Catherine & George Schindler

Joe & Annie Schlafly, Thomas & Sally Cohn and Christy & Ted Schlafly

Elizabeth J. Schlesinger

Jim & Judy Schloeman

W. Stevens Schmid

Amy Schmidt

Donna Schmidt

John & Jen Schmidt

Lucy & Bill Schmidt

Nancy Schmidt

Ronald & Mary Schmidt

Scott & Mary Schmidt

Susan Schmidt

William & Renee Schmidt

Jack L. & Evelyn Schmitt

Barb Schnelle & Vickie Campbell

Mrs. Edward J. Schnuck

Stephanie Schnuck

Mr. & Mrs. Terry E. Schnuck

Mr. & Mrs. Todd R. Schnuck

Debbie Schnuth, Faith Varwig & Dina Moore

Mark & Kimberly Schoen and Chris & Sarah Boemeke

Larry & Maure Scholl

Wesley Schooler

Nancy Schoon

Donna Schraer

Bryan & Debbie Schroeder

Marie & Gary Schroeder

Mary Schroeder

Ann & Hale Schroer

Linda Schuchmann & Family

Amy Schueddig – Langhorst Construction

Cliff & Cindy Schulte

Colette Schultz

Judith E. Ho Schulz

Julie & Glen Schuster

Pat & Ken Schuette

Mr.* & Mrs. James L. Schwab, Jr.

Ann Schwartz, Andrea Cuneio & Jessica Schwartz

Janet Musial Schwarze

The Scott Family

Ann Cady Scott

Barbara Scott in memory of Arline Frey

Ms. Peggy Scott

Ray & Lisa Scott

Karen Seabolt

Scott & Karen Seaborn

Naomi Secoy

William & Kathryn Sedlacek

Dennis Sedlak

Ms. Laura Sei

Mai L. Seid

Stu & Beth Seley

Michelle Sellmeyer

Semco Plastic Co., Inc.

Rob Semon

Session Fixture Company

Vicki Sexton & Jill Niedbalski in memory of Tom Niedbalski

Dan & Pat Shaffer

Bruce Shapiro

Dr. Julia Sharpe

Jay & J.J Shastri & Family

David & Trish Shaw

Jane & Booker Shaw

Jeanne Shaw

Myron Sheets

Sarah Shelley, Kala Ellegood & Susie Wilson

Donna Sheridan & Kerry Cavanaugh

Stephen & Julie Sheridan

Mrs. David Sherman, Jr.

Robert O. & Margaret Tiller Sherwood

John & Karen Shimkus

Bill & Karen Siebert

Dale & Angie Siebert

Katie & Rachel Siefker

Ms. Victoria Siegel

Sidney Siegfried, Elaine Siegfried & Dan Hoft

Jan & John Siemens

Denny Sienaski

Steve & Sandy Siepman

The Siglers

Perry Simeroth

Ms. Nancy Simmons

Judith Simon

Carol Sims

Susanne Sinclair

Cindy & Randy Singer

Robert W. Skaer

Stacey Slaughter & Elizabeth Whittom

Gene & Joan Slay Charitable Foundation

Bill Sloan

Julie Smailys

Mariah Small

Tom Smelik

Darla Smith

Derrell & Elise Smith

Eric & Mary Smith

Greg & Becky Smith

Mr. & Mrs. Jack M. Smith, II

James Smith

Jeri & Sandy Smith

Jerry Smith & Family

Katherine Smith

Dr. Linda Wheatland Smith & Family

VJ Snyder

Wayman & Susan Smith

The Smulczenski Family – Kelly, Scott, Danielle & Hanna

David L. & Gloria A. Snell

VJ Snyder

Nancy K. Soaib

Patsy, Andrew & Drew Sobey

Sofia B.

Jonathan & Kristin Soifer

Dr. John Sopuch

Southwestern Enterprises Inc.

Michele & Brad Sowers

Elaine Spence

Malcolm Spence in honor of his late wife Kathleen

James & Barbara Spencer

Courtney Spezia

Spire

Mr. & Mrs. Marvin Spirtas

Lenore & John Spitznagel

Jen Splaingard

Springfield Electric Supply Company

Lucie & Steve Springmeyer

Carol Spyers

Amy & Athena Spytek

Andrew & Mary Ann Srenco

Michael & Caryn St.Clair

Mrs. Janet Stahlschmidt

Marsha Stahlschmidt

Mr. & Mrs. Bob Stanza

Pamela S. Statler

Cori & Scott Stebelman in memory of Edith Cunnane

Karen Stebelski

Phyllis & Richard Steckel

Joel & Stephani Steele

Janet & Dale Steinback

Teri Steinberg

John & Sheila Steinhubl

Bruce & Kathy Steinke

Susan Steinmann & Jenna Inman

Liz Stemmley

Susan Stemler

Catherine Stenger

Kate & Howard Stephens

Sterling Lacquer Manufacturing

Denyse R. Sternberg

Marc & Natalie Stevenson

Nanette Stevenson

The Steward Family Foundation

Debbie Stewart, Rachel McPheters and Sarah & Logan Laufersweiler

Kathleen C. & Joseph C. Stewart, Jr.

Mary & William Stewart Fund

Anna Marie Stillwell

Robbie Stinnett & Aaron Burkey

Diana Stitz

The Stock Family

Anne Stoltz

Peggy B. Stonum

Dotty Storer

Courtney & Ben Stotler

Steven & Terri Stout

Tim & Chris Stoverink

Maurice St. Pierre in memory of David Hutti

Daria & Ray Stranghoener

Diane Strawhun

Sandra Street

Jacob Streuter

Dr. & Mrs. David A. Striker

Beth & Paul Stroble

Darci & Macie Strohmeier

Emmanuel Strong

John & Bev Stuart

Rich & Liz Stucke

Danae & Tim Stuertz

Gary & Mary Stull

Bill & Earleen Stutz

Jason & Cortney Stygar in memory of David Mund

Subsurface Constructors

Lily & Rooji Sugathan

Liza & Samantha Sullivan

Jane Sulze

Robert Summers

Kathy A. Surratt-States

Grenville & Dianne Sutcliffe

Carrie Sutherland

Susan Sutter

Katie Sutton

Ed & Mary Sweeney

William & Patricia Swiderski

Steve & Catherine Swope

Lisa & Maddison Syberg

Mark & Stephanie Szewczyk & Family
T
Kathi & Ken Tacony

Leonard & Norma Tallent

Tarlton Corporation

Andrew & Barbara Taylor

Cami Taylor

Dr. Megan Taylor

Robert Taylor

Dean Telthorst

Marty & Susie Tendler

Teri T., Donna M. & Peggy H.

The Terrell Family

James & Jean Terry

Mr. & Mrs. Michael E. Thaman, Sr. in memory of Edwards Louis & Mary Jane Thaman

The Show Must Go On

Anita Thomas

Katy & Dan Thomas

The M.S. Thomas Family

Spencer Thomas

Jerry & Margaret Thomasson

The Thompson Family

David Thompson & Michelle Jamruk in memory of William & Dolores Thompson

Joe & Kathleen Thompson

Peggy & Steve Thompson

Mr. & Mrs. W. Scott Thompson

Jack & Rose Thornburgh

Mr. & Mrs. Jacques Thro

Jason & Ginger Tice

Franklin Tiefenauer

Christine Tiemann, Stephanie Reed, Michelle Cody & Sandy Ferkel

Perry & Judy Tiemann

Mr. & Mrs. Gerard & Betti Tierney

Christie & Larry Tietjen

Jim & Maggie Tighe

Judith & Rebecca Till

Jerry & Maggie Timke

The Tinker Family

Cynthia Tippit

Ms. Phyllis R. Tirmenstein

Briana & Kevin Tisch

Debbie Tite, Lindsey Rader & Ryan Tite

Betty Tobben

The Tod Family

Pam & Craig Toder

Tom, Joyce, Wonder, Denise & Anne

Erin & Ross Toohey

Elizabeth & David Tooley

Mike & Erin Torney

Gary & Debra Torrence

Ellen Tosie

Forrest & Patricia Tosie

TraMar Contracting, Inc.

Alfred & Rose Trevino

Susan Trommler, Barbara Peiker & Kris Byers

Bill & Marlane Truebe

Mr.* & Mrs. Robert Tschudy

Mr. & Mrs. O. N. Tucker, Jr.

Robert & Barbara Tuckett

The Tuesday Night Ladies

Nancy Tune

Douglas Turnbough in memory of Joe Schulte and in honor of Dennis Reagan

Jim & Lynne Turley

Joan & Katie Turnure

Duane & Meg Turpin
U
Robert Uhlenhop

Debi Urbani

U.S. Bank
V
Jean & Ralph Vaclavik

William & Nicholas Vahle

Carol Valenta

Jessica & JoAnna Vallieres

Jeanette Vandiver

The Van Rees Family

Mel & Kathy Vasel

Carl & Elaine Vass

Deborah L. Vassar & Ellen Disseler

Stephanie & Steven Vehige Family

Susan & Ryan Verity

Laura & Matt Villa

The Vincent Family

Mr. & Mrs. John Virant

Marcia Visnack

Mary Vitale

Michael & Laura Voegelie

Jack & Karen Vogel

Janet Vogel

Lynn Ann & Paul Vogel

Henry & Nancy Voges

Miss Maddie Vogler

Mr. & Mrs. Joseph Voss

Mr. & Mrs. E. William Voss

Tom & Carol Voss
W
Karie & Vito Wagner

Steve & Kathy Walden

Carol C. Walker

Phillip, Mary & Christopher Walker

Mr. & Mrs. John K. Wallace, Jr.

Leslie Wallace

Angela M. Walsh

Kevin & Barbara Walsh

Lawrence P. Walsh

Richard & Mary Walts

Jos. Ward Painting Co.

Kimberly Warger

Barb & Dave Warmbrodt

Ted & Mary Warner

Corinna Warren

Larry, Harlene & Brian Wasserman

David & Patricia Watson

Larry & Carol Watson

Greg & Andrea Weatherford

Tim Weaver & Alex Miller

Crystal Webb

Karen Webb

Susan Weber

Albert Webster & Kristina Stierholz

Jim & Stacey Weddle

Ms. Karla Weidner

Nancy & Joe Weigand

Sherri Frank Weintrop & Daniel Weintrop

David P. Weiss

Gary & Mary Jo Weiss

Mr. & Mrs. William Weiss

Weissman's Theatricals

Linn & David Wells

Nick & Susan Wells

Stephanie & Don Wenkel

George "Butch" & Carol Welsch

Bob & Joyce Wendel

Brenda & Danny Wendling

Mike Wente

BKW Werner Family

Patricia Werner

Terry & Laurie Werner

John & Katherine Wessling

Marguerite & Conrad Wetterau

Mark & Virginia Wetterau

Cheryl & Miriam Whatley

Laura & Mark Wheatley

Mr. & Mrs. Steven Wheeler

White-Rodgers Business Unit of Emerson

David & Lori Whitehead

Jerry & Patty Whittle

David & Linda Wicks

Kelly Wicks

Jeffrey & Sally Widenor

Kimberly Wiele

Harold W. Wiese

Pam Wilbanks

Scott & Cynthia Wilcox

Dr. Elaine Wilder

Janet Wile

Mark & Debbie Wilhelm

John & Jody Wilkerson, 4th Generation Season Ticket Holders

The Wilkins Family

Scott & Cynthia Wilcox

Mary Jewell Wiley

Dave & Michelle Williams

Emily A. Williams

Faith Williams

Ken & Sandy Williams

Lynn Deckard Williams

N. David Williams

Stephanie Williams

Bryant Williamson

Mrs. Lori Willibrand

Katie Willings

Lisa Willis & Family

Liza Willis & Family

Mark & Mary Willis

Adam & Angie Wilsing

Anita Wilson

Billie Mae Wilson

James J. Wilson

Karl & Katy Winkelmann

Will & Laura Winter

MJ Wise

James & Shanna Witges

JKJ Wittmayer

Kris Witzel

Kevin & Cathy Witzofsky

Barbara Woehle

Marilyn J. Woerner

John & Susanne Wolff

William Wolfinger

Wolfman Family

Chester* & Pam Wolkowitz

Steve Woodley

Mary McGuire Woods

Tom & Betsy Woodward

Jim & Gayle Woolf

Ross & Carrie Woolsey

World Wide Technology

Wright/Cortright Family

Jack & Claudia Wright

Jeffrey & Karen Wright

Kenneth & Cynthia Wright

Missy Wright & Tim Ryan

Sarah Wright & Lynne Hyde

Ellen Wuerffel

Denise & Eric Wulff

Wunderlich Fibre Box Company

Sarah Wunderly

Jim & Melissa Wurdack

Mary Ann Wymore
Y
Doug & Lynn Yaeger

Mr. & Mrs. John Yates

Walter & Carol Yee

Margaret & Rick Yohe

Kevin & Carol York

Glenda Young

Kendall & Caroline Young

Marilyn Young

Michael & Sandy Young
Z
Jim & Beth Zak

Linda Zanders & Debbie Hirshak

Elizabeth & John Zeller

Zemenick & Walker, Inc.

Jack & Karen Zerr

Kathleen & Dave Ziegler

Alice Zielonko

Helen D. Ziercher

Cathleen & Bruce Zimmerman

Stacie Zink-Duda

Mark & Debbie Zisser

Lisa & Christine Zobel

Alan Zucker