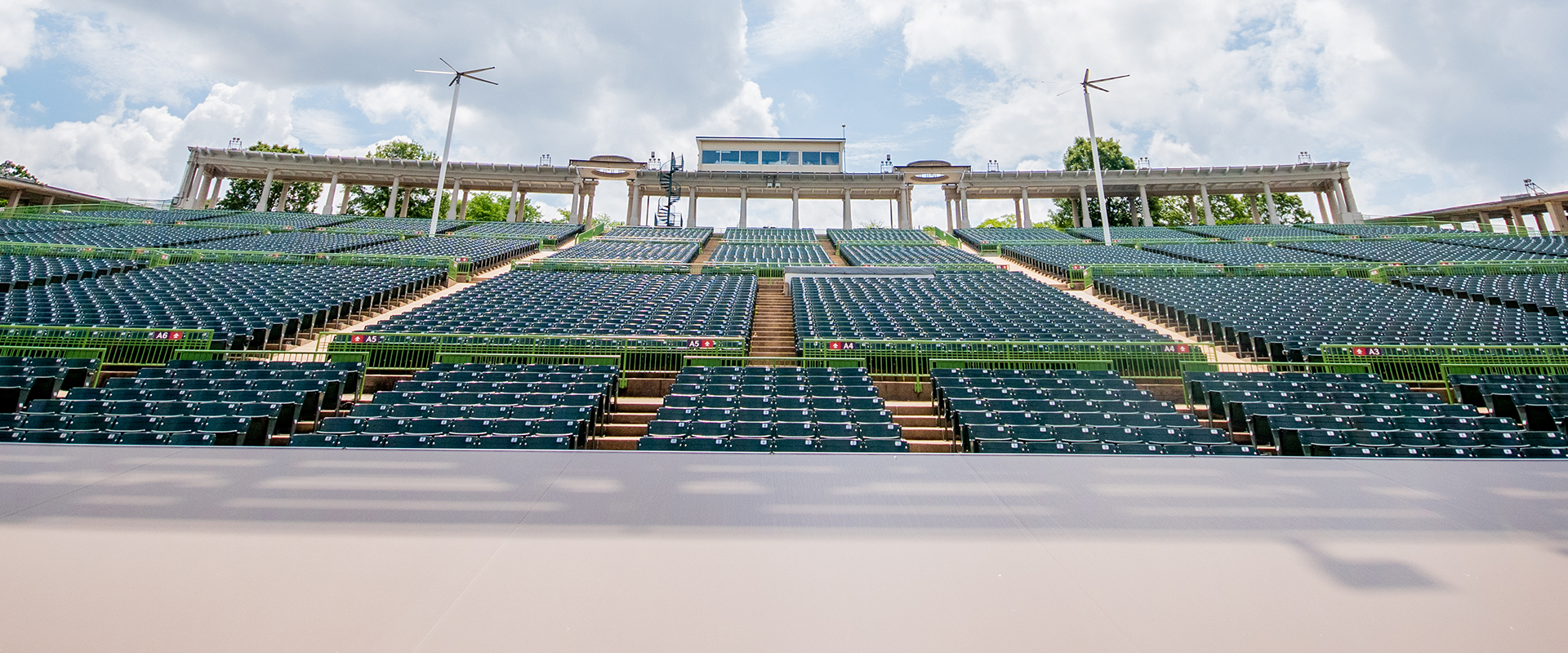 The Muny Saga
Muny Through The Years
In celebration of The Muny's 100th season in 2018, local theatre critic Dennis Brown set out to write The Muny Saga, the most in-depth telling of our history ever recorded.
Preface…
The Muny Saga has been a long time coming. Countless quarters have been spent at the St. Louis County Library, printing out old newspaper stories from crumbling microfilm. Months have been devoted to poring through a century's worth of newspapers on the invaluable website, newspapers.com. I've purchased books from England and Australia, all in an attempt to unpeel the proverbial onion that is the Muny saga … and to unpeel that story accurately.
As you might imagine, when an institution is nearly 100 years old, there is much misinformation circling about. In such instances, the surest bet is to rely on primary sources. For instance, one of the most enduring Muny legends insists that back on opening night in 1919, the debut performance of Robin Hood was washed away by floods. It makes for a good yarn. But had such a drastic event occurred, one might assume that our local newspapers would have mentioned the incident. To the contrary, the St. Louis Post-Dispatch, St. Louis Globe-Democrat and St. Louis Star all published glowing reviews of opening night. You can rely on The Muny Saga to be as accurate as possible.
But my real goal has been to get past the dates, the facts and the statistics (of which there are too many for consumption by mere mortals) and instead introduce you to some wonderful human beings that I have loved getting to know over these past several months. I now am eager that you get to know them too. If you come to know these people as more than distant names in a dusty history, when the 100th anniversary is celebrated next summer, those celebrations will mean more to you, because you will have come to realize the extent to which you are a beneficiary of the actions of some truly remarkable people.
Perhaps the most amazing thing about this online history is that I never asked to write it, nor did anyone at the Muny ever ask me to write it. I began to do some research on my own. From time to time I shared the sometimes humorous, sometimes inspiring, stories I uncovered to receptive ears. Before we quite knew what had happened, it was a given that I would write something for the 100th anniversary.
This is what that something became. – Dennis Brown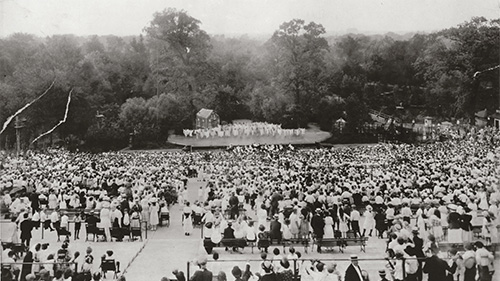 1913-1919: NOTHING BUT A PARK AND A BEAUTIFUL IDEA
For all practical purposes, the roots of the Muny saga were planted in 1913 with the formation of the St. Louis Pageant Drama Association. Comprised of prestigious civic leaders like John Gundlach and Luther Ely Smith, whose combined vision and unflagging energy would lead to the building of the Gateway Arch on the Mississippi Riverfront, the Pageant Drama Association came into being for one purpose – to host a massive celebration of the city's 150th birthday.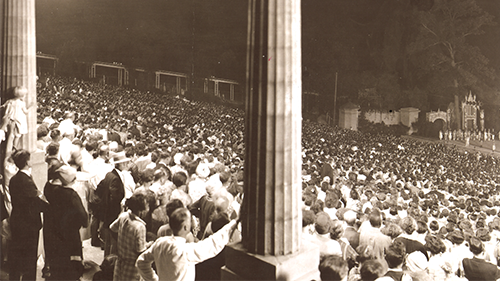 1920-1929: GYPSIES EVERY WEEK
It was not yet noon, but already Henry Kiel could predict that tonight would be an ideal Halloween. As St. Louis' 53-year-old mayor strode from City Hall to the American Hotel at 619 Market Street on this final Friday in October 1924, he noted that the comfortable temperature was in the mid-60s; the sky, cloudless. Six years as president of the Municipal Theatre Association had transformed Kiel into an adept prognosticator of weather. He felt confident that rain would not deter the children of St. Louis as they set about tonight's trick-or-treating. But long before the costumed kids began their revels, Kiel was about to unveil a trick – or at least a surprise – of his own.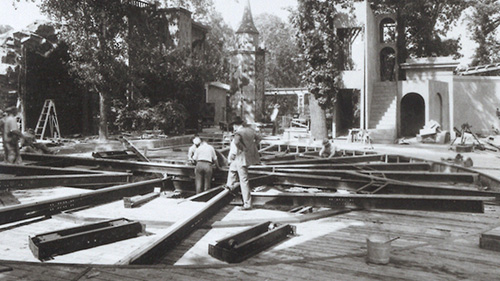 1930-1939: GROWING PAINS
Clearly, something had to be done – and it had to be done quickly – if the Municipal Opera, which had thrived during the 1920s, was to weather the stark economic Depression that had a stranglehold on the new decade. Henry Kiel, president of the Municipal Theatre Association, could seek counsel from any of the dozens of civic leaders who comprised his board of directors. Instead he had a private meeting with David Russell, who had been the Municipal Opera's soft-spoken yet shrewd business manager since its inception.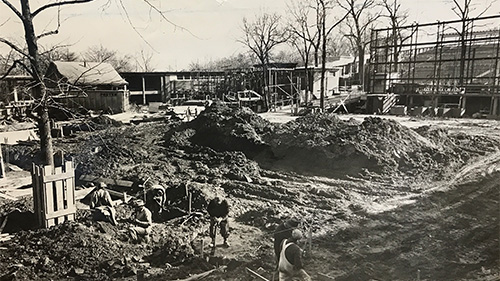 1940-1949: THIS GRIM BUSINESS OF WAR
Beginning in the late 1930s, war news became inescapable. Nazi Germany invaded Poland, the Soviet Union invaded Finland, ocean shipping lanes throughout the world were preyed upon by German U-boats. Here at home, President Franklin Roosevelt vowed to keep America out of the war even as he sought to nudge the polarized nation away from neutrality. Kiel's Municipal Theatre Association was not immune to current events. The association felt a need to acknowledge the strained times, but in a manner that would reaffirm rather than provoke. Thus in June 1940, for the first time in its 22-year history, the Municipal Opera presented a non-musical.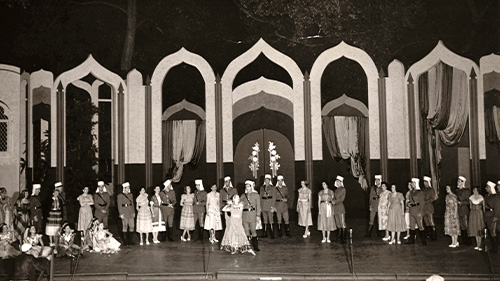 1950-1959: CHANGING OF THE GUARD
Oh, what a beautiful evenin'. Monday, August 14, 1950, marked the dawn of a new era in Forest Park: the Rodgers and Hammerstein era. Like those French Foreign Legionnaires and Royal Canadian Mounties who ride to the rescue at the end of antiquated operettas, so did Broadway's golden boys appear in the nick of time to rejuvenate Muny programming. For the sad truth was that as the Opera entered its fourth decade, many of the old standbys had lost their luster.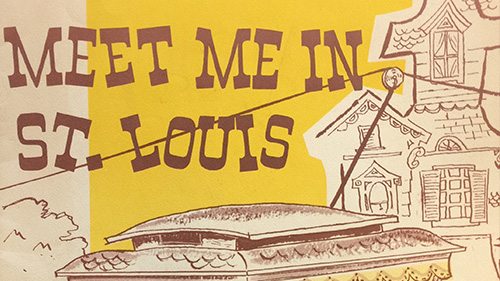 1960-1969: RIGHT HERE IN FOREST PARK
Clang, clang, clang went the trolley – twice a night, for eleven nights. True, in the 1944 MGM musical Meet Me in St. Louis Judy Garland only sings "The Trolley Song" once. But this tuneful compendium of clangs, dings, zings, chugs, bumps and thumps had become such a classic that when John Kennedy and his team mounted a stage adaptation as the first Muny production of the new decade, they reprised the song.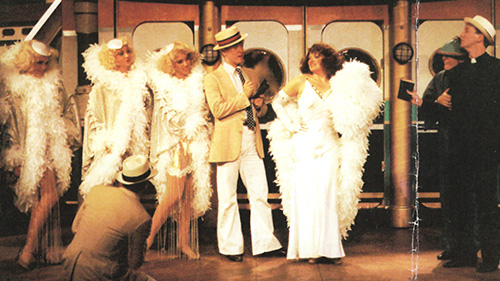 1970-1979: STAR-STRUCK
"Is there a doctor in the house?" In a theater seating nearly 12,000, chances are better than fair that the answer to this urgent question will be yes. And indeed, on Monday evening, August 14, 1972, at least 15 doctors were "in the house" at the Muny's opening-night performance of Cole Porter's Anything Goes.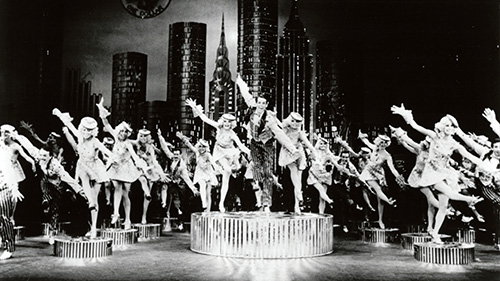 1980-1989: THESE MAGNIFICENT TREES
The new decade arrived, accompanied by a profound loss. On the final day of 1979, the world learned that Richard Rodgers had died at age 77. At his funeral on January 2, a eulogist suggested, "Through his songs, Richard Rodgers has probably given more pleasure to more people than anyone else in the 20th century. His melodies are truly the heritage of the world." No one in St. Louis – the city that staged more Richard Rodgers productions than any other – would have disagreed.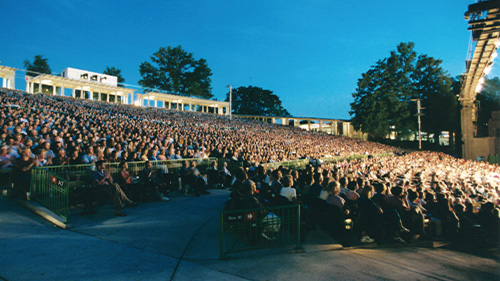 1990-1999: A FAMILY AFFAIR
The terse announcement received scant attention. One month into the new decade, on the last day of January 1990, on page four of the St. Louis Post-Dispatch, under the heading: IN BRIEF REGION the third item in the column, titled "Muny Gets New Executive Producer," was the epitome of brief. Four meager sentences stated that Paul Blake, "a producer-director of touring and stock shows for the last three seasons and formerly artistic director of the Theatre Festival of Santa Barbara, Calif.," had been appointed to succeed Edward Greenberg as executive producer of the Muny.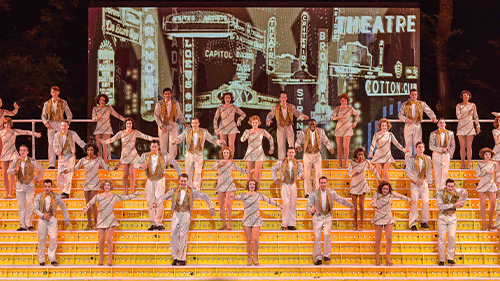 2000-2017: AGAINST ALL ODDS
It was a slow death. Everything that could be done was done, but in the end disease and age claimed their victim. Back in July 1946 – the same week that baritone Edward Roecker was belting his way through East Wind, an exotic Sigmund Romberg-Oscar Hammerstein operetta set in Saigon – City Forester E. R. Olmstead disclosed that one of the two tall, stately burr oaks that frame the Municipal Opera stage was sickly. Olmstead projected that the tree might survive another 15 seasons, but he made no guarantee. In a Herculean effort, the City Forestry Division managed to keep the oak alive into the 21st century. Finally in 2002 it had to be taken down. A portion of the doomed oak's timber was refashioned into a large conference table for the Muny office.