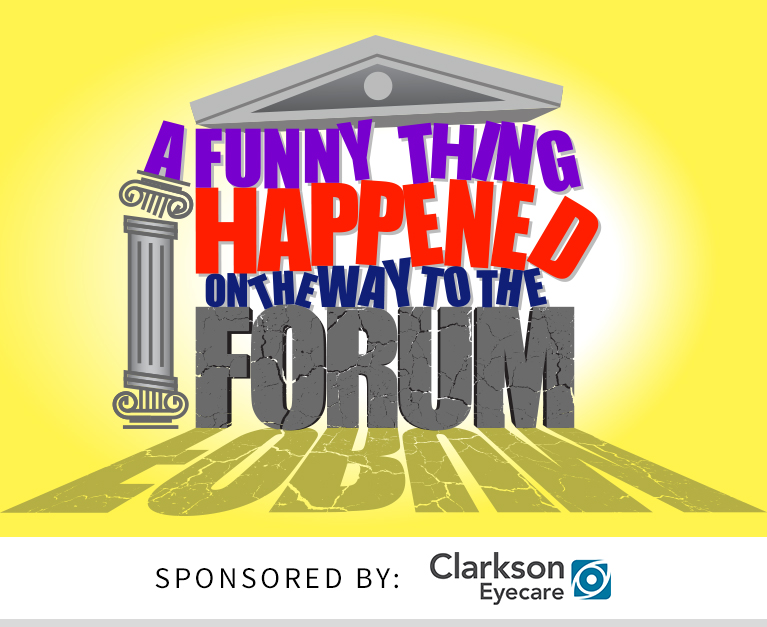 A Funny Thing Happened on the Way to the Forum
July 5 – 11
COMEDY TONIGHT!
Load up the chariots, we are off to The Muny for big, big laughs! Considered one of Broadway's greatest farces, this musical romp through Rome includes desperate lovers, mistaken identities, scheming neighbors and secrets behind every toga. With delicious music and lyrics by Stephen Sondheim, this is one hair-brained Roman forum you won't want to miss!
Performances start at 8:15 p.m.
---
A Funny Thing Happened on the Way to the Forum
tells the bawdy story of a slave named Pseudolus who schemes to win the heart of the beautiful virgin, Philia, for his young master, Hero. In exchange, Hero will grant Pseudolus his freedom once and for all. However, things are never as easy as they seem. Chaos ensues with hair-brained schemes, cases of mistaken identity, slamming doors and convoluted plot twists. The show's comedy draws on sexual innuendo.
A Funny Thing Happened on the Way to the Forum combines the ancient comedies of Plautus with a vaudevillian delivery. The show's title derives from a line often used by comedians to begin a story: "A funny thing happened on the way to the theatre…"  The original 1962 Broadway production won several Tony Awards®, including Best Musical.
Language
None.
Violence
In the song "Bring Me My Bride," Miles Gloriosus sings about his military conquests in a somewhat graphic manner.
Drug/Alcohol Use
None.
Mature Content
Songs and dialogue contain sexual references.
The mature ideas in the show are played in a comedic style.
The character, Lycus, runs a brothel.
The courtesans do comical, suggestive dances and the main character, Philia, is a virgin courtesan.
 Ticket Prices

Season*

Single

Season Savings

 Center Boxes (C-6)

$637

$95

4%

 Side Boxes (7-10)

$581

$90

8%

 Terrace A (A-M)

$448

$74

14%

 Terrace A (N-Y)

$329

$58

19%

 Terrace B (A-M)

$231

$44

25%

 Terrace B (N-Y)

$112

$31

48%

 Terrace C

$77

$15

28%

* Season Ticket prices include $7 service fee.
PETER SCOLARI (Pseudolus)
Broadway/NY: Bronx Bombers, Wicked, Lucky Guy, Hairspray, Sly Fox, Magic Bird, Out of this World, Ziegfeld Follies of 1937 (Encores!), World premieres of A.R. Gurney's Family Furniture at The Flea, Daniel Sullivan's Inspecting Carol, Ken Ludwig's Fox on The Fairway (George Street Playhouse). Winner Best Actor, Berkshire Theater Festival for The Foreigner. Music Man at Ogunquit Playhouse, Forum at Bay Street Theater. TV: Film Critic's Award nomination, and 2016 Emmy Award Outstanding Guest Actor for Girls (HBO), Gotham, Odd Mom Out, Madoff (ABC Films), Newhart (Three-time Emmy nominee), Bosom Buddies, The West Wing, ER, Family Ties, White Collar, King of Queens, Reba, Ally McBeal, Earth to the Moon (HBO), Stop the World (Showtime). Film: That Thing You Do, Polar Express, Suburban Girl, Camp Nowhere, The Ryan White Story.'
JOHN TARTAGLIA (Hysterium)
Broadway: Avenue Q (Tony nomination), Disney's Beauty and the Beast, Shrek the Musical. John created, executive produced and starred in his own preschool series Johnny and the Sprites for Disney Junior (8 Emmy nominations) and performed on Sesame Street (PBS Kids) for 13 seasons. As a director: The Wizard of Oz, Tarzan and Shrek (The Muny), Dinosaur Train Live and Sid the Science Kid Live (national tours), Claudio Quest (NY Musical Festival, Best of the Fest), Lord Tom (York Theatre), Shrek the Halls (DreamWorks Theatricals), Because of Winn Dixie (Arkansas Repertory), amongst others. Current projects include playing Kip on Jim Henson's Word Party and Hank on Julie's Greenroom, as well as creator, co-executive producer and star (Splash) of Jim Henson's Splash and Bubbles (PBS Kids). www.johntartagliaproductions.com
MARK LINN-BAKER (Senex)
Broadway: On the 20th Century, You Can't Take It With You, Relatively Speaking, Losing Louie, A Year with Frog and Toad (Toad), A Funny Thing Happened… (Hysterium), Laughter On The 23rd Floor, Face Value, Doonesbury. NY City Center Encores!: The Pajama Game. NY Shakespeare Festival: All's Well That Ends Well, Othello, The Death of Von Richthofen…, The Laundry Hour, Alice In Concert. Off­Broadway: Almost An Evening, Chesapeake (Drama Desk and OCC nominations), A Flea In Her Ear, The Miss Firecracker Contest. Film: Manhattan, My Favorite Year, Noises Off, How Do You Know. TV: Perfect Strangers, Showtime's Laughter on the 23rd Floor, Bluebloods, The Good Fight, The Good Wife, Law & Order, Law & Order: CI, Miami Vice, Moonlighting and others. Mr. Linn Baker is a co-founder/co-director of New York Stage and Film.
JASON KRAVITS (Lycus)
is so pleased to be invited back to The Muny, where he played Bert Barry in last season's 42nd Street. Broadway credits include The Drowsy Chaperone, Sly Fox and Relatively Speaking (an evening of one acts by Ethan Coen, Elaine May and Woody Allen). Recent NY: Hector in The Golden Apple (City Center Encores!). TV: ADA Richard Bay on ABC's The Practice. Other credits include: Unbreakable Kimmy Schmidt, The Mick, Major Crimes, Madam Secretary, The Blacklist, Madoff, Curb Your Enthusiasm, Smash, Masters of Sex, Everybody Loves Raymond and the upcoming Disjointed. Creator/performer of "Off the Top!" – a solo, completely improvised cabaret, which heads to the Edinburgh Fringe Festival August. www.offthetop.nyc
E. FAYE BUTLER (Domina)
National and regional credits: St. Louis Repertory Theatre, Court Theatre, Steppenwolf, Goodman Theatre, Martinique Drury Lane, Drury Lane Oakbrook, Northlight Theatre, Chicago Shakespeare Theater, Congo Square, Paramount Theatre, Fulton Theatre, Maine State Music Theatre, Olney Theatre Center, Philadelphia Theatre Company, Marriott's Lincolnshire Theatre, Victory Gardens Theater, Arena Stage, Baltimore's Center Stage, Signature Theatre, Dallas Theater Center, Pasadena Playhouse, La Jolla Playhouse, Seattle Repertory Theatre, Arkansas Repertory Theatre, Yale Repertory Theatre, The Kennedy Center, Broadway Playhouse, Harmon Hall. National and regional tours: Mamma Mia!, Ain't Misbehavin', Nunsense, Nunsense II, Dinah Was, Don't Bother Me, I Can't Cope. Six Joseph Jefferson Awards, two Helen Hayes Awards, four Black Theater Alliance Awards, RAMI Award, John Barrymore Award, Excellence In The Arts Award, After Dark Award, Ovation Award, Kathryn V. Lampkey Award, Sarah Siddons Leading Lady Award, Black Excellence Award, Guy Adkins Award, 2016 Rosetta LeNoire Award, Lunt-Fontanne Fellowship, National Museum of Women in the Arts inductee. E.Faye has a CD entitled A Circle of Firsts and performs across the country in concert, cabaret, club and theatre venues with her orchestra, EFO. Coming Up: The Taming of the Shrew (Chicago Shakespeare Theatre). Proud AEA Member. Follow her @ www.e-fayebutler.com.
ALI EWOLDT (Philia)
played Maria in The Muny's 2013 production of West Side Story and is thrilled to return to St. Louis! She is currently playing Christine in The Phantom of the Opera on Broadway. Other credits include: Les Misérables (Cosette, Broadway revival), The King and I (Lincoln Center, Broadway revival), West Side Story (Maria, Broadway revival 1st national tour). Off-Broadway: The Fantasticks (Luisa). Other credits include: Lyric Opera of Chicago's The King and I (Tuptim), McCarter Theatre's A Christmas Carol (Fan/Mrs. Bonds) and concerts at Feinstein's/54 Below, Alice Tully Hall, Carnegie Hall and The Town Hall. TV/Film: The Michael J. Fox Show, Yield and Drama: The Web Series. Ali has a B.A. in psychology from Yale University. www.aliewoldt.com
MARRICK SMITH (Hero)
is thrilled to be back at The Muny. Broadway: Fun Home (Roy u/s)  Off-Broadway: Wild Goose Dreams (Public Theater), Pretty Filthy (Civilians), The Underclassman (The Duke), Revolution (Minetta Lane), Fun Home (Public Theater). Regional: Fiddler on the Roof (The Muny). Film: The Lennon Report, One Stop Away, Uncovering Eden. Workshops: Teeth, Alice by Heart, Love's Labour's Lost. Playwright: Behind the Badge (NYC Fringe) Big thanks to The Fam, KMR and Wright Entertainment. @Marricksmith
NATHANIEL HACKMANN (Miles Gloriosus)
is thrilled to be coming back to the Gateway City and the historic Muny stage! He most recently played Gaston in Beauty and the Beast at The Muny and Variety Children's Theatre, as well as on the national tour. Broadway/NY/tours: Les Misérables (Valjean, Javert u/s), Paint Your Wagon (Steve). Regional: Jekyll & Hyde (Jekyll/Hyde) Seven Brides for Seven Brothers (Adam), Oliver! (Bill Sykes), Sweeney Todd (Anthony), A Funny Thing Happened on the Way to the Forum (Miles), Carousel (Billy), Ragtime (Tateh), Into the Woods (Cinderella's Prince/Wolf), Camelot (Lancelot), Sanders Family Christmas (Stanley), Bye Bye Birdie (Conrad). Proud member AEA. Twitter: @super_n8.  Instagram: N8HACKMANN
WHIT REICHERT (Erronius)
is delighted to return to The Muny, where he was last seen in Footloose (Cop and Cowboy Bob's Quartet). Other Muny shows include Breakfast at Tiffany's (Oscar) and South Pacific (Stewpot). Earlier this year, Whit appeared in To Kill a Mockingbird (Judge Taylor) at The Repertory Theatre of St. Louis and The Winter's Tale (Old Shepherd) at The Shakespeare Festival of St. Louis. A familiar face to St. Louis, he has been seen at Stages, The Black Rep, Variety Children's Theatre, Shakespeare Festival of St. Louis, The Actor's Studio, Upstream Theater, 27 shows at The Rep and a new show this fall at Insight Theatre Company. Regionally, Whit has appeared in Anything Goes (Moonface Martin, Kansas City Starlight Theatre); Here's Love (Kris Kringle, Fireside Theatre); Inherit the Wind, The Crucible and Most Happy Fella for Cincinnati Playhouse in the Park; The Fantasticks (Hucklebee, Riverside Theatre); world premiere of Monk-y Business (Abbot Costello, Grand 1894 Opera House); The Music Man (Mayor Shinn, Casa Manana); 1776 (Ben Franklin), Sunshine Boys (Al Lewis), Sugar (Osgood Fielding) and Harvey (Dr. Chumley) for Arrow Rock Lyceum Theatre.
MARCUS CHOI (Protean)
Original Broadway companies of Allegiance, Wicked, Flower Drum Song and The Times They Are A-Changin'. Also, Christina Applegate's Broadway production of Sweet Charity and NY City Center Encores! production of Kismet. Regional: Mysterious Skin, Pippin at East West Players, Dangerous Beauty and the US premiere of Waterfall at Pasadena Playhouse. TV: Homeland, Chicago P.D., Blindspot, The OA, The Last Ship, The Fosters, Jessie. Film: Can You Ever Forgive Me?, Sharknado, Enchanted, Adopting Terror, The Novack Murders and Project Drew. Please visit Marcus at marcuschoi.net.
JUSTIN KEYES (Protean)
Broadway: How To Succeed…, The Apple Tree, Mary Poppins; National tour: The 25th Annual Putman County Spelling Bee; Regional: Resident Ensemble Players, The Guthrie, Two River Theater Company, San Francisco Symphony, Dallas Theater Center, Kansas City Starlight, Great Lakes Theater Festival, The Muny, Pittsburgh CLO. TV: Power, I Love You, But I Lied, Gossip Girl. Justin is a graduate of the University of Michigan.
TOMMY SCRIVENS (Protean)
is excited to be back at The Muny. Previous productions were Aladdin and Mary Poppins (Dance Captain). Off Broadway: Where's Charley? and Fiorello! (NY City Center Encores!) The Little Mermaid (Alabama Shakespeare Festival, Dance Captain) and American Dance Machine for the 21st Century (Dance Captain). Tommy has also been a principal dancer with Parsons Dance, dre.dance, Kristin Sudekis Dance, Nicholas Andre Dance and marInspired. Most recently, he has been archiving the works of the late Bob Fosse with the Verdon Fosse Legacy LLC. He is a Florida native and received a BFA in dance from Ohio State University. Proud AEA member since 2011.
JUSTINA AVEYARD
Vibrata
Molly Callinan
Gymnasia
Emily Hsu
Geminae
Khori Michelle Petinaud
Tintinabula
Katelyn Prominski
Panacea
Lainie Sakakura
Geminae
GARY GRIFFIN (Director)
has directed The Muny's productions of Fiddler on the Roof (2016), Into the Woods (2015), Mary Poppins (2013) and Aladdin (2012). On Broadway, he directed Honeymoon in Vegas, The Apple Tree and The Color Purple. Gary is associate artistic director of Chicago Shakespeare Theater, where he has directed King Charles III, Road Show, Sunday in the Park with George, Follies, Amadeus, Passion and Pacific Overtures. Gary directed West Side Story, Evita, Antony and Cleopatra and A Little Night Music for the Stratford Festival of Canada. Recent credits include: Hands to God (Victory Gardens Theater), Moonshine (Dallas Theater Center), Road Show (Signature Theatre) and Parade (Avery Fisher Hall). He has received 10 Joseph Jefferson Awards for Direction and the Artistic Excellence Award from the League of Chicago Theaters.
ALEX SANCHEZ (Choreographer)
choreographed The Muny's productions of Fiddler on the Roof (2016), Mary Poppins (2013), Aladdin (2012) and The Little Mermaid (2011). New York: Far from Heaven (Playwrights Horizons), Fiorello!; Where's Charley? (New York City Center Encores!). Giant (Public Theater, Lucille Lortel Award nomination). Co-choreographed Red Eye of Love (Amas Musical Theatre/Dicapo Opera Theatre, co-recipient Joseph Calloway Award). Regional: Directed Evita (Marriott Theatre) and the national tour of In the Mood (Bud Forrest production). Choreographed Wonderful Town (Goodman Theatre), West Side Story (Paper Mill Playhouse), Guys and Dolls (Goodspeed Opera House, Connecticut Critic Circle Award nomination), Far from Heaven (Williamstown Theatre Festival), Roman Holiday (Guthrie Theater), 42nd Street (Stratford Shakespeare Festival, Broadway World Toronto 2012 Award), Giant (Dallas Theater Center), Follies (Chicago Shakespeare Theater, Broadway World Chicago 2011 Award, Jeff Award nomination), On the Town (Marriott Theatre, Jeff Award nomination), A Little Night Music (Berkshire Theatre Group), Camelot (Glimmerglass Festival), The Little Mermaid and Beauty and the Beast (Alabama Shakespeare Festival) and Mary Poppins (Kansas City Starlight/Marriott Theatre). alexsanc.com
BRAD HAAK (Musical Director)
Muny: Fiddler on the Roof (2016), Into the Woods (2015), South Pacific (2013), The King and I (2012) and Gypsy (2006). Broadway: An American in Paris, Mary Poppins, Lestat and Il Divo – A Musical Affair. National tour: The Lion King. Music direction and orchestrations for Daddy Long Legs, most recently off-Broadway as well as in London, Tokyo, Seoul and 17 US productions. International: Sousatzka (Toronto), An American in Paris (Paris), Honk! (Singapore and Philippines), Jane Eyre (Tokyo). Other collaborations with director Gary Griffin include Chicago Shakespeare Theater's Follies (Jeff Award for music direction), Sunday in the Park with George (Jeff nomination); orchestrations for New York and Boston Pops, National Symphony and L.A. Philharmonic. Graduate of Northwestern University and a native of Chicago.
TIM MACKABEE (Scenic Designer)
Muny: My Fair Lady, Irving Berlin's Holiday Inn, Tarzan and Grease. Broadway: The Elephant Man (starring Bradley Cooper, also West End), Mike Tyson: Undisputed Truth (directed by Spike Lee). Off-Broadway: Heathers: The Musical, Gigantic (Vineyard Theatre), Vietgone, Important Hats of the Twentieth Century (Manhattan Theatre Club), Luce (Lincoln Center Theater), Much Ado About Nothing (Public Theater), Guards at the Taj, Our New Girl (Atlantic Theater Company). Regional: Portland Center Stage, Dallas Theater Center, Baltimore Center Stage, Cleveland Play House, Syracuse Stage, Yale Rep, Philadelphia Theatre Co.; Studio Theatre, Virginia Stage, Syracuse Stage, Paper Mill Playhouse, Maltz Jupiter Theatre, Everyman Theatre, Ford's Theatre, Pittsburgh Civic Light Opera, Williamstown Theatre Festival. Dance: Doug Varone & Dancers, Cedar Lake Dance. Film/TV: Amy Schumer: Live at the Apollo (directed by Chris Rock), Mike Tyson: Undisputed Truth, Gotham, Smash, The Today Show. Education: North Carolina School of the Arts, Yale School of Drama.
MARA BLUMENFELD (Costume Designer)
returns to The Muny, where she previously designed Disney's Aladdin. Based in Chicago, she has designed numerous productions for Goodman Theatre, Steppenwolf Theatre Company, Chicago Shakespeare Theater, Court Theatre, Writers Theatre and Lookingglass Theatre Company, where she is an ensemble member. She has designed for regional theatres all across the country and internationally, including Canada, the UK, Italy, France, Australia and Japan. New York credits include Rusalka, Lucia di Lammermoor and La sonnambula for The Metropolitan Opera, The Glorious Ones for Lincoln Center Theatre and Mary Zimmerman's Tony award-winning Metamorphoses (Circle in the Square, Second Stage). She is the recipient of the 2012 Michael Merritt Award, four Joseph Jefferson Awards and was honored with nominations for two Drama Desk Awards and London's Olivier Award.
ROB DENTON (Lighting Designer)
is thrilled to be back for his sixth season at The Muny. Select Muny designs include: 42nd Street, Young Frankenstein, Fiddler on the Roof, Hairspray, Into the Woods, and Seussical. Other regional design credits include: Thoroughly Modern Millie (Goodspeed Musicals), A Christmas Carol and All the Way (Repertory Theatre of St. Louis), Erma Bombeck: At Wits End (Arena Stage), Sunset Baby and The Call (TheaterWorks), White Guy on the Bus (59E59), Because of Winn Dixie and The Explorers Club (Delaware Theatre Company), Children of Eden (The Kennedy Center), Blue Sky Boys (Capital Repertory Theatre), Die Fledermouse (New Orleans Opera), The Barber of Seville (Opera San Antonio). Upcoming lighting designs include: Carmen (Minnesota Opera), Daughter of the Regiment (Atlanta Opera). www.rdentex.com
JOHN SHIVERS (Sound Designer)
Credits include: The Muny (2015 – 2017 seasons), Pretty Woman (in development), Cirque du Soleil's Paramour, Kinky Boots (2013 Tony Award recipient), Bonnie & Clyde, Hugh Jackman: Back on Broadway, Sister Act, 9 to 5, Cat on a Hot Tin Roof, The Little Mermaid, Tarzan, In My Life and Billy Crystal's 700 Sundays. International: The Secret, Tarzan, Das Wunder Von Bern, The Lion King (Shanghai) and (Singapore), Regional: Moonshine, Harmony, The Nutty Professor, Tales of the City, Emma, Robin and the 7 Hoods. Associate credits: The Lion King, Mary Poppins, The Producers, Hairspray, Aida, Titanic, How to Succeed in Business… ('95), The Who's Tommy, Guys and Dolls and The Buddy Holly Story. Other credits: Savion Glover, Dionne Warwick, Burt Bacharach, Gregory Hines and engineering at Electric Lady Studios. John has a gem of a daughter Ruby.
DAVID PATRIDGE (Sound Designer)
Broadway: Holler If Ya Hear Me, Soul Doctor. US tours: Flashdance, Mamma Mia!; Joseph and the Amazing Technicolor® Dreamcoat. Regional: The Muny – 2015 and 2016 seasons, First Wives Club, Harmony, The Nutty Professor, Emma, Robin and the 7 Hoods, Sammy, Ace, Beauty and the Beast, Singin' in the Rain, Sweeney Todd, Miss Saigon. Off-Broadway: Gigantic. International tours: Das Wunder von Bern. Associate sound design: Paramour, Kinky Boots, Hugh Jackman: Back on Broadway, Leap of Faith, Bonnie & Clyde, We Will Rock You, Sister Act, Come Fly Away, 9 to 5, The Little Mermaid, Mamma Mia!; Tarzan, Cat on a Hot Tin Roof and In My Life. David is a recipient of the Kevin Kline and Suzi Bass awards for Outstanding Sound Design of a Musical.
JOHN METZNER (Wig Designer)
This is John's 4th season at The Muny. He is the head of hair and makeup for Webster University's Conservatory of Theatre Arts, as well as the Wig Master for The Repertory Theatre of St. Louis. He is a graduate of the Conservatory and has been associated with the Rep for a number of years. As a freelance designer, he has worked throughout Missouri, Illinois, Minnesota and New York. Some companies include Opera Theatre of Saint Louis, The Muny, Stages St. Louis, Arrow Rock Lyceum Theatre, Great River Shakespeare Festival and the Merry-Go-Round Playhouse.
CODY RENARD RICHARD (Production Stage Manager)
is thrilled to be back at The Muny after working on Aladdin and Thoroughly Modern Millie five years ago! Broadway: Hamilton, Cirque du Soleil's Paramour, Kinky Boots, Motown, After Midnight, Ghost, Cyrano de Bergerac, Lysistrata Jones, If/Then, The Lion King. TV: Hairspray Live!; The Wiz Live!. Cirque Du Soleil: OVO (North American tour), Wintuk (Madison Square Garden). Off-Broadway: Fortress of Solitude (Public Theater), Cotton Club Parade (NY City Center Encores!), Misalliance (Pearl Theatre), Hello Again and Lysistrata Jones (Transport Group). Selected Regional: The Muny, Stages St. Louis, Kansas City Repertory Theatre, Alley Theatre and The Repertory Theatre of St. Louis. BFA in stage management from Webster Conservatory. @codyrenard