Annie Will Leave You "Fully Dressed with a Smile"
by Pat Lindsey, FloValley News
Leapin' lizards! The Muny production of Annie is terrific! From the overture to the finale, The Muny orchestra sets the mood with happy music for a Depression-era story. Combine that with an intelligent red-haired orphan with big vocal chops, three dozen adorable waifs, a fabulous cast of supporting actors, and a well-trained dog, and you're guaranteed an evening of smiles-and maybe a few tears.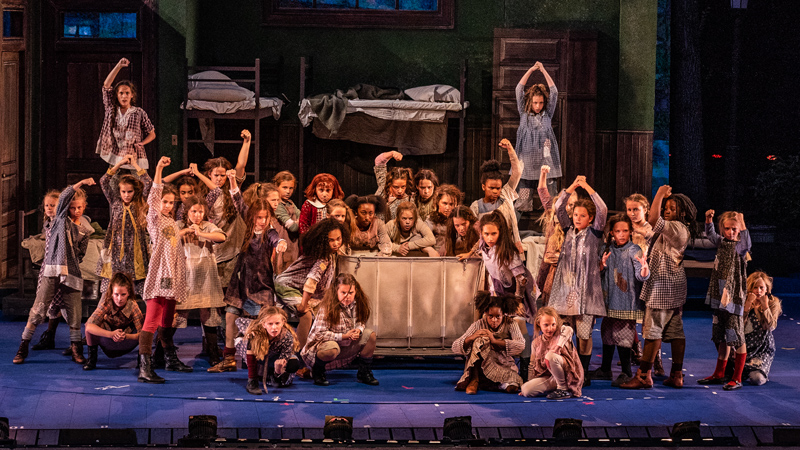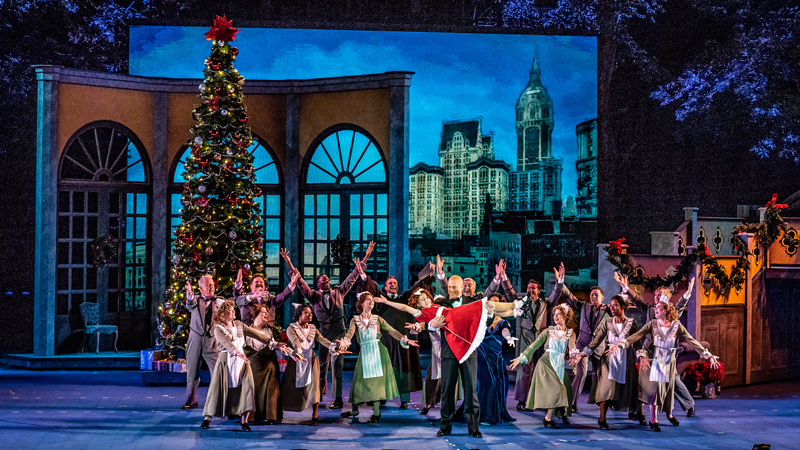 Annie is based on the decades-old comic strip "Little Orphan Annie." It tells the story of how an 11-year-old girl who, as an infant, was left on the doorstep of a New York orphanage during the Great Depression, holds out hope of finding her parents and having a real family life. After some failed attempts to escape the hard knock life of the orphanage and the wrath of tyrannical Miss Hannigan (Jennifer Simard), Annie miraculously meets Grace Farrell (Britney Coleman), assistant to billionaire Oliver Warbucks (Christopher Sieber), and is invited to his Fifth Avenue mansion for a two-week Christmas holiday.
Peyton Ella's strong, clear voice makes her perfect for the role of Annie in the large Muny theater.
Her chemistry with Daddy Warbucks has little time to develop, but they become fast friends and, eventually, father and daughter. It's touching to see a staunch, down-to-business billionaire waltz with a little girl, but I kept wishing even more chemistry would develop between Oliver Warbucks and Grace Farrell, beautifully played by Britney Coleman.
Jennifer Simard has created a Miss Hannigan quite different from Carol Burnett's movie version. Although she has her comedic moments, she's more a sign of the depressed times–a woman whose ambitions have been thwarted, leaving her stuck in a job she detests. When she learns that Annie is going to spend Christmas with Oliver Warbucks, she lets out a scream that seems to last for minutes, a testimony to her powerful lungs. She finds solace in the bottle and rips the head off a doll to get a drink from the booze that is hidden there. It's only when her brother, Rooster (Jon Rua) reveals his plan to do away with Annie that we learn that Miss Hannigan really does have a heart.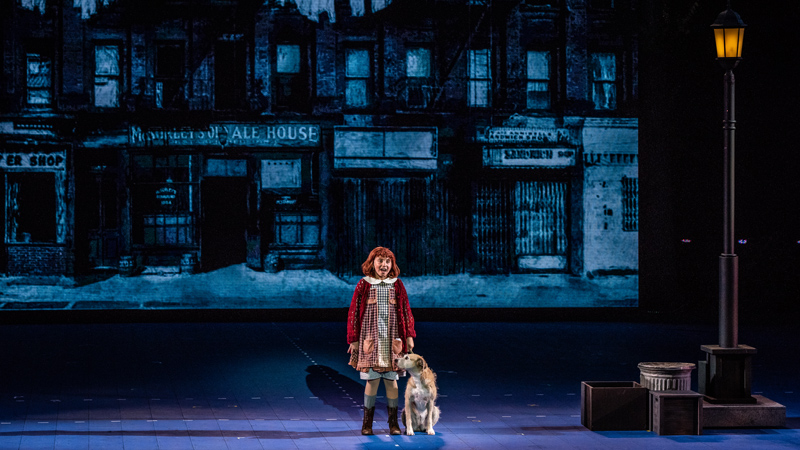 There's one actor that cannot be forgotten. That's Sandy (Sunny) the dog. He's always on cue and politely takes gentle nudging from Annie. At the end of the evening when appeared in the finale, he let out a yawn and tried to give himself a good scratch for a job well done.
Categories: Muny News