It's His 70s Show: A Chat with Nicholas Rodriquez
The upcoming spring 2017 production of Muny Magic at The Sheldon will welcome popular Muny artist, Nicholas Rodriguez back to St. Louis this month. Nicholas most recently starred at The Muny as the Tin Man in the 2016 production of The Wizard of Oz. In his new show, My 70s Show!, Nicholas will fuse all things you love and remember about the 1970s with the music of Broadway, Bossa Nova, folk and, of course, Disco in a unique and intimate evening. This two-night concert presentation will be held March 29th and 30th at 7:30 p.m. at The Sheldon Concert Hall, and is proudly sponsored by Kenneth and Nancy Kranzberg. Before his grand return at The Sheldon, we chatted with Nicholas on his day off from rehearsals on what he has planned for his St. Louis show.
How does it feel to make your St. Louis return?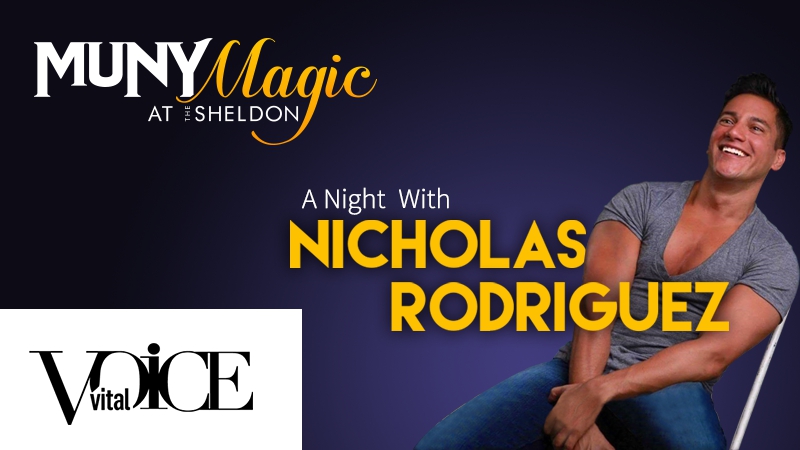 Oh, I just love it there. When they called me, I was kind of shocked. It just came out of the blue, and I was thrilled. I've done five shows at The Muny, and in that time I've made so many really close friends that it kind of feels like coming home. The first thing I did at The Muny was Gaston in Beauty and the Beast, and then I graduated to the Beast five years later. It's nice, but the costume is hot.
How do you stay cool performing outside in St. Louis during the summer?
Um, you don't [laughs]. There's nothing cool about it. You just accept it, everybody is sweating together, and maybe you loose a couple pounds. The last couple years playing the Beast and playing the Tin Man, I had these ridiculously hot costumes where they'd sew in ice packs in that just melt slowly. It helps for a few seconds. But it's the adrenaline, you are so in the moment that you don't realize it while you are doing it. It's just when you are sitting backstage, soggy.
Tell us about My 70s Show! What can we expect?
I came up with this idea as I'm turning 40 this year. It's actually the week that I'm in St. Louis – I'm calling it my birthday party. And I got nostalgic about all these things growing up as a kid. I didn't grow up in the 70s. I was born in the late 70s, but it influenced my life – from the record collection to the TV shows to the fashions. It was interesting that as I was putting things together, it's all of the stuff that tends to come back whether it's re-runs on TV or music that's getting sampled. I mean, they're still making Star Wars movies. And it's a little bit with politics; you see the parallels between the 70s and now. It's about what stays the same and what's changed.
I'm really picking and choosing what it is I like and who I am. So, if audiences like it, it's the ultimate validation because that means that they like me. Some of it will be familiar. I'll sing the same songs but it will be sung in a different way. It's me putting my spin on it from how I recall it. And I hope that people can come to the show and see some of themselves in it. Whether you grew up in the 70s or have heard and know the songs, I guarantee you're going to hear it and it's going to be personal no matter what generation you grew up in.
Categories: Muny News