JERSEY BOYS Grooves Like a Jukebox
by Tanya Seale, Broadway World
What a night it was at The Muny for Jersey Boys, the 2006 Tony Award winner for Best Musical. And when I say what a night, I mean Oh. What. A. Night. of doo-wop megahits galore! The Muny's opening night audience of over 8,400 showed up ready to be rocked, swayed, grooved, and shook, and all of that and more was delivered.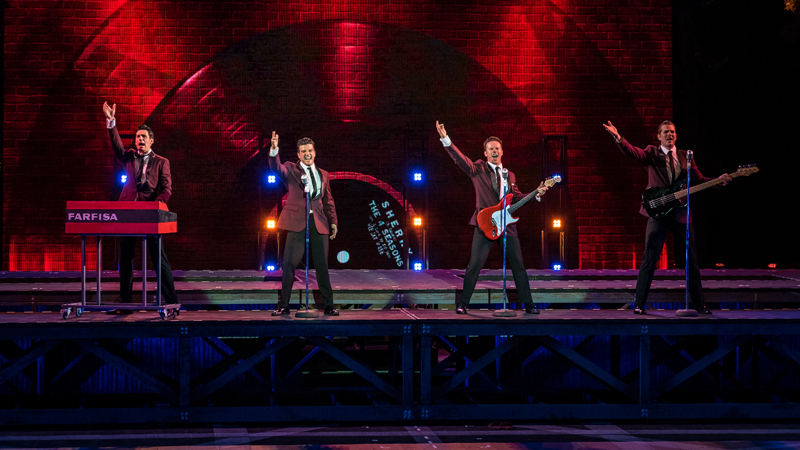 This world regional premier of Jersey Boys, a biographical musical, based on the true stories of the legendary pop/doo-wop group, The Four Seasons, is directed and choreographed by Josh Rhodes with music direction by Rick Bertone. Unlike other musicals in this genre, each hit song in this jukebox musical contributes to the dramatic arc of the band's own story rather than merely accompanying a fictitious storyline. Cleverly, the dramatic structure of the musical also unfolds like the four seasons of a year, in equally credible installments by the members of the band, each who narrates a portion of the story. With super-smooth harmonies and straight-shooting dialogue that provide a compelling chronicle of the group's history, you will not want to miss your limited opportunity to see this show.
This production opens on a mostly bare stage (with little more than risers and screen-projected images of a brick wall) to a colorful dance number set to a popular 2000 "Oh What a Night" cover. The Four Seasons' lead guitarist Tommy DeVito (played by Nicolas Dromard, last seen in Jersey Boys on Broadway), who is credited for both beginning the band and blamed for sabotaging the group's success later, invites us back to the early 60s with him. He tells us in no uncertain terms that he not only built the group that would "put Jersey on the map," but also was singlehandedly responsible for discovering Frankie Valli. Oh, and also, Tommy taught Frankie everything Frankie knows.
Soon, we meet Frankie himself (Mark Ballas, Dancing with the Stars, Broadway's Jersey Boys). While Ballas is perhaps best known for his work on Dancing With The Stars, his powerful, smooth falsetto sort of reaches out and grabs us by the collar, forcing us to come along for the ride that will be this wonderfully melodious show. We like Frankie, if only because of his voice - oh his buttery voice! - and we want to see him grow from an impoverished Jersey boy who went to school to be a hairdresser into the megastar he was born to be. As the characters struggle to find the right band members and the right vibe, there's a fair bit of exposition in these early scenes. We do need the backstory to understand the pride and resentment that build into deeper conflicts for Tommy later, so be patient through these.
As Bob Gaudio (Bobby Conte Thornton, Broadway's A Bronx Tale) takes over the story, he sheds light on the band's early struggles and then how, due in large part to his own songwriting skills, the band was finally propelled into a position to rise into their eventual place of prominence in the cannon of American music. It is here that we are treated to the first of many toe-tapping, head-bobbing megahits like "Sherry," "Big Girls Don't Cry," "Oh What a Night," "My Eyes Adored You," and "Walk Like a Man." As the performers adeptly belt these out, we get to ride alongside their successes, and despite the news that their personal relationships are beginning to deteriorate, at intermission, the opening night audience was still singing and animated, after loud and lengthy applause.
Categories: Muny News