'Jersey Boys' has big voices, lots of heart
by Gabe Hartwig, St. Louis Post Dispatch
"Jersey Boys," the Tony-winning musical about Frankie Valli & the Four Seasons, is the kind of show that's made for the Muny.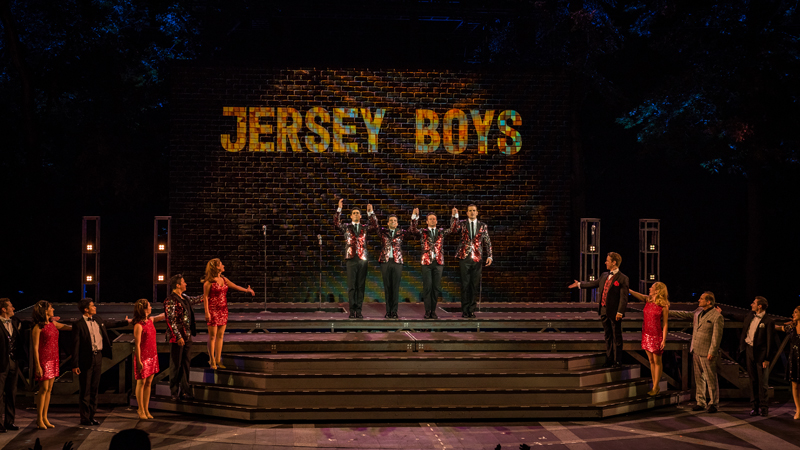 So it seems appropriate that the Muny — in its centennial season, no less — is the first theater to stage "Jersey Boys" since its 11-year Broadway run and tour.
The Muny had wanted to produce the show for a while; the rights recently became available. (Artistic director and executive producer Mike Isaacson explains theatrical licensing — and why we won't see "Wicked" in Forest Park any time soon — in the program for this show.)
Anticipating high demand, the Muny is presenting eight performances of "Jersey Boys" instead of the usual seven. It runs through July 16.
"Jersey Boys" is filled with songs we already know — "December, 1963 (Oh, What a Night)," "Who Loves You," "Can't Take My Eyes off of You," "Big Girls Don't Cry," "Walk Like a Man" and plenty more — but it's more than just a mixtape. It also tells a complete, compelling story with lots of heart, something that can't be said for all jukebox musicals. Each member of the Four Seasons — Frankie, Tommy DeVito, Nick Massi and Bob Gaudio — takes a turn as narrator, recounting the New Jersey singing group's start in the 1960s, its rise to superstardom and its eventual breakup.
The language and themes are a bit more grown-up than some may be used to seeing on the Muny stage, but such is life.
For its "Jersey Boys" premiere, the Muny has assembled a powerhouse cast under director-choreographer Josh Rhodes.
Categories: Muny News