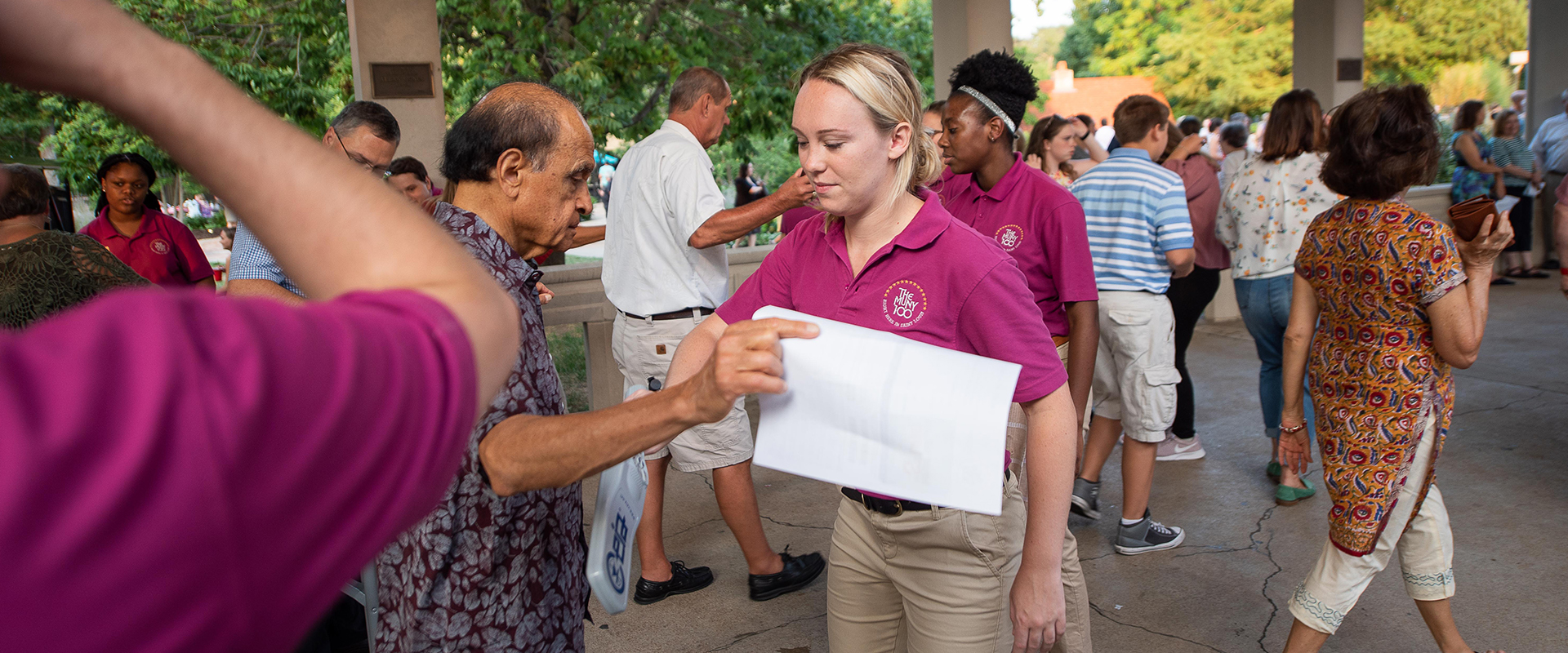 We're all stars here.
The Muny is made up of dozens of full-time professionals who bring a love of community, tradition and musical theatre. During the summer season, our team grows to more than 600 people working together to produce Broadway-level theatre under the stars of Forest Park.
Openings
Light Board Programmer & Daywork Electrician
Summary: Reporting to the Master Electrician and Technical Director, assist the Master Electrician with the hanging, circuit, and focus of the season lighting plot and show specific practical's. Works under the Master Electrician to implement the light design as communicated by the Lighting Head and Lighting Designer per production. Day work includes working under the direction of the Master Electrician to create specialty electrified scenic pieces or props; may include but not limited to a working knowledge of wiring practical or scenic pieces, fog machines, strobes, and movers. Prior to tech, works with the Lighting Designer to program cues in the lightboard. Additionally, in conjunction with the Master Electrician, prior to all techs and performances is responsible for performing a light check. Will run the light board during tech.
---
Internships
Internships at The Muny are a great way for bright, talented students to peek behind the curtain and discover the inner workings of musical theatre. Interns are invited to explore every department in the theatre, from wardrobe to set design to audio production. Much like a live performance, the environment is intense, the stakes are high—but the rewards are endless.
Openings
THERE ARE CURRENTLY NO JOB OPENINGS.
Employment Guidelines
Good to Know
The Process
To be considered for employment, ushers and concessionaires must be at least sixteen (16) years of age.
Paper applications for these positions can be completed at The Muny during regular business hours of: Monday – Friday (9:00 a.m. – 5:00 p.m.).
When applying for a position at The Muny, it is required that the applicant completes the entire application. This information will be placed on file with the theatre management for consideration when a vacancy arises.
Accepting an application in no way commits the theatre to offer employment in any capacity.
You will be contacted by a representative of the theatre if you are selected for employment.
Hiring for the current season does not guarantee employment in subsequent years.
Equal Employment Opportunities
The Muny affords equal employment opportunities to all persons without regard to race, color, sex, religion, age, disability, sexual orientation, veteran status, familial status, national origin or any other legally protected status.