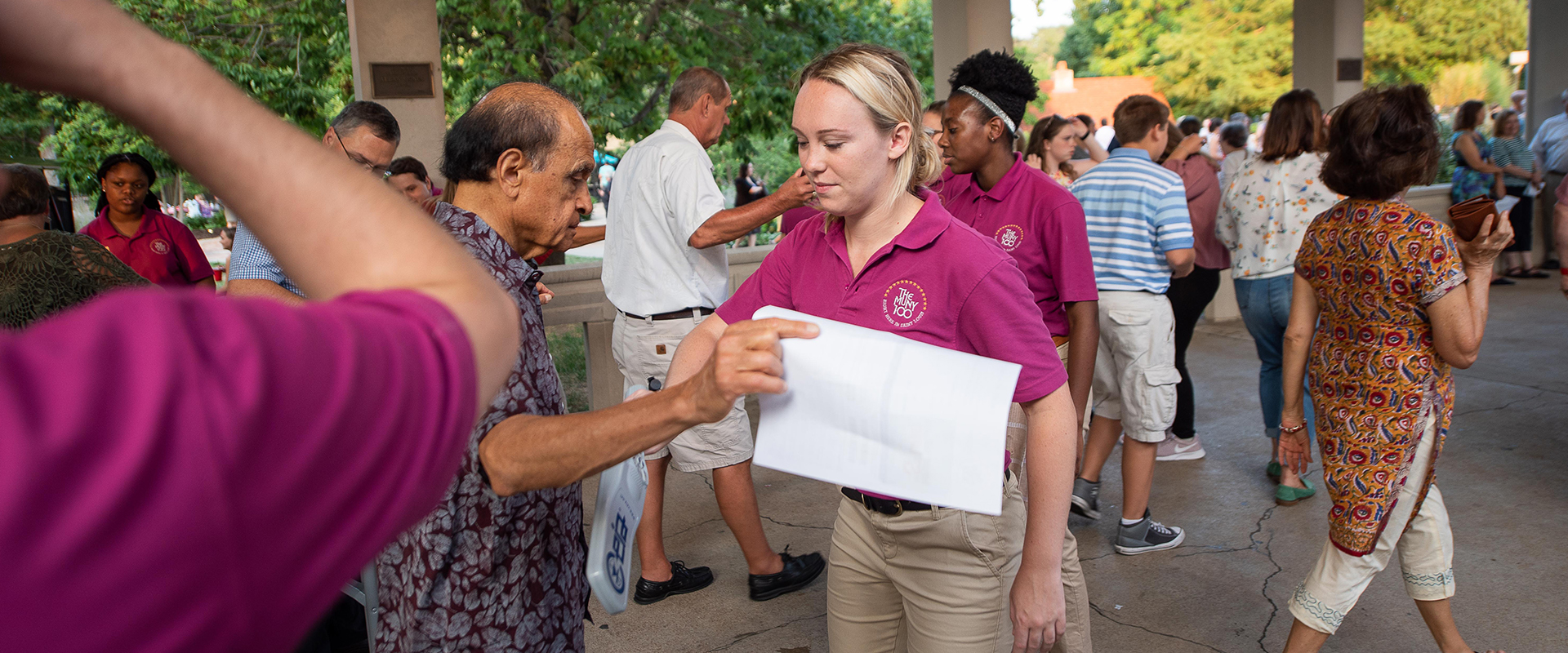 We're all stars here.
The Muny is made up of dozens of full-time professionals who bring a love of community, tradition and musical theatre. During the summer season, our team grows to more than 600 people working together to produce Broadway-level theatre under the stars of Forest Park.
Openings
Director of Marketing
Summary: The Muny seeks an experienced Director of Marketing. This position has a core focus on transformational growth of audiences through subscription, single ticket, group ticket and loyalty strategies while retaining and deepening relationships with current patrons. Reporting to the President and CEO, they are a member of the Leadership Team and work closely with the Artistic, Development, Education, and Box Office teams to support all revenue streams, development goals, education initiatives and community outreach. They are responsible for the management of the Marketing Team and creation and implementation of all marketing and communications, for the theatre's artistic and institutional programming and branding.
MARKETING AND SALES PLAN DEVELOPMENT AND IMPLEMENTATION
Develop and implement season and single show ticket sales and marketing strategies
Oversee or support the creation of all marketing and external facing materials including brochures, appeals, event invitations, flyers, reporting decks, and email marketing templates
Direct the placement and mix of The Muny's media buy across all platforms, including digital channels, traditional and social media
Evolve and expand marketing and communication strategies to engage the community and increase awareness of the annual season and individual productions in order to meet annual subscription renewal and sales and single ticket sales targets
Support the branding, advertisement and recruiting for The Muny's Education Initiative and its associated programs, and The Muny's Community Access Program and other accessibility services
Collaborate with Finance team to create and meet the departmental budget
Align with the Development department on all donor and member cultivation goals to support the branding and execution of fundraising strategies
COLLABORATION, LEADERSHIP AND INITITATIVE
Actively recruit, manage and develop a communications manager to help support the copywriting, social media and press relations responsibilities of the Marketing Team
Manage, motivate and maintain the Marketing Team
Collaborate with Box Office and DATA management teams to develop a patron loyalty pipeline and matriculation strategy
Serve as the primary departmental interface with the Leadership Team
Identify and encourage professional development opportunities for the Marketing Team
Other responsibilities as needed
+ Minimum Qualifications
– Bachelor's degree in arts administration, marketing, communications, public relations, or other related fields; Education beyond an undergraduate degree may count towards experience
– 5+ years of experience in the creation, execution, management, and implementation of creative, successful marketing and communications campaigns; ideally with a professional theatre or performing arts organization with experience in marketing subscriptions and single tickets.
– Management experience of marketing or communication teams
– Demonstrated skills, knowledge, and experience in the design and execution of marketing plans, as well as institutional branding
– Experience developing and managing budgets; and hiring, and appraising personnel
+ Key Competencies
– Strong project management and organizational skills 
– Exceptional interpersonal, written and communication skills 
– Solid analytical skills 
– High level of accuracy and attention to detail 
– Strong team player (ability and desire to work with a cross-functional team) 
– Strong capabilities with Microsoft Office (Word, Excel, PowerPoint) 
– Track record of success creating strategies and implementing tactics to drive results 
– Passion for advancing diversity throughout the organization 
– Comfortable with multi-tasking in a fast-paced environment 
+ Position Type, Work Location and Expected Hours
This full-time, year-round position will operate at The Muny in Forest Park. Some hybrid work can be accommodated; however, the candidate will work exclusively on-site while The Muny is in season. Some evening and weekend hours during the summer may be required.
---
Internships
Internships at The Muny are a great way for bright, talented students to peek behind the curtain and discover the inner workings of musical theatre. Interns are invited to explore every department in the theatre, from wardrobe to set design to audio production. Much like a live performance, the environment is intense, the stakes are high—but the rewards are endless.
Openings
THERE ARE CURRENTLY NO OPENINGS.
Employment Guidelines
Good to Know
The Process
To be considered for employment, ushers and concessionaires must be at least sixteen (16) years of age.
When applying for a position at The Muny, it is required that the applicant completes the entire application. This information will be placed on file with the theatre management for consideration when a vacancy arises.
Accepting an application in no way commits the theatre to offer employment in any capacity.
You will be contacted by a representative of the theatre if you are selected for employment.
Hiring for the current season does not guarantee employment in subsequent years.
Equal Employment Opportunities
The Muny affords equal employment opportunities to all persons without regard to race, color, sex, religion, age, disability, sexual orientation, veteran status, familial status, national origin or any other legally protected status.