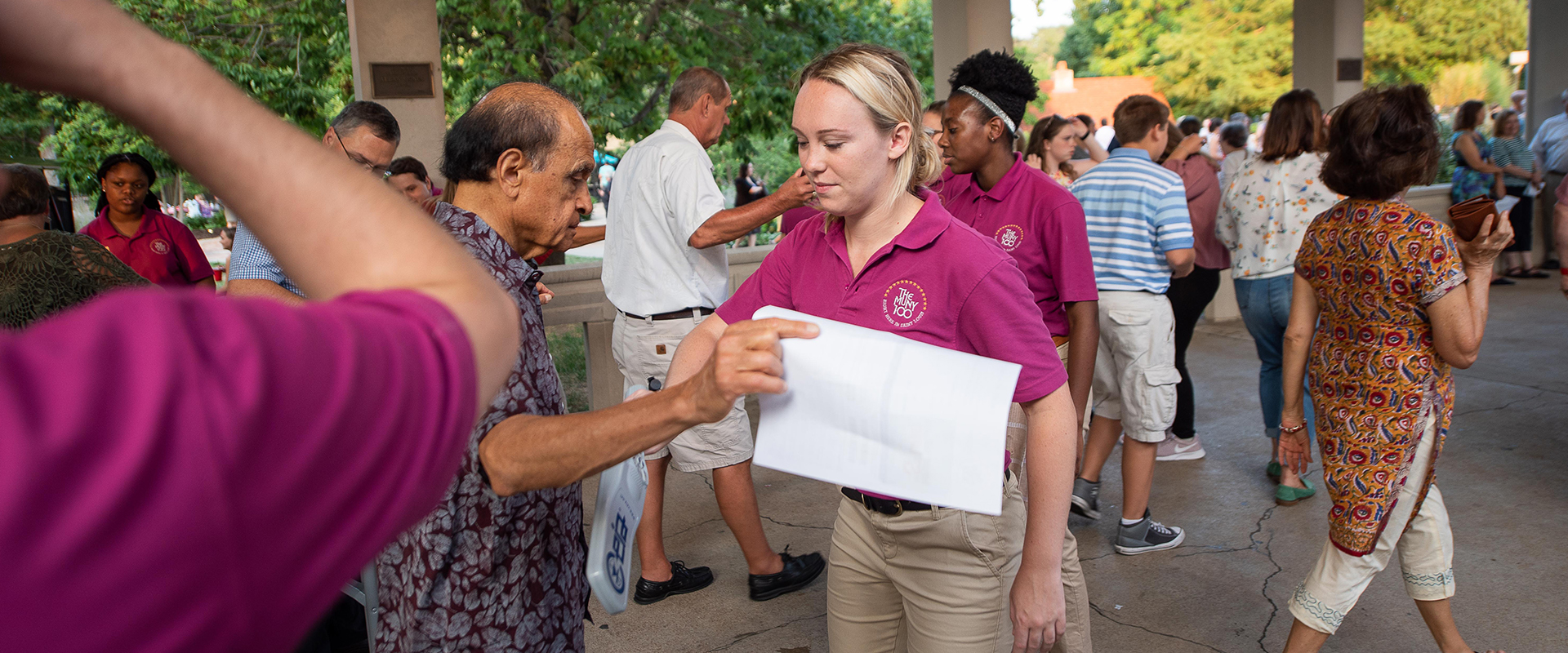 We're all stars here.
The Muny is made up of dozens of full-time professionals who bring a love of community, tradition and musical theatre. During the summer season, our team grows to more than 600 people working together to produce Broadway-level theatre under the stars of Forest Park.
Openings
Wardrobe Assistant
Summary: Under the direction of the Costume Shop Manager this position collaborates directly with the Wardrobe Heads and serves as a key member of The Muny's costume build team. The Wardrobe Assistant (WA) is responsible for assisting the Wardrobe Heads in creation of piece lists, tracking paperwork, and fitting notes necessary for each production.
Principal Viola/Violin
Summary: The Muny will hold auditions for a principal viola/violin position on July 10, 2021 starting 11am. If you are hired by The Muny, you must be/or become a member in good standing of M.A.S.L. Local 2-197.
COVID Compliance Officer
Summary: Reporting to Human Resources and under the direction of Lead COVID Compliance Officer this position will serve on a team of trained COVID-19 support staff in the daily running, monitoring, and implementation of The Muny's COVID-19 Safety Protocols and Procedures. This position must be a reliable source of regulatory and science-based information for the organization and a resource to help solve issues in a preventative manner.
Seasonal Staff
Summary: Under the supervision of the Director of Audience Experience, Director of Food and Beverage and Director of the Annual Fund, respectively, ushers, concessionaires and VIP parking lot staff are the movers and shakers that make the Muny magic happen. These positions require a flexible schedule from late May to late August, can-do attitude and a love for interacting with patrons while being a Muny ambassador.
---
Internships
Internships at The Muny are a great way for bright, talented students to peek behind the curtain and discover the inner workings of musical theatre. Interns are invited to explore every department in the theatre, from wardrobe to set design to audio production. Much like a live performance, the environment is intense, the stakes are high—but the rewards are endless.
Openings
THERE ARE CURRENTLY NO OPENINGS.
Employment Guidelines
Good to Know
The Process
To be considered for employment, ushers and concessionaires must be at least sixteen (16) years of age.
When applying for a position at The Muny, it is required that the applicant completes the entire application. This information will be placed on file with the theatre management for consideration when a vacancy arises.
Accepting an application in no way commits the theatre to offer employment in any capacity.
You will be contacted by a representative of the theatre if you are selected for employment.
Hiring for the current season does not guarantee employment in subsequent years.
Equal Employment Opportunities
The Muny affords equal employment opportunities to all persons without regard to race, color, sex, religion, age, disability, sexual orientation, veteran status, familial status, national origin or any other legally protected status.