Muny fan favorite to return to St. Louis for cabaret show
Calling St. Louis his "home away from home," Muny opera fan favorite Nicholas Rodriguez returns soon to present his dynamic and nostalgic "My 70s Show!" cabaret for two nights.
It's part of the off-season Muny Magic series that began last year at the Sheldon, which celebrates the performances and artistry of The Muny in spring and fall programs.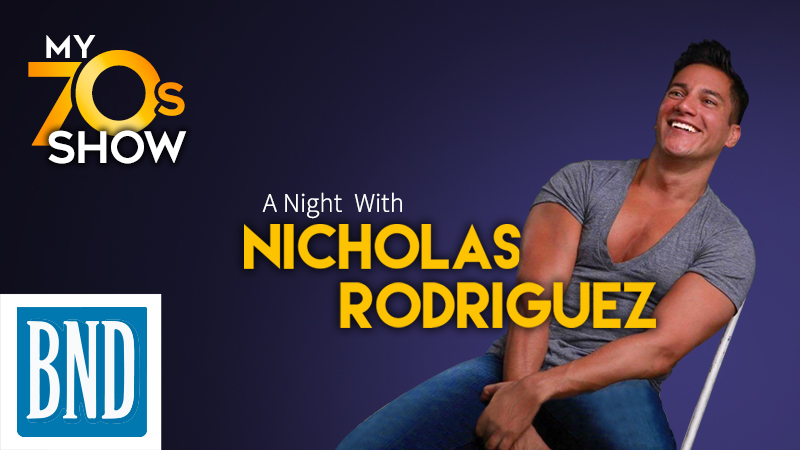 "The 'Muny Magic' series is a great way for our audiences to reconnect with the stars they've fallen in love with in recent seasons," said Muny President and CEO Denny Reagan. "Nicholas has given some really incredible performances over the years, and I'm personally very excited to welcome him back this spring. He's an outstanding talent. I think we're in for a real treat."
Tailor-made for anyone with a fondness for Broadway musicals, disco and '70s kitsch, "My 70s Show! A Night with Nicholas Rodriguez" will showcase the versatile performer's charm and supple voice.
During a phone interview from his home in New York City, Rodriguez said he was looking forward to coming back and presenting another facet of his musical repertoire.
"I can't wait. I am so honored," he said. "I've done five completely different roles at the Muny, and they have all been a challenge. I love it in St. Louis. I feel I have a whole second family there."
The act he assembled is a birthday celebration too, for he turns 40 this year — and will be here for the big milestone March 27.
"I'm calling it my birthday party. I got nostalgic about all these things from when I grew up. I was born in the late '70s, but it influenced my life — record collection, TV shows, fashion," he said.
While his show is a walk down memory lane and some of it is familiar, he said the carefully crafted cabaret has more depth.
"It's not just some jukebox karaoke concert. I hope to spark some memory, engage the audience. It'll be a communal experience like live theater, like sharing a stack of 45s with other people. I hope people can come and see some of themselves in it," he said.
"One of my favorite things is hearing the audience recognize a song," he said. "But I put my own spin on it. I want it to be personal for them. I want them to discover songs."
His fresh interpretation of "Leaving on a Jet Plane," which John Denver wrote and Peter, Paul and Mary recorded, prompted a fan reaction.
"A woman came up to me afterwards, and said she had never heard it sung like that before. That was just the hugest compliment," he said. "If audiences like it, it's the ultimate validation."
Deciding on what songs to include was fun, he said. Coming up with the right mix of show tunes, Bossa Nova, folk and that '70s wayback machine's disco sounds became a journey.
"It took on a life of its own. It was interesting when I was putting things together, I found that all of this stuff tends to come back, whether it's re-runs on TV or music that's getting sampled.
Some of it is the same and some of it has changed. I mean, they're still making 'Star Wars' movies," he said. "It was a different time, before DVRs. I want people to see it in the moment. I want to focus on what it was like."
He recalled the two-album boxed set of the rock opera "Jesus Christ Superstar" by Andrew Lloyd Webber and Tim Rice, and how he felt hearing it for the first time.
"I knew every single word by the time I was 8," he said. Of course, he had to include a number from it in his new act.
His parents were an early influence on his musical tastes. "They listened to James Taylor, Carole King, Elton John and John Denver," he said.
While growing up in Austin, Texas, he sang in church and the high school show choir. He attended the University of Texas and is a classically trained vocalist. But he liked to sing the blues, country, folk and rock, too.
After first appearing as Gaston in the Muny 2010 "Disney's Beauty and the Beast," Rodriguez returned four years later and quickly became popular in such memorable roles as the grown-up lead in the Disney musical "Tarzan" in 2014; The Beast this time in 2015, reuniting him with his "Tarzan" co-star Kate Rockwell as Belle, in "Disney's Beauty and the Beast"; Ritchie Valens in "Buddy: The Buddy Holly Story" in 2015; and as the Tin Man in "The Wizard of Oz" last year.
He hopes to return for more summers. He said The Muny is a special, singular experience.
"Being at The Muny is incredible. It's unlike anything else. The closest it comes to is a stadium concert," he said. "But sitting in the audience, I can't believe how intimate it still feels."
The Muny begins its 99th season this June. The Muny's reputation as one of the premiere institutions in musical theater is far and wide, Rodriguez said. In New York, actors will talk about The Muny, asking each other if they got called yet each spring.
"It kind of feels like coming home," he said.
During his summertime in St. Louis, Rodriguez has developed a fondness for Pappy's Smokehouse and spending time in Forest Park.
The Muny isn't the only place he has sung in town, either. He sang the National Anthem before the Veiled Prophet Parade last July, and he sang the Star-Spangled Banner before a St. Louis Cardinals game the summer of 2014.
Rodriguez has not only stage credits, but also film and TV appearances.
He is best known for playing Nick Chavez on ABC soap opera "One Life to Live." He received the GLAAD Media Award and the 2009 Visibility Award.
He was in the movie "Sex and the City II" and on the soundtrack, and on TV's "Madam Secretary."
He debuted his solo show at the Orlando Cabaret Festival and the Signature Theatre in Washington, D.C., which sold out and received rave reviews.
He is now used to the nomadic life of an actor, traveling to perform all over the country.
"I am one of the lucky ones. I get to do what I love," he said.
Categories: Muny News