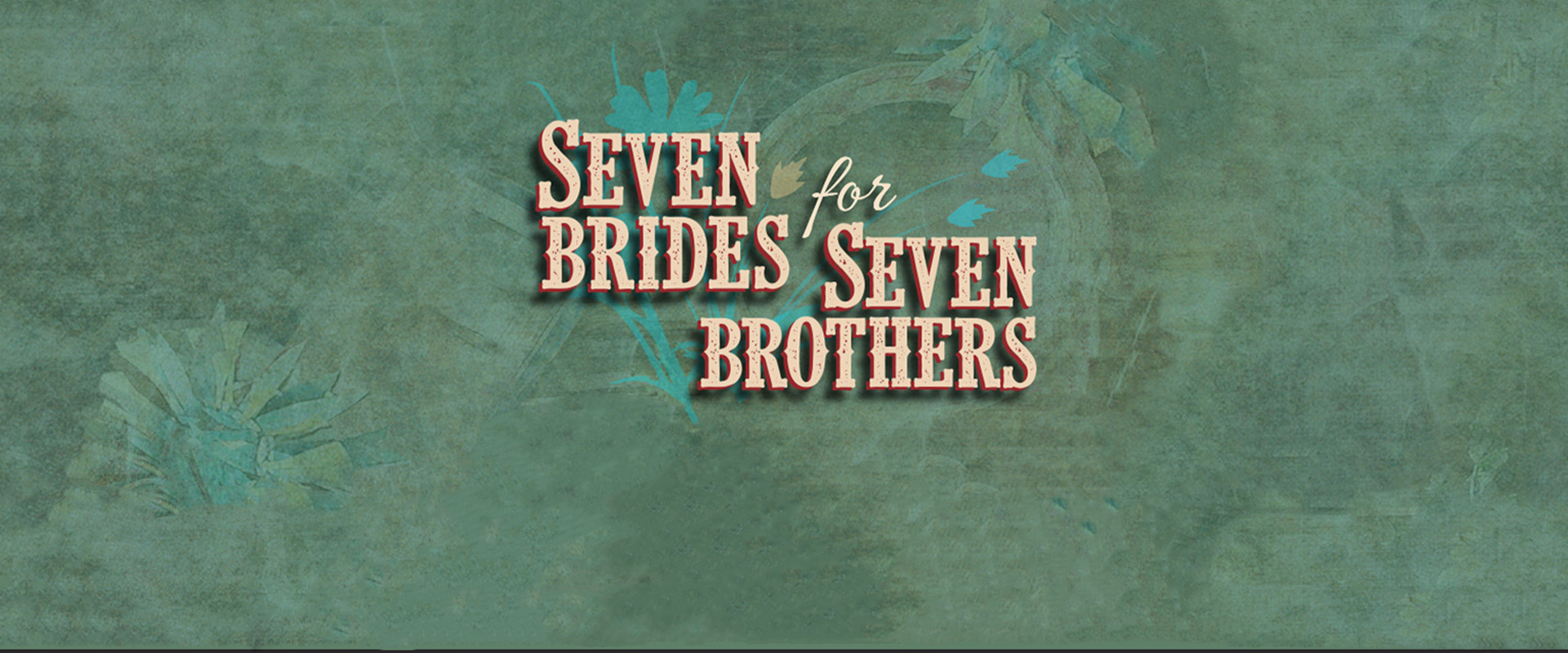 Seven Brides for Seven Brothers
AUGUST 12 – 18
Based on the Academy Award-winning 1954 film, Seven Brides for Seven Brothers is Americana at its finest. With an age-old tale of wooing and winning, the battle of the sexes and some barn-raising dancing, this western rollick features whistle-worthy favorites, including "Bless Your Beautiful Hide" and "Goin' Courtin'." With two of the most eminent dance scenes in musical theatre history and seven times the fun, saddle up for an unforgettable joyride through the Oregon frontier.
A DANCE-FILLED CLASSIC
Performances begin at 8:15 p.m.
Sponsored by

Cast
Kendra Kassebaum
Milly Bradon
Muny: Guys and Dolls (Miss Adelaide, 2019). On Broadway, Kendra originated the role of Janice in the Tony-nominated production of Come From Away as well as Sam in Leap of Faith. She played Glinda in Wicked on Broadway, in San Francisco and on the first national tour (Helen Hayes nomination). Other New York: The Receptionist (Manhattan Theatre Club) and the Tony Award-winning, Grammy-nominated production of Assassins. Kendra made her Broadway debut in Rent. For Roundabout Theatre, she performed the role of Petra in A Little Night Music, starring Vanessa Redgrave and Natasha Richardson. Kassebaum's regional appearances include Actors Theatre of Louisville, The 5th Avenue Theatre, American Conservatory Theater, Ordway, Florida Stage and her hometown St. Louis Muny. Film: The Other Woman (with Natalie Portman and Lisa Kudrow).
Edward Watts
Adam Pontipee
is delighted to make his post-pandemic debut at The Muny! Broadway: Robert/David in Scandalous. Other New York: Superman (It's a Bird… It's a Plane… It's Superman), El Gallo (The Fantasticks), Joe (The Most Happy Fella) and Steve (Show Boat). Tours: The Book of Mormon, Seven Brides for Seven Brothers, Les Misérables and The Little Mermaid. Selected regional: The Grinch in Dr. Seuss' How the Grinch Stole Christmas (Old Globe), Harold Hill in The Music Man (Goodspeed Musicals), Joe Bradley in Roman Holiday (Guthrie Theater), Carl-Magnus in A Little Night Music (Michigan Opera Theatre), Thomas Jefferson in 1776 (Goodspeed) and Miles Gloriosus in A Funny Thing… Forum (Shakespeare Theatre Company, Helen Hayes nomination). Television: NCIS: New Orleans, Quantico, The Sopranos, Rescue Me. Proud member of AEA. EdwardWatts.net.
Creative Team
Josh Rhodes
Director / Choreographer
Josh Rhodes is thrilled to return to The Muny after previously directing Paint Your Wagon, Jersey Boys and choreographing Young Frankenstein. Josh directed and choreographed Grand Hotel (NY City Center Encores!), Tommy (Kennedy Center) Ken Ludwig's Baskerville (Old Globe Theatre), Paint Your Wagon, Guys and Dolls (Old Globe), Spamalot (5th Avenue Theatre), Show Boat (Bucks County Playhouse), The Sound of Music, Evita and Guys and Dolls (Asolo Rep), and Celestina Warbeck and the Banshees at The Wizarding World of Harry Potter. He also choreographed the Broadway productions of Rodgers & Hammerstein's Cinderella, It Shoulda Been You, First Date and Bright Star. On London's West End, he choreographed Carousel at the English National Opera and Sweeney Todd starring Emma Thompson. Other choreography credits include Company starring Neil Patrick Harris and Sondheim: The Birthday Concert (PBS), the U.K. tour of Doctor Dolittle, and Scotland, PA (Roundabout). Josh is a proud graduate of the University of Michigan.
Valerie Gebert
Music Director
returns to The Muny after helming previous productions of The Wizard of Oz (2016), Seussical (2014) and West Side Story (1995). She has toured North America with Disney's The Lion King, Wicked, Joseph and the Amazing Technicolor® Dreamcoat with Donny Osmond, The Sound of Music with Marie Osmond, the award-winning revival of Cabaret, The Addams Family and, most recently, R&H's Cinderella, Finding Neverland and Anastasia. Regionally, she has performed at The Repertory Theatre of St. Louis, Berkeley Repertory Theatre, North Shore Music Theatre, Paper Mill Playhouse and California Musical Theatre.
Show Guidelines
Seven Brides for Seven Brothers features rousing, high-kicking dance numbers, heartfelt romance and soaring songs and is suitable to entertain the entire family.
Based on the Academy Award-winning 1954 film, it's an age-old tale of wooing and winning, with oldest brother Adam and his assertive young bride, Milly, living in the 1850s Oregon wilderness. Milly attempts to civilize and marry off her six rowdy brothers-in-law, but her plan goes comically wrong. It's a classic battle of the sexes – a western rollick with some of the most iconic choreography in musical theatre history.
With seven times the fun, this unforgettable joyride through the Oregon frontier features whistle-worthy favorites, including "Bless Your Beautiful Hide," "Goin' Courtin'" and "Wonderful, Wonderful Day."
Language
The word damn is used.
Sexual Innuendo
A few songs contain sexual innuendo. During the song "We Gotta Make It Through The Winter," the brothers sing about their affection and attraction to their brides.
Drugs and Alcohol
Alcohol is mentioned twice and chewing tobacco is referenced one time.
Violence
A lumberman gives Milly a hard time, and Adam fights him.
Several scenes contain physical skirmishes between the suitors and the Pontipee brothers, one of which involves guns
Mature Content
The show presents antiquated notions of marriage, given the fact that Adam is looking for a wife to take care of the chores his brothers don't want to do. He believes he knows what a woman's place is and how to keep her there. However, Milly shows him she's her own boss.
The song "Sobbin' Women" has sexist tones about how the Romans carried off women when they needed them for domestic purposes in their new territories.
The brothers' misguided attempt to woo townswomen culminates with the carrying off of their brides in a silly, tongue-in-cheek manner. Ultimately, the brothers must earn back the respect of the women and atone for their actions.