'Singin' in the Rain' Makes a Joyful Noise at The Muny
by Mark Bretz - Ladue News
The Muny brings back one of Hollywood's most legendary musicals in its theatrical form as part of the theater's centennial celebration. It's a wise choice, with Broadway star Corbin Bleu acting, singing and dancing to the hilt as the amiable Don Lockwood in this first-rate production.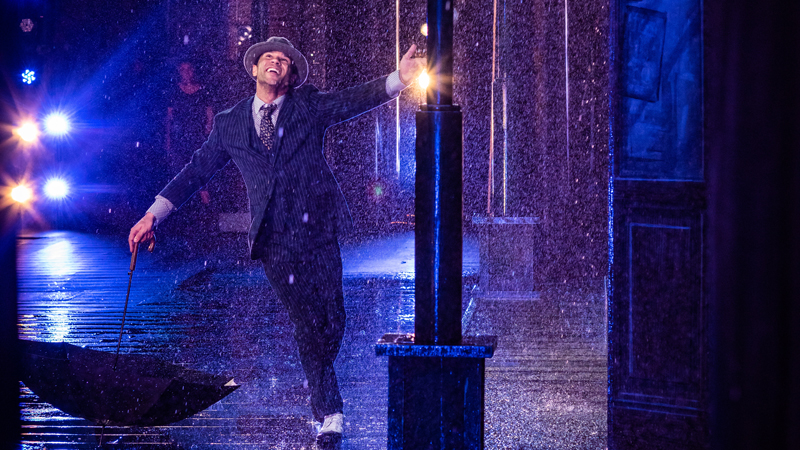 This marks the sixth time that The Muny has presented Singin' in the Rain since its debut here in 1986. Based on the classic 1952 movie starring Gene Kelly, Donald O'Connor and an unknown at the time named Debbie Reynolds, the 1983 musical adaptation features songs by Nacio Brown and Arthur Freed as well as a book by Adolph Green and Betty Comden.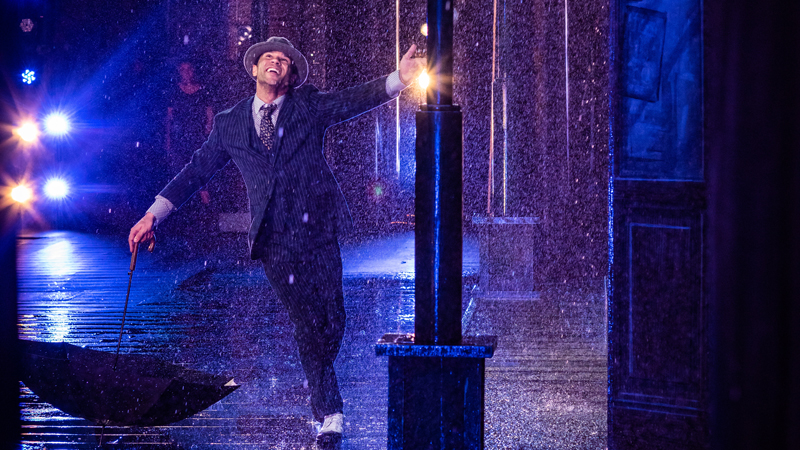 As Muny Artistic Director and Executive Producer Mike Isaacson points out in his program notes, the title tune was written in the late 1920s, approximately the same era in which the musical is set. It's been sung many times by a variety of artists, but the iconic performance by Kelly in the movie, twirling an umbrella while dancing around a lamppost, remains beloved, etched in the hearts of fans everywhere.
It's no surprise, then, that Singin' in the Rain is the final number in Act I, a smart move given the water which cascades down onto the stage while Bleu magically dances away. The genial performer oozes charisma and stamps his own name on that signature number with abundant class and charm. It brings the fast and entertaining first act to a glorious end.
Bleu matches that effort, though, with an outstanding turn in the second act on the ephemeral Broadway Rhythm number dreamed up by Cosmo in Simpson's office as a suitable 'bridge' for the film. This is where Rommy Sandhu's choreography is accentuated with an electric and vivacious dance routine. It also provides an opportunity to showcase Tristan Rames' sumptuous costumes.
Jeffrey Schecter delivers a pleasing performance as good ol' Cosmo, lithe and limber himself on various bits including a tap dance with Bleu. Former Muny Kid and Muny Teen Berklea Going shows that she has what it takes to handle center stage as the determined and good-hearted Kathy.
Megan Sikora steals plenty of scenes as the screechy, vapid and thick-headed Lina, Jeff McCarthy fills the bill as studio chief Simpson and George Merrick makes a winning Muny debut as exasperated director Roscoe Dexter.
The talented ensemble includes fun interpretations by local performers Debby Lennon as fawning interviewer Dora Bailey, Gary Glasgow as a prim and proper diction specialist hired to shepherd Don and Cosmo into talkies and Patrick Blindauer as a frustrated publicist.
Categories: Muny News