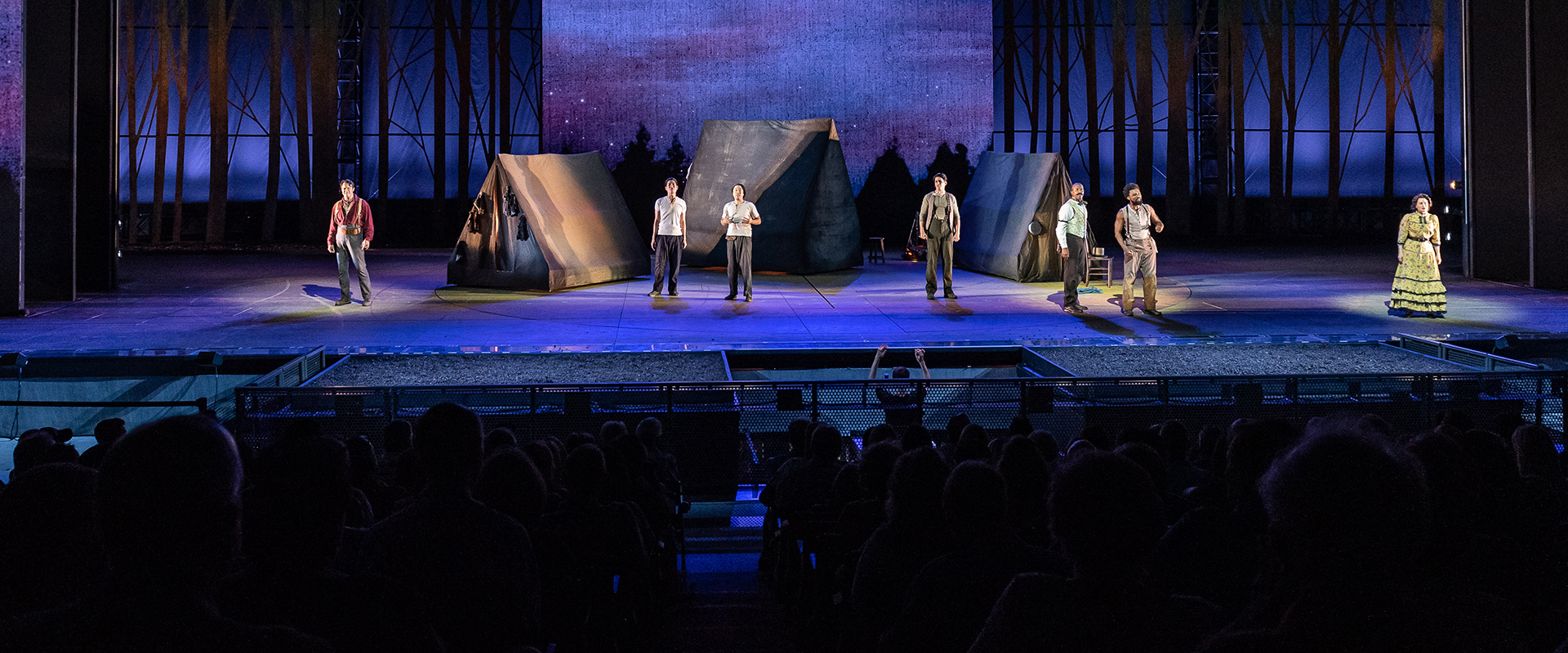 Legal Language
Remembering The Muny in your will or trust is a simple and thoughtful way to become part of Muny history. Our official name and the preferred language for a trust or a will when making a bequest to The Muny is:
"I, <name>, of <city, state, zip>, give, devise and bequeath The Municipal Theatre Association of St. Louis (d.b.a. The Muny) <written dollar amount or percentage of the estate, or trust, or a description of property> for the benefit of The Muny Endowment (a permanently restricted fund), of which the earnings can be used for unrestricted purposes."
If you wish for your gift to be in support of a designated area, the last sentence would read: "for the benefit of The Muny's <specific endowment priority area> Fund, of which the earnings can be used for those designated purposes."
When you include The Muny in your will or trust, please complete and return this Letter of Intent, so we can properly recognize you for your generosity and welcome you into The Henry Kiel Society.
Designating Your Gift
Your planned gift can be designated to the area (or areas) of The Muny's operation that is most interesting to you. To create a permanent personal legacy, you can name an endowed fund with a gift of at least $100,000; otherwise, your gift will be combined with other donors' funds. Endowment gifts support The Muny for generations to come.
Unrestricted Gifts
Unrestricted gifts provide the most flexibility for The Muny's leadership and are used to respond to our most pressing concerns as they happen. It might be an innovative education program, a (literal) rainy day, a leaking roof or a production that demands more special effects or star power than most. This is called an unrestricted endowment designation and is the most helpful way to keep The Muny thriving for years to come.
Designated Gifts
Designated gifts support a specific area within The Muny's operation. Supporting or creating a designated fund is one way to personalize your philanthropy. Priority areas within The Muny's endowment are:
Artistic Innovation and Production Enhancement
Muny shows have always been larger and grander than most. While we encourage all creative teams to dream big as they design for The Muny, for every production we are forced to sacrifice some innovation once the budgeting process begins. Bigger "stars", larger ensembles, pyrotechnics, flying, projections and other elaborate on-stage effects all are elements that have been limited in our shows on a regular basis due to budget constraints. While these may seem like singular sacrifices, in those occasions we have been able to incorporate these "wow-factor" moments, the effect has been undeniable. Endowment support allows us to continue the tradition of top-quality performances each summer at The Muny.
Education Initiative
Youth have played an integral role in Muny productions since our founding. The Muny offers eight programs and participants range in age from nine-years-old to graduate students. They are aspiring performers, novice craftspeople, up-and-coming designers and more. Through mentoring, training and practical experience, young people acquire skills that will help them succeed—regardless of their career path. Beyond specific performance or technical theatre training, Muny students also learn teamwork, collaboration, listening skills, discipline, focus and more. Increasing our educational endowment will allow more youth to not only experience musical theater but also to acquire these marketable skills for careers in theater (both on and behind the stage) or in any industry.
Facilities Maintenance and Improvement
Whether it's a new roof, office equipment, lighting and sound enhancements, concession facilities and equipment, repairing seats, staying current with technological upgrades, the often-unnoticed projects are vital to our business. Ensuring that The Muny's facilities are safe, efficient and attractive for our guests, artists and staff requires constant attention and investment. The Muny's 11.5-acre campus includes an 11,000-seat open-air theater with a state-of-the-art air circulation system; vast in-house production, performance and rehearsal areas; administrative offices; and public spaces and amenities. Endowment funds help to guarantee the safety and beauty of our facilities, store assets unique to The Muny and protect the $50 million investment being made in capital improvements.
Operational Sustainability
Growing operational support dollars allows The Muny to build our capacity and address unforeseen challenges directly and effectively while minimizing the impact on ticket prices. In recent years, weather has had a major effect on The Muny, causing show cancellations and a negative impact on our bottom line. Besides weather, other unforeseen conditions like bursting pipes or collapsing sewer lines under our 100-year-old facility threaten our operating budget annually. Dollars dedicated to facilities maintenance and improvement hopefully will lessen the impact of these types of challenges, but an operational sustainability fund provides for rainy days—in The Muny's case, literally and figuratively.
Beyond preparing for the unexpected, operational sustainability funds allow The Muny to achieve one of our fundamental missions: accessibility. In addition to 1,500 free seats every night, The Muny partners with hundreds of social service organizations each season to provide tickets to Muny productions, enabling their clients to enjoy a night at The Muny for free. It is our mission to make musical theatre accessible to all members of our community, regardless of age, ability status or economic status by partnering with community service organizations and providing free seats at every show. Endowed funds in this area allow us to protect and grow our operation while making Muny magic possible for anyone who aspires to spend an evening under the stars in Forest Park.
IRA Opportunities
Your individual retirement accounts (IRA) can be put to good use to help you and your family achieve your philanthropic goals.
Required Minimum Distributions
When you turn 72 you will be required to take minimum distributions from your IRAs. (This used to be 70½, but The SECURE Act changed this requirement in 2020.) Did you know rather than receiving that distribution as taxable income you can instead make a charitable gift without tax complications? Simply contact your IRA custodian with your wishes and your gift will be made to the organization(s) of your choice. Some things to keep in mind when making this gift:
You must begin RMDs annually at age 72, but can still make gifts starting at age 70½ if you choose.
You make the gift to qualified public charities, like The Muny.
You give directly from an IRA to The Muny to avoid the taxable income.
Your gifts may total up to $100,000.
IRA gifts can be directed to The Muny Endowment, your annual Muny Partners gift or any other category of giving.
Beneficiary Designation
Did you know as much as 37 percent of your retirement plan assets can be consumed by taxes when given to your family? You can easily support the theatre you love and eliminate taxation of these assets by making The Muny a beneficiary of your IRA. Always consult your advisor before making any decisions, but this is as simple as completing the beneficiary designation form for your IRA.
---
Additional Information
To learn more about your options when considering a bequest or charitable planned gift, please contact Jenny Pratt at (314) 595-5771 or [email protected].