The Muny Announces 106th Summer Season
ST. LOUIS (November 1, 2023) – The Muny announced today the exceptional seven show lineup for its 106th Season. The season, bursting with premieres, comedies, romance and magic, opens June 17, 2024 and runs through August 25, 2024.
The season kicks off with one of the most celebrated mega-musicals in Broadway history, Les Misérables (June 17 – 23); followed by the showstopping Dreamgirls (June 27 – July 3); magical Muny favorite, Disney's The Little Mermaid (July 8 – 16); Fiddler on the Roof (July 19 – 25), and the Regional and Muny premiere of Sara Bareilles' Waitress (July 30 – August 5). Also making its Muny premiere is Lin-Manuel Miranda's In the Heights (August 9 – 15); and the grand finale of the season is the long-awaited return of the tap-dancing comedy, Cole Porter's Anything Goes (August 19 – 25).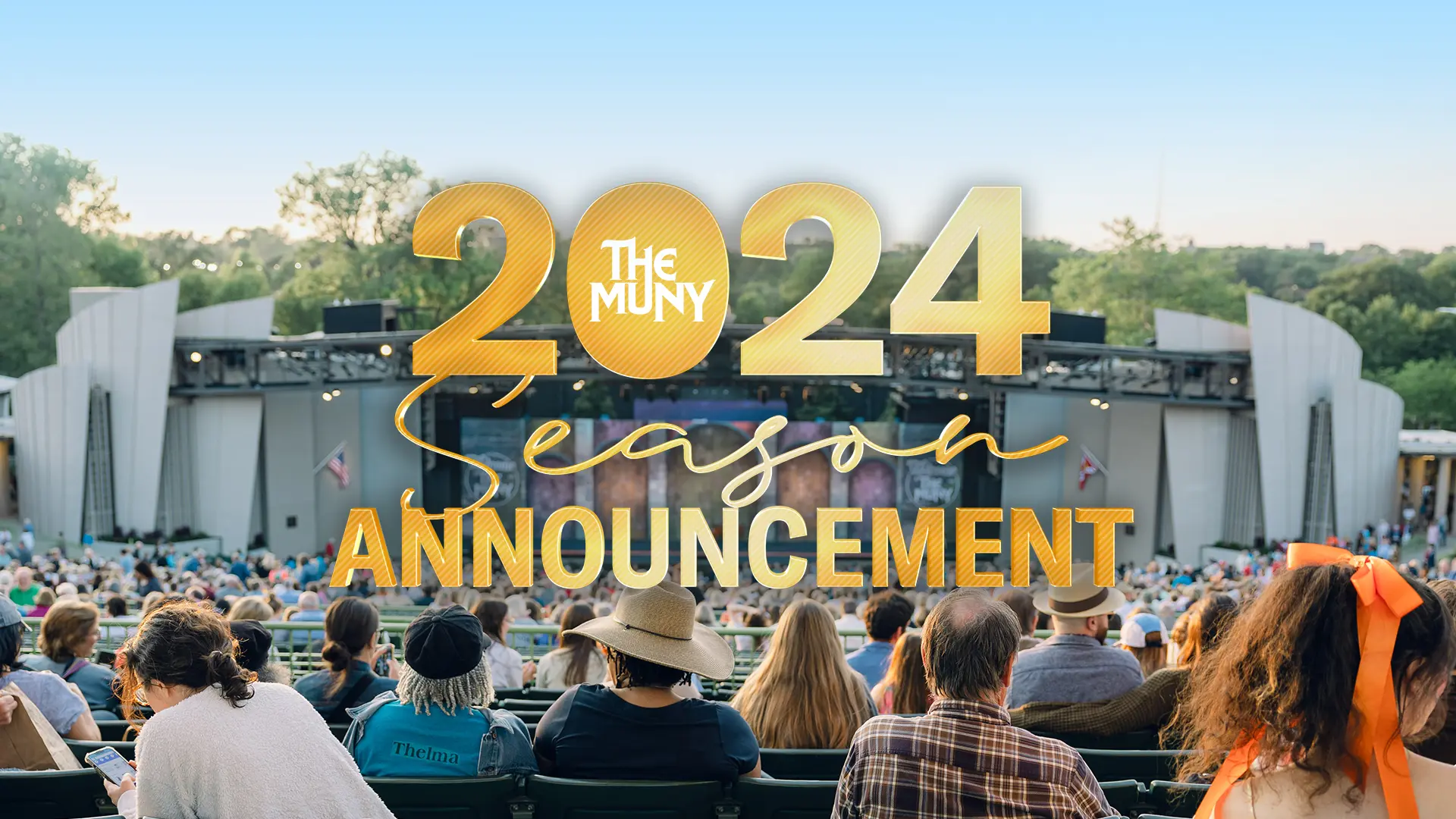 I am beyond excited about our 2024 season line up," said Kwofe Coleman, Muny President and CEO. "The opportunity to celebrate community, share memories and create opportunity through these seven shows is an incredible gift that I can't wait to share with our audiences next summer. 
"Following our epic and powerful 105th season, Muny 106 promises to be equally big, bold and exciting," said Muny Artistic Director and Executive Producer Mike Isaacson. "It offers something for everyone, with a glorious selection of new and classics, as well as stories that will move and entertain."
Les Misérables returns to The Muny to make glorious history again. Based on Victor Hugo's novel, with its extraordinary score and epic stagecraft, this powerful and moving story of love, passion, sacrifice and redemption will move you to your core. One of the most celebrated mega-musicals in Broadway history, it remains the world's longest running and most popular musical. 
Music by CLAUDE-MICHEL SCHÖNBERG 
Lyrics by HERBERT KRETZMER  
Book by ALAIN BOUBLIL, CLAUDE-MICHEL SCHÖNBERG 
The smash hit Broadway musical that became an Oscar-nominated film, Dreamgirls takes its audience through the thrilling and invigorating changes in American pop music that exploded in the 1960s. Follow the moving and inspirational tale of an all-girl singing trio from Chicago that rises from obscurity to superstardom. As they ascend to their dreams, they must question the price of their success and the meaning of their own family.
Book and Lyrics by TOM EYEN 
Music by HENRY KRIEGER 
Disney's The Little Mermaid
One of the most beloved, happy and fanciful family musicals in the past 20 years returns to enchant children of all ages! Howard Ashman and Alan Menken's magical musical tells the story of young Ariel who yearns to leave her underwater life and be "part of your world." Glorious songs and enchanting Muny magic await as we go "under the sea."
Book by DOUGLAS WRIGHT 
Music by ALAN MENKEN 
Lyrics by HOWARD ASHMAN, GLENN SLATER
Often considered one of the top five greatest musicals ever, Fiddler on the Roof returns to The Muny for its 11th production. This multi award-winning show tells the tale of Tevye the milkman, who, in 1905, thrives in the traditions of his town of Anatevka. As his daughters question these traditions and the world changes ominously around him, Tevye is challenged to find a new way to learn and to love. Fiddler on the Roof has one of the most memorable and iconic scores ever written for Broadway.  
Book by JOSEPH STEIN 
Music by JERRY BOCK 
Lyrics by SHELDON HARNICK 
The Muny is proud to produce the U.S. premiere of the smash Broadway and London hit Waitress. Featuring extraordinary music and lyrics by Grammy Award® winner Sara Bareilles, Waitress promises to be a little slice of Muny heaven! The story of Jenna, a waitress and expert pie-maker who dreams of a way out of her small town and rocky marriage, will move, uplift and inspire. Join us in celebrating friendship, motherhood and the magic of a well-made pie. 
Music and Lyrics by SARA BAREILLES 
Lin-Manuel Miranda's joyous and electric Tony Award-winning musical makes its long-awaited Muny debut! Lush with songs that will fill your heart, In the Heights shares the story of Usnavi as he dreams of moving from the neighborhood and friends who have given him his story. Filled with thrilling choreography and fantastic songs, you will be swept away by this powerful and beautiful show.
Book by QUIARA ALEGRíA HUDES 
Music and Lyrics by LIN-MANUEL MIRANDA 
Conceived by LIN-MANUEL MIRANDA 
This hilarious musical tap-dancing romp across the sea makes its Muny return after 25 years! When the S.S. American sets sail, etiquette and convention head out the portholes as two unlikely pairs set off on the course to true love. Come aboard for good old-fashioned fun featuring Cole Porter's joyful score, including "I Get a Kick Out of You", "You're the Top" and the show stopping "Anything Goes." 
Music and Lyrics by COLE PORTER 
The Muny's 2024 Season includes Les Misérables (June 17 – 23), Dreamgirls (June 27 – July 3), Disney's The Little Mermaid (July 8 – 16), Fiddler on the Roof (July 19 – 25), Waitress (July 30 – August 5), In the Heights (August 9 – 15) and Anything Goes (August 19 – 25).
Season ticket renewals begin in November with new subscriptions on sale in March 2024. Single show tickets will go on sale in May. Muny gift cards for the 106th season are available online and at The Muny Box Office. For more information, visit muny.org or call (314) 361-1900.
Information about auditions for the 2024 Muny season can be found at muny.org/auditions.
The Muny's mission is to enrich lives by producing exceptional musical theatre,
accessible to all, while continuing its remarkable tradition in Forest Park.
As the nation's largest outdoor musical theatre, The Muny produces seven world-class musicals and welcomes over 350,000 theatregoers each summer. Now celebrating 106 seasons in St. Louis, The Muny remains one of the premier institutions in musical theatre.
Categories: 2024 Season, Announcements, Muny News, Press