The Muny Names New Board Chair and Additions to the Board of Directors
John W. Lemkemeier to Serve as New Board Chair for 2023 and 2024 Seasons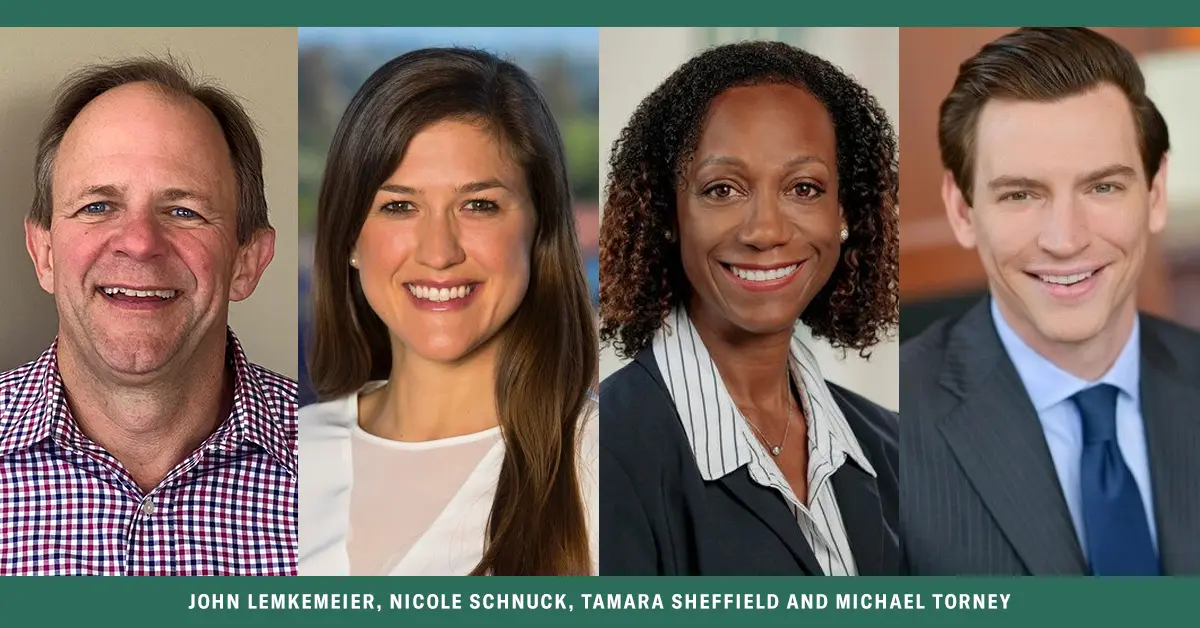 ST. LOUIS (January 17, 2023) — John Lemkemeier, a longtime Muny Board member, was elected Board Chair for a two-year term. Lemkemeier succeeds James Turley, retired Chairman & CEO from Ernst & Young, who served as Chair during the prior two years. Turley remains on the Muny Board and Executive Committee. Three newly elected Directors, Nicole Schnuck, Tamara Sheffield and Michael Torney, recently began their term.
These members accompany four Directors who joined the Muny Board in 2022, Jasmina Hadzialic, Henry "Terry" Pflager III, Kitty McDonnell Pipoli and Sherry Sissac. New officers were also elected for 2023 including Tracy Hart as Vice Chair, Anna Reby Bertman as Treasurer, Edwin "Bo" Broadhurst III as Secretary, Opal Jones as Assistant Treasurer and Sherry Sissac as Assistant Secretary.
"It has been an honor working with Jim Turley, and I am grateful for his service as chairman, and his guidance during my first year as President and CEO," stated Kwofe Coleman. "I have appreciated John Lemkemeir's forwarding thinking contributions throughout his Board tenure, I am excited to work alongside him over the next two years. Welcoming these additional new Muny board members to the family is a privilege and we are uniquely fortunate to add their expertise and wealth of experience to our organization."
JOHN LEMKEMEIER co-founded Sage Capital in 2004 and is one of two managing members of the firm. Sage Capital makes long term investments in manufacturing and distribution businesses in the United States. Lemkemeier is a graduate of Harvard Law School and Princeton University. He serves on the boards of directors of Bulk Tank, Check Technology Solutions, DIT-MCO, K Hall Studio, Livers Bronze, Mohawk Lifts, Quest Food Management Services and Store Supply Warehouse. Lemkemeier also serves on the board of trustees of Barnes-Jewish Hospital, the Missouri Botanical Garden, The Muny and the Opportunity Trust.
NICOLE SCHNUCK is currently a Director on Instacart's Market Strategy & Planning team, where she leads retailer partnership strategy for Instacart's fulfillment solutions. She previously was an Account Director at Instacart leading a national retail partnership, and before that supported Instacart's partnership economic strategy as a member of its Strategy & Business Operations team. Nicole has also worked in investment banking at Goldman Sachs and in private equity at both Sycamore Partners and TSG Consumer Partners, where she specialized in consumer and retail business models. Nicole holds an MBA from Stanford's Graduate School of Business and a BA in Math and Psychology from Williams College, where she played volleyball and directed her a cappella group. Nicole lives in St. Louis with her husband, Todd, and their children.
TAMARA SHEFFIELD is the Senior Vice President of Finance and Administrative Services for Forest Park Forever, the private nonprofit conservancy that partners with the City of St. Louis to restore, maintain and sustain Forest Park. Sheffield has held multiple leadership roles in finance and operations with the organization since joining in April 2011. Prior to Forest Park Forever, she had both financial and operational leadership roles spanning various sectors including biotechnology, retail and financial services. In this capacity, she has managed complex projects and organizational growth for multi-billion-dollar public and private international companies. Among the companies where she has worked are Monsanto Company where she was the General Auditor and had leadership roles in customer service and biotech employee communications; Venture Stores where she was Director of Audit and Shortage Control; and Arthur Andersen where she managed client relationships as Audit Manager. She currently serves on the Foundation Board and the Finance Committee of Mid America Transplant.
Sheffield is a native of St. Louis but has traveled throughout her career. She received her BS from Saint Louis University. She is a certified public accountant and a member of the American Institute of Certified Public Accountants (AICPA), Missouri Society of CPAs (MSCPA) and the Society of Human Resource Management (SHRM). Sheffield has served on several nonprofit boards for arts and social organizations, including Alexandra Ballet Company, Black Alcohol/ Drug Informational Services Center and Volunteer Lawyers and Accountants for the Arts. In 2015, she was named a CFO of the Year by the St. Louis Business Journal, a 'Challenger' in the 2015 class of the Greater Missouri Leadership Challenge and the Non-Profit Executive of the Year by the St. Louis American Foundation. In her spare time, she enjoys sharing her passion for theatre and dance with youth through dramatic plays, musicals and interpretive dance.
MICHAEL TORNEY is a financial planner with Moneta. Mike uses his legal and tax background to provide wealth management services to successful families and individuals. Prior to joining Moneta, Mike worked as an advisor at Buckingham Strategic Wealth. He received his BA from Franklin & Marshall and his J.D and Tax LL.M. from Washington University in St. Louis. Mike's favorite Muny show is Jersey Boys.
The Muny's mission is to enrich lives by producing exceptional musical theatre, accessible to all, while continuing its remarkable tradition in Forest Park. As the nation's largest outdoor musical theatre, we produce world-class musicals each year and welcome over 350,000 theatregoers over our summer season. Celebrating 105 seasons in St. Louis, The Muny remains one of the premier institutions in musical theatre.
For more information about The Muny, visit muny.org
Categories: Announcements, Muny News, Press