Meet Lindsey Grabish
Director of Audience Experience & Staff Accountant
What do you do in your jobs?
My role as Director of Audience Experience means I am responsible for basically everything "in front of the stage" during the season. The most visible part of that is working directly with our house management crew—everything from hiring, training, scheduling and nightly operations for more than 200 ushers, wheelchair pushers, parking lot attendants, gate staff and more. Some things that are not as visible for a position like this are security protocols, emergency response, first aid and even monitoring the lines at our gates, concession stands and restrooms. In a nutshell, I'm always thinking about how to create the best possible environment for our patrons every night.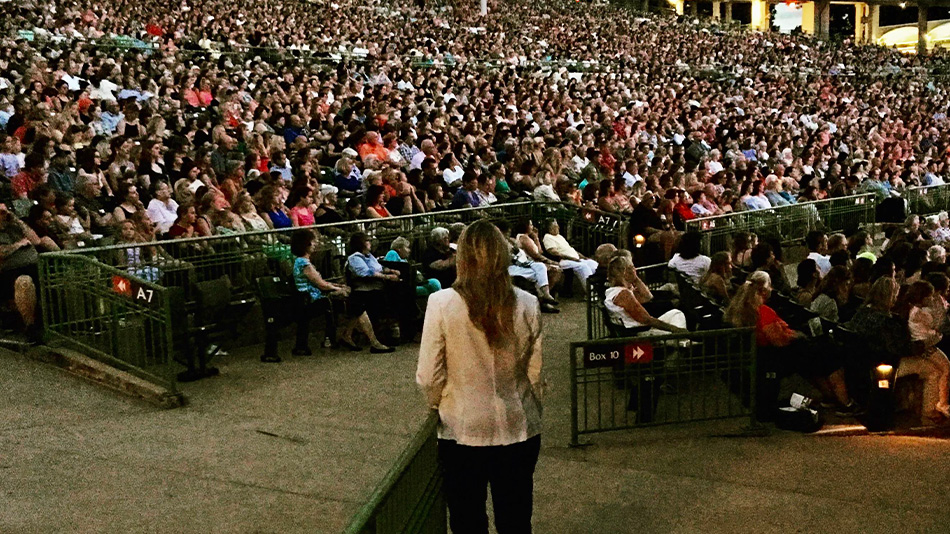 As staff accountant, I am one of two people in The Muny's finance department. The easiest way to describe my role is that I'm responsible for day-to-day accounting work like tracking monthly budgets for our department heads along with accounts payable and receivable.
How long have you worked at The Muny?
2021 will be my 19th summer, and I have been on the full-time staff since 2009. I started as an usher and then also was an intern in the accounting office. Then I became a head usher, then house manager and currently Director of Audience Experience—all while working my way up in accounting. I spend about 15 hours a day at The Muny during the summer.
What is your favorite Muny memory?
It's tough to pick just one, but years ago, during the seasons when we did Little Mermaid and Beauty and the Beast, I was asked to dress up as Ariel and Belle and throw out the first pitch at Busch Stadium. I'm a huge Cardinals fan, so that was really, really fun (although having to be in costume was something). But even more exciting than throwing two strikes was staying in costume and heading over to the cancer floor at Children's Hospital and visiting with the kids. I will never forget how excited they were and how grateful I was for the opportunity to spend time with them in that way!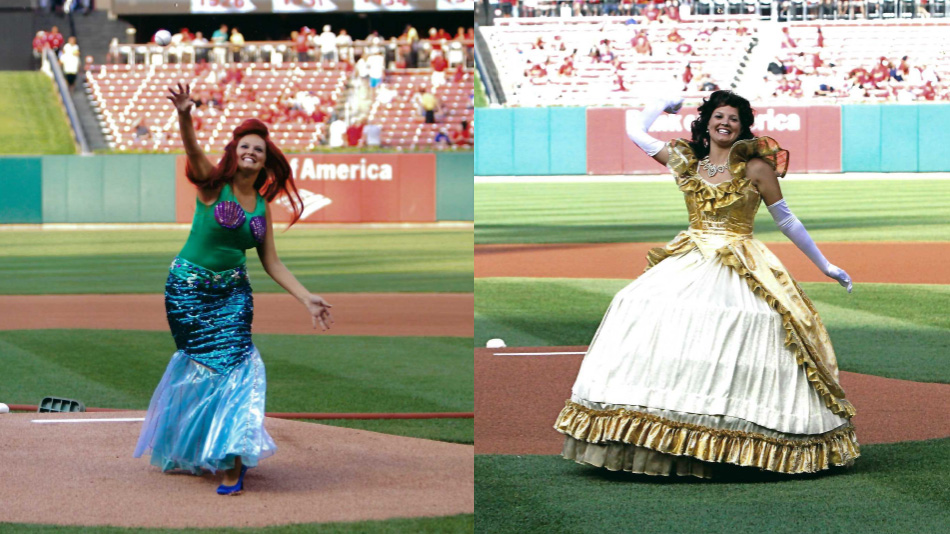 What is your favorite Muny show (you can have more than one)?
I managed to narrow it down to Fiddler on the Roof and Kinky Boots.
If you weren't working at The Muny, and you didn't have to worry about moving or training or anything, what would you be doing?
I would absolutely love to be an FBI Special Agent; specifically, in the Behavioral Analysis Unit. I have always been so captivated by how detectives get into the mindset of the criminals and then unravel how something is going to go down and preventing or solving the case. [Editor's note: Seems like an exceptional trait for someone responsible for 11,000 patrons on a nightly basis!]
What's one of your favorite accomplishments (can be Muny or non-Muny related)?
I served as house manager for seven seasons. I'm really proud of being the first female house manager at The Muny—especially when you consider the last four house managers before me all still work in our organization and have a front row seat to everything I do. We all work really closely together, but I've surprised myself in how assertive I've been able to be when bringing about changes I felt were necessary. It's been an amazing opportunity and I have grown both personally and professionally because of that role. I am now the Director of Audience Experience, a position we saw to be extremely valuable to our patrons.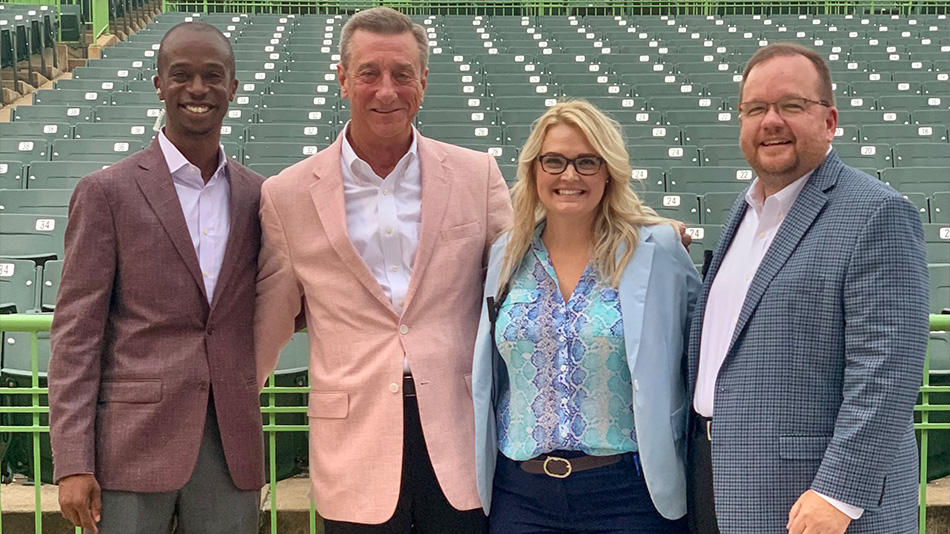 What is your personal mantra/motto?
No act of kindness, no matter how small, is ever wasted. Aesop
What would you tell your younger self now?
There's a great Ruth Bader Ginsberg quote that sums up everything I would want to say to my younger self: "Speak your mind even if your voice shakes."
Where did you go to high school? Ursuline Academy
First Muny show? I can't remember the first show I came to; I've been coming with my family forever. However, the first show I ever worked was Fiddler on the Roof.
Favorite St. Louis attraction other than The Muny? Busch Stadium
Favorite season? Spring—Forest Park is beautiful, the weather has turned, baseball games have begun and we're gearing up for the hustle and bustle of the season (which I love)...and, most importantly, there is St. Patrick's Day.
Early Bird or Night Owl? I mean, I guess a night owl?!?
Coffee or Tea? Neither—I'll have water (with lemon).
Righty or Lefty? Righty
Android or iPhone? iPhone
Favorite St. Louis restaurant? Vin de Set in Lafayette Square
Beach, mountains or desert? Beach
Favorite superhero? Wonder Woman
Favorite road trip snack? Gardetto's
Favorite holiday? Thanksgiving
Favorite Muny treat? Tacos from Cafe One
Categories: Notes