Meet Joy Boland
Receptionist
What do you do in your job?
I am the first voice you hear when you call the theatre and usually the first face someone sees when coming to the administrative offices. Some call me the "Answer Lady," and every production intern is introduced to me as "The Answerer of Weird Questions." I can honestly say, no day is ever the same!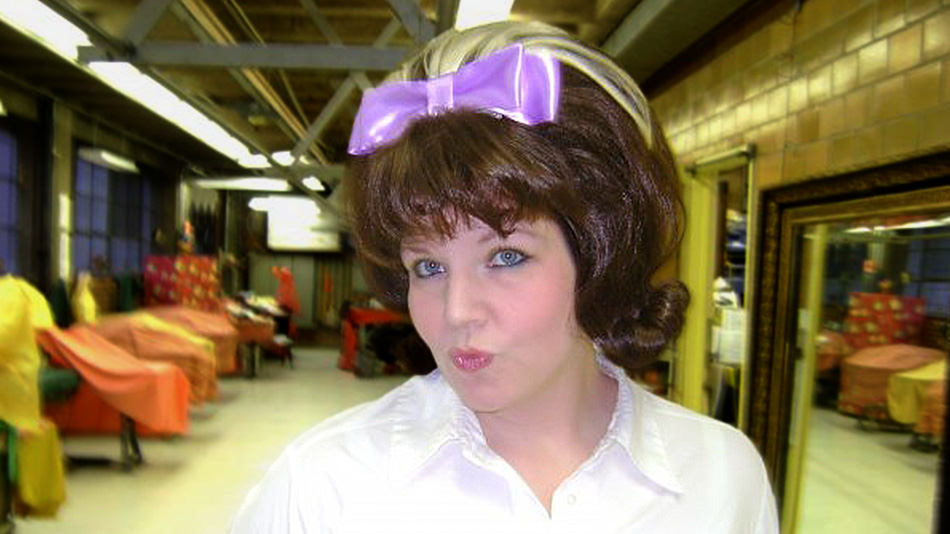 Joy dressed up as Hairspray's Tracy Turnblad. "For the Muny's first production of Hairspray in 2009, we didn't have any stock footage for the season brochure. So, our team decided to dress several of us up as characters for the marketing materials. Good morning, Forest Park!"
How long have you worked at The Muny?
In January, I celebrated 23 years. I had just graduated with a degree in voice from Webster University and was preparing for life as an opera singer living out of a suitcase. The former receptionist retired suddenly and my sister (who also works for The Muny) called me in a panic, "Could you just come cover the phones for a few months while we figure something out?" I had worked summers for the theatre previously while also working retail, so it made sense to lend a hand. Six months later, I was full-time; 23 years later, here I am.
What is your favorite Muny memory?
A woman came into our administrative offices looking for any information we had on her parents' first date to The Muny in the early 50's. The only clue she had was a ticket with a date, tickets didn't have show titles printed on them then. I love a good Muny-related mystery and retrieved the relevant show program archive volume and came back to the lobby. "Let's see, on that date in 1952, the show would have been, hmm, I've never heard of this one, Sally." The woman literally burst into tears in front of me. "My NAME is Sally," she said. She had NO idea; her parents had never told her the significance of her name. Oh, the power of the theatre!
What is your favorite Muny show (you can have more than one)?
My Fair Lady for music and lyrics—it is one of those perfectly written shows. And, I am a lover of all things tap, so 42nd Street.
If you weren't working at The Muny, and you didn't have to worry about moving or training or anything, what would you be doing?
Underwater archeology. I'm fascinated with the shows on The History Channel when they pull up a shipwreck that's still intact or they go to the bottom of the ocean with vacuum hoses and equipment. It could be a little problematic, though, since I am also deathly afraid of sharks!
What's one of your favorite accomplishments?
Many of us who work at The Muny happen to be performing artists on the side as well (ballroom dancers, concert pianists, stage performers, etc.). I was honored to win the 2019 St. Louis Circle Theater Award for Best Supporting Actress in a Musical for my performance as "Ursula" in Variety Theatre's production of The Little Mermaid. It was unexpected and incredibly moving to be recognized in this way by the local theatrical community—and especially rewarding to have several of my Muny colleagues in the audience when my name was called.
What is your personal mantra/motto?
"All will be well." Dame Julian of Norwich
What would you tell your younger self now?
"My WORD, you were so smart to say yes to this job!" I mean, this was a complete stroke of luck. At first, I thought I was just helping out, then I realized this is exactly where I belonged the whole time. I am working in my field every single day, surrounded by the most outstanding artists in every facet of theatre, for the best boss in show business.
Where did you go to high school? St. Francis Borgia in Washington, MO. (Go Knights!)
First Muny show? Can-Can in 1983 in the free seats.
Favorite St. Louis attraction other than The Muny? The City Museum
Favorite season? Autumn. October would have 50 days if it were up to me.
Early Bird or Night Owl? It is shameful because I am a dairy farmer's daughter, but I am wholly a night owl.
Coffee or Tea? Yes, please!
Righty or Lefty? Righty
Android or iPhone? Android
Favorite St. Louis restaurant? Frank Papa's Ristorante in Brentwood
Beach, mountains or desert? Mountains
Favorite superhero? Doctor Strange
Favorite road trip snack? Teriyaki Beef Jerky
Favorite holiday? Halloween
Favorite Muny treat? Sometime during the last week of the season, I allow myself one Ronnie's Rocky Mountain at intermission.
Categories: Notes