Putting the Jazz in "All That Jazz"
A Q&A with Chicago Music Director Charlie Alterman
When the Cook County Jail opens August 30, it will be the third time The Muny has staged Kander and Ebb's international sensation Chicago. It will also be longtime Muny Music Director Charlie Alterman's 11th time helming a Muny production musically.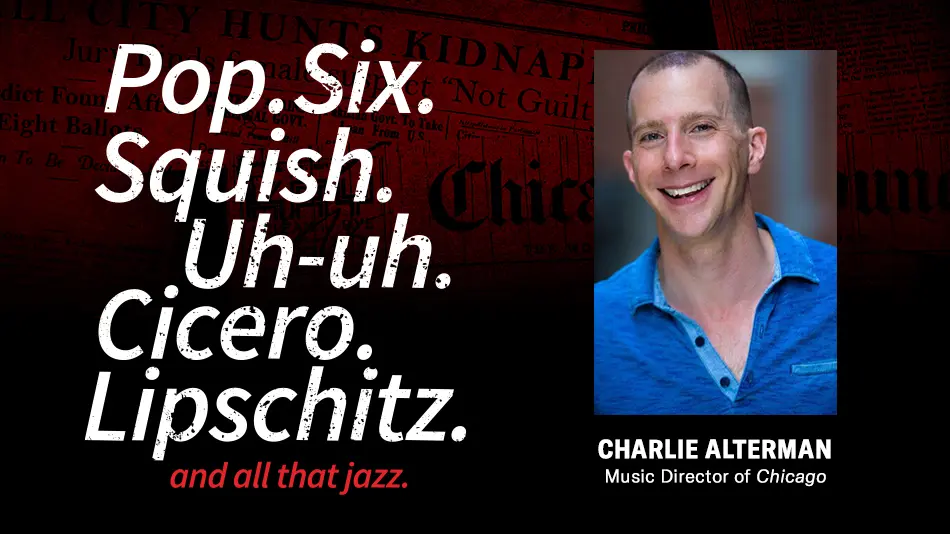 We are excited to share Charlie's thoughts on what audiences can expect with this big, brassy musical, how he prepares for the 11- day rehearsal process, why the show resonates with so many and much more.
Q: What are you looking forward to the most about returning to The Muny?
A: Honestly, simply returning to The Muny. I've been missing the chance to perform live. I've been missing the connection to the audience and actors—the creative process, the downbeat, the synergy of making art. There is no better place to do that than The Muny.
Q: What is a music director and what is their role within the show?
A: In addition to conducting the orchestra for each performance, the music director oversees everything musical in the show, with the exception of actually writing the score and lyrics. Music directors work with the cast to teach them the music. If it's a group piece, we rehearse with the group so it sounds like a unit. If it's a soloist, we work with them on interpretation. We interface constantly with the director and choreographer to ensure the music is serving their needs. Everything from artistic vision in terms of storytelling to the nut and bolts of "we need to cut four bars here" and "we need to add some music here to get that set piece on" is our responsibility.
[Editor's Note: It isn't uncommon to increase the music for every scene change and entrance/exit for Muny shows because our sets are so big and every entrance/exit needs twice as much music because they have at least twice as far to walk (compared to a Broadway theatre).]
Q: How is working at The Muny different than Broadway or touring?
A: The speed of rehearsal is the main difference. What I love about the speed is that you don't have time to second guess yourself. You have to trust your instinct. That, to me, is thrilling. On paper, this process shouldn't work because it's so fast, and yet it does because everyone is at the top of their game. It is unmatched anywhere else.
Q: You and director/choreographer Denis Jones helmed this show at The Muny in 2012. What drew you back to the cell block?
A: I had such a great time working with him the first time around that it was an instant "Yes!" when I got the chance to return. Also, it's a really fun show to conduct; the orchestrations are amazing. While revisiting the material, I've discovered many new, deeper layers of the story.
Q: Do you think this show is still relevant in 2021?
A: Absolutely. This show is timeless thanks to the ongoing obsession with celebrity culture and fame. Think about how fleeting and disposable fame is but also how powerful it can be. When Chicago opened on Broadway in the 70s, it felt groundbreaking. The same can be said for the revival in the 90s. Now, it feels even more current than when we did it at The Muny in 2012. With the rise of reality TV and social media, anyone can become a "star" and monetize their fame. Who knows how famous Roxie and Velma would be in 2021!
Q: Why do these Kander and Ebb songs resonate with so many?
A: They're very evocative of the show's time period. When you really look at it, developing this music was a very academic exercise. They (Kander and Ebb) knew it was going to be a riff on vaudeville and they played into that. They had so much inspiration to draw from. Their music is not only accessible but also celebrates a musical language that already existed.
Q: What is your favorite song to conduct?
A: That's easy; Entr'acte. It cycles through so many hits from the show, and it gives everyone in the orchestra a chance to shine. It's thrilling musically. The overture is incredible too. The moment where we get to the end of the overture and transition into "All That Jazz" is one of the most well-written pieces of music in musical theatre. I'll never forget the goosebumps and chills I got in 2012 every night during that moment. It's amazing.
Q: What is the hardest part of the show to conduct?
A: The courtroom scene. It's underscored within an inch of its life and there are so many vamps and cues. It's a fun challenge.
Q: How do you prepare for a Muny show?
A: I familiarize myself with the score as much as I can. I also familiarize myself with the map of who is in what number. Once we have that, we can begin piecing together the 11 days of rehearsal puzzle.
Q: What can audiences expect with this third staging of Chicago?
A: A fresh take on the show that still honors its rich history. It will be an unbelievably electrifying night filled with people who have not been able to perform for over a year. The energy surrounding this production is remarkable and the staging is going to be next level. As someone who has already done it at The Muny once, I cannot wait to see how incredible this staging will be. Catch Charlie in action during Chicago Aug. 30 – Sept. 5 sponsored by Missouri Lottery.
Categories: Notes