The Man Behind the Gate #1 Greeting
As plans to honor Muny President and CEO Denny Reagan's December 2021 retirement are being finalized, we thought you might enjoy a special look at the Reagan family's leading man through the eyes of those who love him most.
Seeing him nightly in "his spot" inside Gate #1, you might think Denny Reagan actually lives at The Muny. While the theatre has been his home away from home for more than 50 years, Denny would be the first to say being Michelle's husband of 41 years, dad to John, Maggie and Amy, grandfather of six (soon to be seven) and a son, brother and friend are truly his greatest accomplishments.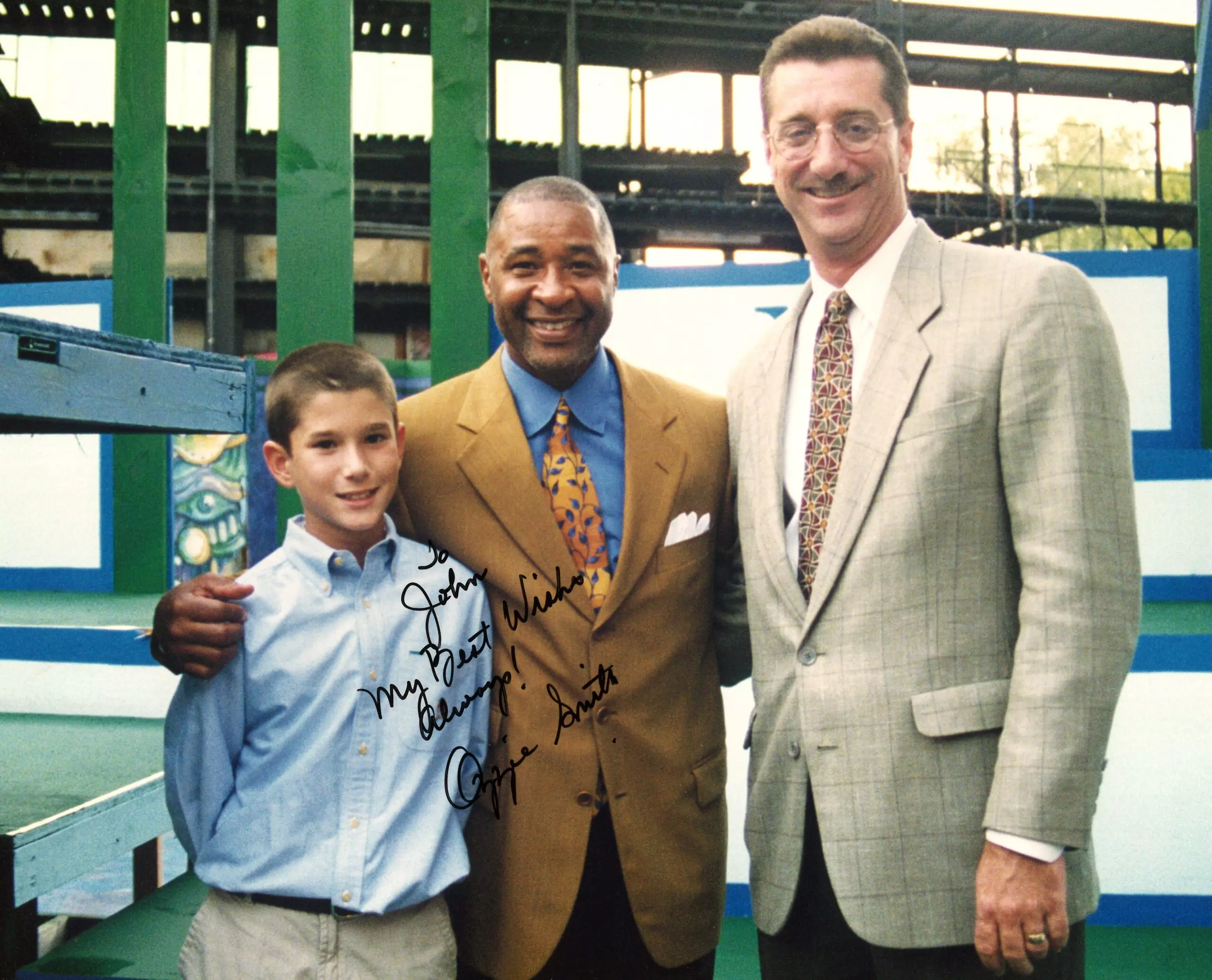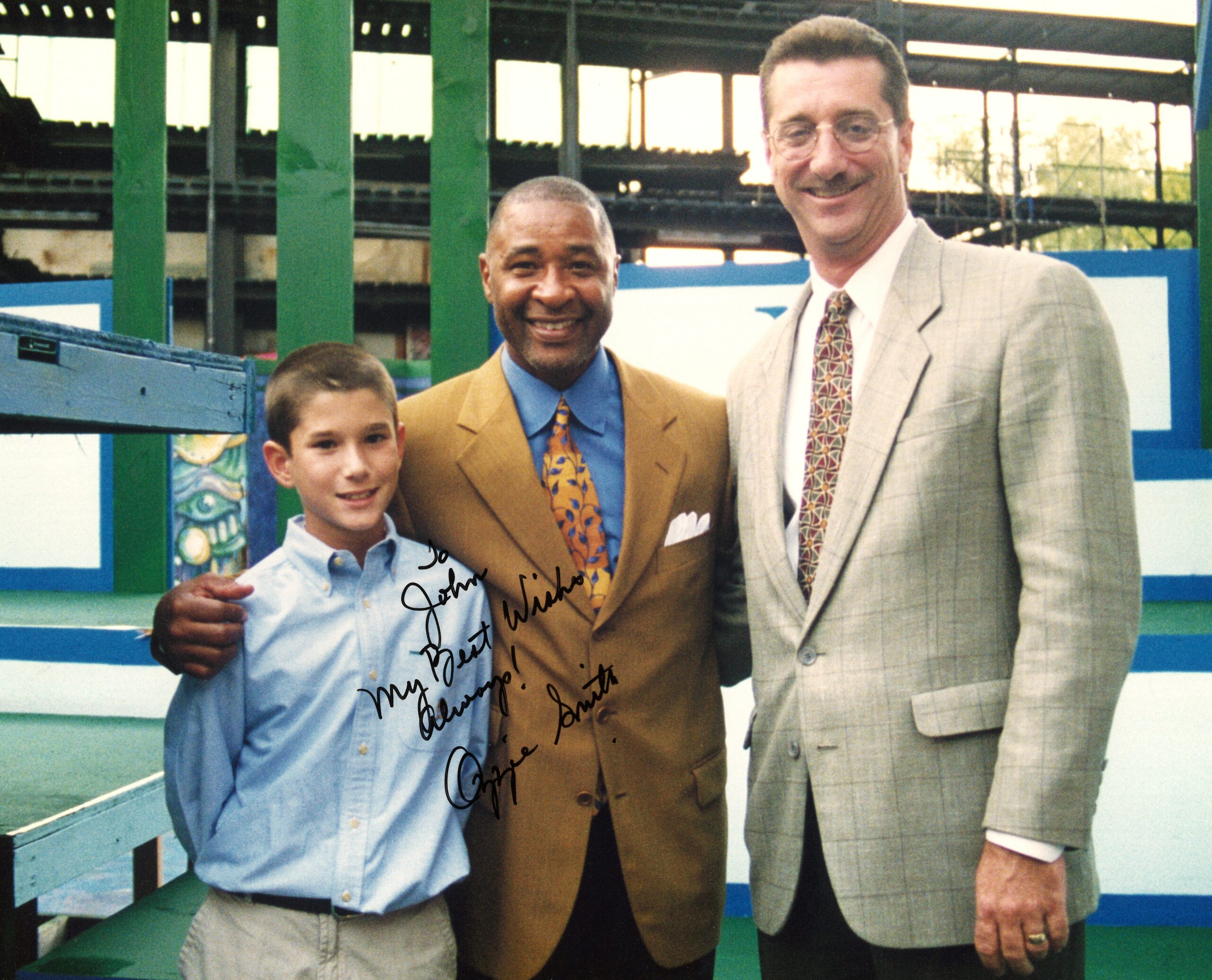 We talked with Denny's family and a life-long friend and are thrilled to share a few things you might not already know about Denny Reagan.
"When you think of an exceptional human, that's my dad," says Amy Reagan Hollo. "Hardworking, smart, kind, fun…he's all of that and more. All the stories of kindness and reaching out you've probably heard…it's not an act or a façade; he's truly just that good of a person. Growing up, I assumed everybody was like that; now that I'm older, I know how unusual it actually is."
Denny's wife Michelle says his kids and grandkids are absolutely his favorite people.
"Denny is a great dad and our grandkids just love him—he's always on the ground wrestling or playing hockey in the driveway with them. Even when our kids were little, he coached soccer teams and would load them all up to go play softball at Forest Park on just three, maybe four, hours of sleep. Our family has always known we are his first priority."
Mark Grabish recruited Denny to join him on the Muny cleanup crew in 1968. "Denny and I have been friends since grade school," says Mark. "He was the best man in my wedding; he's my son's godfather; he's been by my side for literally the best and worst moments of my entire life. He's just a really great guy."
Being with the Muny crew all these years may have been an influence on Denny away from our campus.
"My dad is, without a doubt, one of the handiest people you'll ever meet," says Maggie Reagan Mullen. "He always has a bucket of tools in his trunk and can fix literally anything. There was a problem at my house one time and my dad went over to take care of it. It turned out he couldn't get in and had to call a locksmith. But here's the crazy thing, the locksmith didn't have the drill bit he needed. Of course, my dad popped is trunk and hooked him right up…and had extras when the locksmith broke two during the job."
All three Reagan kids say their dad's lessons make even more sense now that they have families of their own.
"My dad is the first person I ever heard say 'nice guys finish first,'" says John Reagan. "He's proof that you can be a good guy and still be very successful. It's sort of silly, but there's a song from the 90s called "Tubthumping" that says 'I get knocked down, but I get up again, you are never gonna keep me down.' He used to blast that song and make us laugh, but it's taken on a whole new meaning for me as I've gotten older. He has always taught us there are going to be things that don't go our way, but the most important thing is getting back up."
After serving as a St. Louis City police officer for 35 years and retiring as Deputy Chief, Tim Reagan is now a Vice President at Ameren and considers his brother Denny his closest friend.
"It doesn't matter where I go or what I do, I've always been known as 'Denny's brother,'" Tim says, "and that brings me such pride. Denny is the rock of our entire family and has always been the guy everybody wants to be around. It doesn't matter if I'm going to church or the hardware store, everything is better when I'm with Denny."
You won't be surprised to learn we could write ten more pages of stories and love for Denny! We look forward to sharing more as we're able—along with how The Muny will be honoring Denny's vast influence, not just on the theatre but our entire community.
Categories: Notes