🎁 The Muny 2023 Holiday Gift Guide 🎁
At The Muny, we're all about celebrating tradition and making memories. And this holiday season, we're giving you the opportunity to put a little extra magic under the tree for someone you love — or for yourself. Our 2023 gift guide has something for everyone on your list!
Along with gift cards and souvenir Muny merchandise, you'll find limited-edition items that will be available in-person at our Holiday Pop-Up Shop, 9 a.m.-3 p.m. Dec. 9, right here at The Muny in Forest Park. We can even gift-wrap your items, so you'll be able to check one more thing off your list.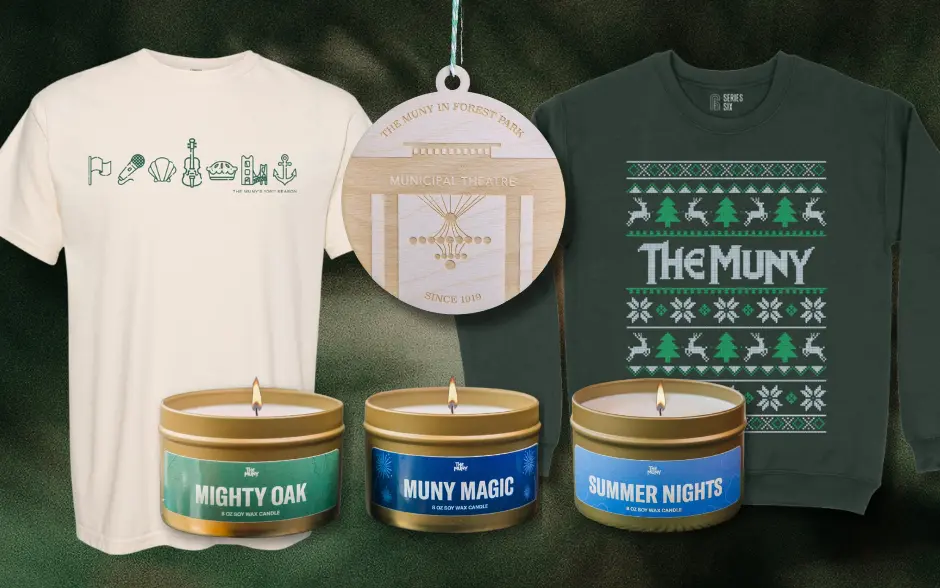 Shop our 2023 holiday gift guide now, and get ready to delight the Muny superfans in your life.
Muny gift cards
With one of our versatile gift cards, your loved one can create their own Muny experience. Choose a gift card in the amount of a season ticket, and you'll be treating someone to a summer of enjoyment under the stars. Pick a card that can be redeemed for a single ticket to one specific show. Or choose a card in another amount that can be used at any of our refreshment or souvenir stands. Whichever you decide, our gift cards never expire.
Black Friday bonus: Purchase $250 in gift cards on Nov. 24 and get a $15 gift card to keep or share!
Simple Modern tumbler
Our new 24-ounce insulated tumbler by Simple Modern — forest green with a sleek, silver Muny logo — will keep beverages hot or cold for hours. It includes two leak-proof twist-and-lock lids (one for hot drinks, one for cold) and two straws. Cupholder friendly and dishwasher safe.
Inscribed brick
Celebrate a loved one with an engraved brick in our donor plaza. Choose between two brick sizes and text allowances. If you'd like to give the brick as a gift, we will provide a presentation certificate. Your special tribute will serve as a meaningful photo opportunity each time you visit The Muny, for generations to come.
'Ugly' sweatshirt
We may be biased, but our delightfully tacky holiday sweatshirt is actually pretty jolly. This collaboration with St. Louis-based apparel brand Series Six features reindeer, trees and snowflakes, with the iconic Muny logo, printed on a comfy hunter-green crewneck. It's giving winter in Forest Park.
Available in-person at our Pop-Up Shop!
Wood ornament
This timeless ornament, crafted in St. Louis in collaboration with Series Six, will make you think fondly of summer nights spent in Forest Park. Our iconic theatre facade and chandelier are engraved in wood, making it a versatile addition to any holiday decor.
Customize with personalized lettering at our Pop-Up Shop!
Name a seat
There are 11,000 seats in our theatre, and each patron has their own preferred viewing spot. Honor a loved one by having their name printed on their favorite seat's number plaque. Plaques ordered now will be installed in 2024, and names will remain until our seats need to be replaced, which is about every 30 years.
Season 106 icon tee
As excitement builds for our 106th season, get into the spirit with our stylish T-shirt featuring icons representing each show coming in 2024: Les Misérables, Dreamgirls, Disney's The Little Mermaid, Fiddler on the Roof, Waitress, In the Heights and Anything Goes. Dark green ink on a super-soft ivory Comfort Colors tee.
Available in-person at our Pop-Up Shop!
Diner mug
No matter how you take your coffee, you'll love drinking it from our vintage-inspired mug. Its classic design and cozy feel make it perfect for sipping hot cocoa by the fireplace or enjoying festive drinks with friends.
Available in-person at our Pop-Up Shop!
Muny PopSocket
Here's a useful gift that will always be within reach: a colorful PopSocket smartphone grip featuring the iconic Muny facade and logo. The removable device makes it easy to keep track of your phone when your hands are full and also makes a quick stand for when you want to watch a video.
Candle set
We partnered with Urban Candle Co. of St. Louis to create this set of three unique scent blends that will ignite the nostalgia of summertime at the Muny. Each 8-ounce candle is made from nontoxic, clean-burning soy, with cotton wicks. The scents: Mighty Oak, a woodsy tribute to the deep-rooted history of our iconic onstage trees; Muny Magic, a dazzling ode to summer with warm citrus notes; and Summer Nights, reminiscent of fresh air on a cool summer evening in Forest Park.
Available in-person at our Pop-Up Shop!
Season 105 tees
If you missed this merchandise the first time around, here's a chance to pick up limited-edition apparel from our 2023 season. Each vibrant design, printed on a soft-feel cotton T-shirt, commemorates a show presented last season at The Muny: Beautiful: The Carole King Musical, Disney's Beauty and the Beast, Chess, West Side Story, Little Shop of Horrors, Rent and Sister Act.
Insulated wine tumbler
The Muny superfan will love one of these branded wine tumblers — perfect for a preshow picnic or other summertime gatherings. You can even bring your cup into the theatre to keep your beverage cold when the heat bears down. Available in a variety of colors.
Categories: Notes