All Shook Up is an Elvis-Flavored Jukebox Musical
by Pat Lindsey, FloValley News
If Elvis had been in the house during The Muny's opening of All Shook Up, he would have enjoyed a hunk of burning nostalgia, because this show is definitely reminiscent of Presley's movies–a simple plot, song after song, and great gyrating dance numbers. Elvis fans will love it for its 27 Presley tunes packed into one show, but they should not expect to see an Elvis impersonator performing them.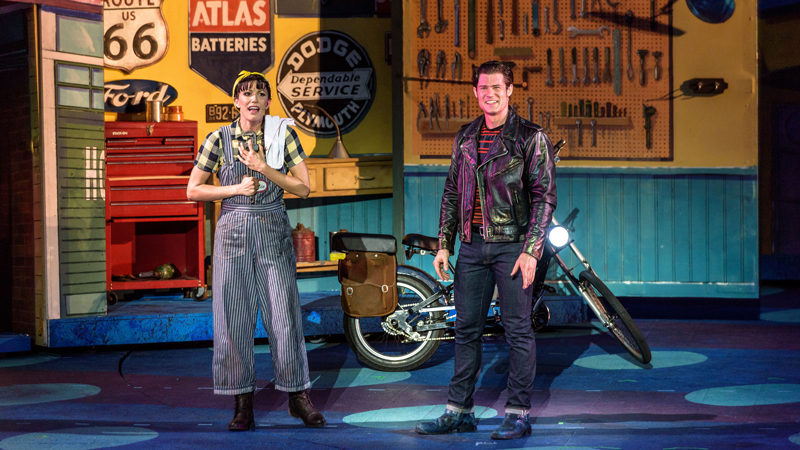 The story is about a sexually-charged guy named Chad who rolls into a small 1950s American town on his motorcycle to get his bike repaired. Natalie, the female mechanic, immediately falls in love with Chad, but Chad shows little interest in her until she decides to dress like a man to become Chad's best friend and sidekick while he's in town.
Eventually, Chad, who had been chasing after the sexy blonde museum curator Miss Sandra (Felicia Finley), is shocked to find himself attracted to "Ed," the name Natalie gives her male persona. That's about as complicated as the plot gets and everything else is based on budding loving affairs between seemingly mismatched couples and overturning the strict rules against music and dancing that the current mayor has instituted. Similar to The Music Man, Chad shakes up the dreary lives of the town's residents with love and music. Their dull clothing is ripped off and replaced with bright colors and the music and dancing begins.
Categories: 2017 Shows, Muny News