Charismatic stars flash at the Muny's opening show, 'Jesus Christ Superstar'
By Judith Newmark St. Louis Post-Dispatch
The Muny's 99th season opened Monday, with about 8,100 theatergoers in the seats and an impassioned production of "Jesus Christ Superstar" on the big outdoor stage.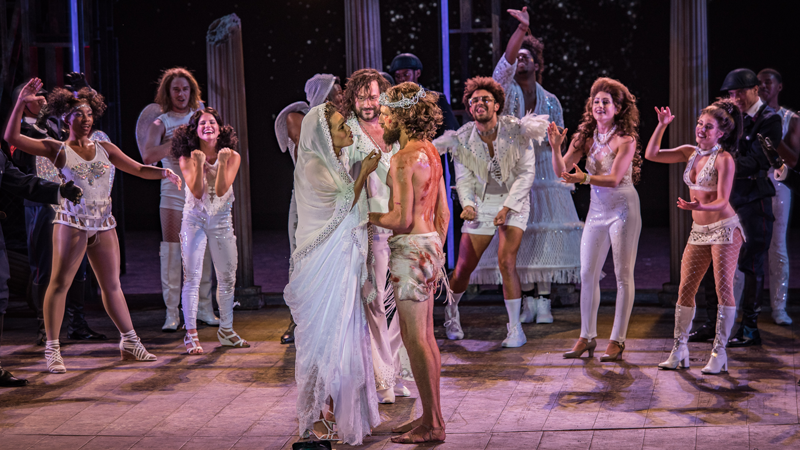 The 1970 rock opera, by lyricist Tim Rice and composer Andrew Lloyd Webber, relates its version of the last week in the life of Jesus of Nazareth. From the Gospels on, there have been many, many treatments of this story. The Muny production, directed by Gordon Greenberg, takes a deliberately anachronistic view, working many modern elements into a story set in ancient Jerusalem.
We see guns (not just swords), scarlet Nazi-style armbands on the police, huge portraits of Jesus in Andy Warhol-esque splashes of color.
Scenic designer Paul Tate dePoo III makes the point explicit with the stage set that greets us as we take our seats: A razor-wire fence with "keep out" signs in Hebrew, Arabic and English frames a huge red-and-gold banner emblazoned with the letters SPQR, the legend of the Roman Empire.
As a rule, we don't see these side-by-side.
But the chronological mashup suits the music, which reflects the show's psychedelic origins yet still sounds fresh. Furthermore, this production is built around performers with charisma, a quality the Romans appreciated. Maybe everybody does.
Categories: 2017 Shows, Muny News