E. Faye Butler co-stars in 'A Funny Thing' at The Muny
By Kenya Vaughn, The St. Louis American
Stage veteran E. Faye Butler simply cannot wait for the masses to see the Muny's production of "A Funny Thing Happened on the Way to the Forum," which opened yesterday (July 5) and continues through July 13.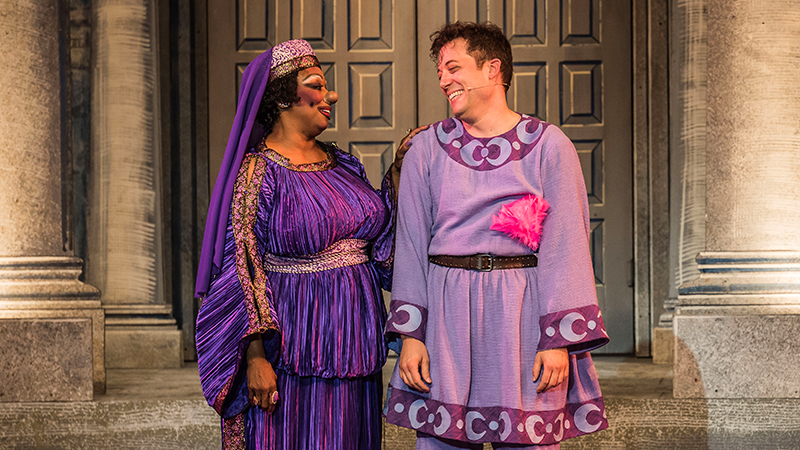 "It's old theatre at its finest," Butler said. "It's slapstick – and saying things that people don't say anymore on the stage. It's just fun and quick comedy."
Butler delighted in just thinking about the play. Her voice beamed as she shared the synopsis.
Butler plays Domina, the clever wife of Senex that everyone loves to hate.
"She is kind of exactly what her name is – she is a domineering, strong wife and she runs her household," Butler said. "Her husband in many ways is a henpecked husband. He's the head of the house, but she actually runs it."
The ensemble production directed by Gary Griffin also features John Tartaglia Ali Ewoldt, Mark Linn-Baker, Marrick Smith, Nathaniel Hackmann, Whit Reichert, Marcus Choi, Justin Keyes and Tommy Scrivens.
"The cast is absolutely amazing – and you have to put a group of what I call theater clowns together to pull this piece off," Butler said. "There is nothing demure about this show. You've got to be able to put it out there on the line. It's big and it's broad and it's what theater is."
Butler's introduction to theater came as a small child. Her parents made patronage of the arts a family affair. Every weekend they did something – whether it was film or visiting an art gallery.
Theater stuck with her as the favorite thing they did as a family.
Categories: 2017 Shows, Muny News