Jeffrey Schecter and the Muny pull through a 'Forum' casting crisis
By Judith Newmark, St. Louis Post-Dispatch
When "A Funny Thing Happened on the Way to the Forum" opened Wednesday at the Muny, the whole audience was rooting for the leading man, Jeffrey Schecter.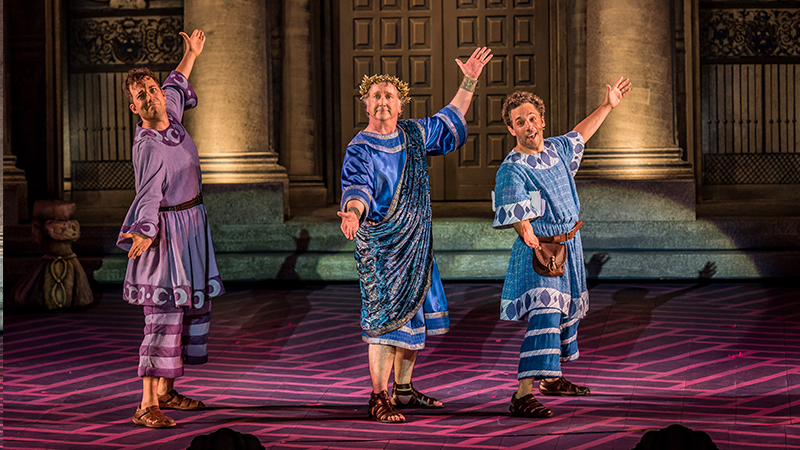 The one with the script in his hands.
Schecter plays Pseudolus, a scheming slave in ancient Rome who longs for freedom and will do anything to obtain it. Until last weekend, that part was to have been played by Peter Scolari. But Scolari, suffering from major allergies and a sinus infection, lost his voice completely on Saturday. A doctor told him it would almost certainly not return in time for "Forum."
The Muny called Schecter, who played Scuttle the Seagull last week in "The Little Mermaid," and asked him to step in. Although he was already back in New York with his family, he turned right around.
So, rehearsing hard from Sunday till just before opening, he plunged into the huge role, replete with songs, dances and a lot of stage business. And with the audience applauding him, and with his own winning stage personality, he carried it off with flair.
Of course, he also had a lot of help from the rest of the actors, especially John Tartaglia as Pseudolus' sidekick, the anxious, hilarious slave Hysterium. Tartaglia's a riot from his first officious bow to his final attempt to pass himself off as a little girl, dressed in crazy Roman drag.
Director Gary Griffin has directed most of the show in that broad style, which we associate with "Forum." Loosely inspired by Plautus' ancient comedies, sleekly written by Burt Shevelove and Larry Gelbart, and full of clever songs with music and lyrics by Stephen Sondheim, "Forum" takes place on a little Roman street with three houses. It's a very traditional set — no splashy effects, no turntable — very smartly designed by Tim Mackabee and lit by Rob Denton.
Categories: 2017 Shows, Muny News