Muny's "Little Mermaid" Goes Swimmingly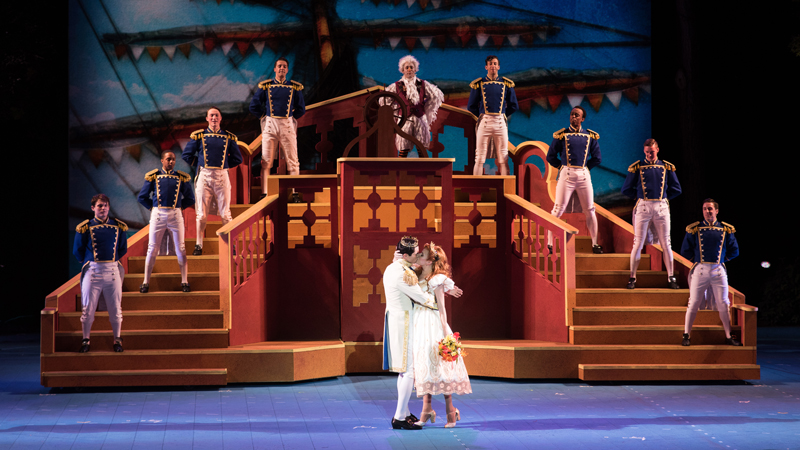 The Muny's "The Little Mermaid" is a charmer. I must confess that with a starting time of 8:15, the production could be a tad shorter considering how many school kids and little ones are in the audience, but a glance at the faces of some of the 8, 842 patrons at the end of the evening showed smiles that only a exceptional family musical can evoke.
The best adult performer in the cast is Emily Skinner in the role of the evil Ursula. She is a commanding presence. The audience loves little Spencer Jones as Flounder. Skinner and Jones get the biggest audience response during the curtain calls, and deservedly so.
Emma Degerstedt as Ariel and Jason Gotay as Prince Eric are good. There are very entertaining featured performances from James T. Lane as Sebastian, Jeffrey Schecter as Scuttle and Frank Vlastnik as Chef Louis.
But the best reason to see "The Little Mermaid" this week is the work of a organization in New York known as The Puppet Kitchen and one of their founders, Eric Wright. His team have designed a collection of puppets and trained cast members operating them and providing voice in such a way that they steal the evening, If you've been impressed by the puppetry in shows "The Lion King," "War Horse" and "Avenue Q," wait to see this very special aspect of The Muny's "The Little Mermaid."
It helps makes the entire evening a joy for both children and adults alike.
"The Little Mermaid" will be on stage through June 29.
Categories: 2017 Shows, Muny News