Remake of The Muny's 'Unsinkable Molly Brown' is a high-energy production
by Lynn Venhaus, Belleville News-Democrat
The surprise of The Muny season — a rip-roaring, rollicking "The Unsinkable Molly Brown" — is a Rocky Mountain high full of wonder.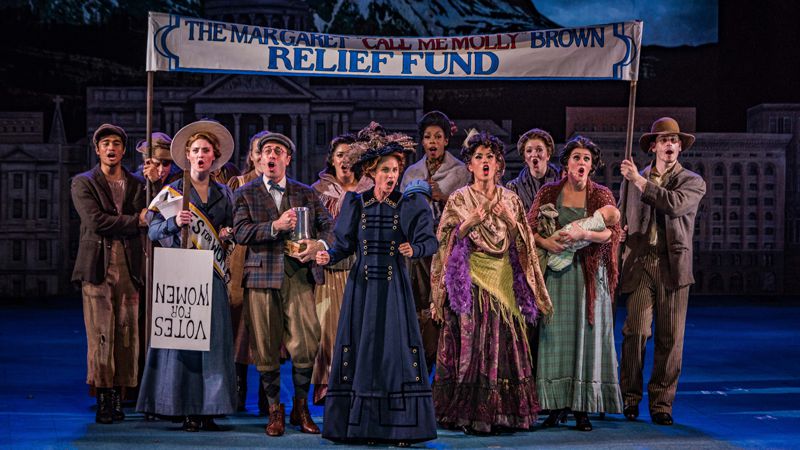 This vigorous overhaul of the 1960 Meredith Willson musical is a game-changer, with a momentous work-in-progress production on the Muny stage, and a bright future ahead.
The original had grown stale, but at its heart was a fascinating force of nature's true rags-to-riches story. With fresh songs, spunkier script and sharper characters, the revised revival raises the profile of a dauntless iconic 20th century woman while celebrating our country's rugged pioneer spirit.
Tony winners Dick Scanlan, book writer, and Kathleen Marshall, director and choreographer, have crafted an American tapestry that is relevant today and richly rewarding.
Scanlan dug deeper into the real life of trailblazing Margaret "Call Me Molly" Tobin Brown to bring out more dimensions. Her remarkable journey from hick in Hannibal, Missouri, to Leadville, Colorado rabble-rouser, to philanthropist in Denver high society, to toast of Europe included the Silver Boom, Gold Rush and RMS Titanic.
In addition to spotlighting her lifeboat heroics, documented in Walter Lord's book "A Night to Remember," Scanlan has emphasized her social justice reform efforts, which led to the first juvenile court system and one of the first humane societies, among many other accomplishments.
In the plucky title role, the tiny but mighty dynamo Beth Malone displays the exuberance, resilience and fierceness that is the stuff legends are made of, truly a towering performance.
Mark my words — we will be talking about this star for years, much like us old-timers mention seeing Jerry Orbach as Chuck Baxter in "Promises, Promises," Joel Grey as the Emcee in "Cabaret," Margaret Hamilton as the Wicked Witch in "The Wizard of Oz" and Carol Channing in "Hello, Dolly!"
Categories: 2017 Shows, Muny News