The MUNY Opens Season with Spectacular JESUS CHRIST SUPERSTAR
Growing up in the 1970's I can't tell you how many times I came across the boxed LP, complete with booklet, set that housed Tim Rice (lyrics) and Andrew Lloyd Webber's (music) classic, JESUS CHRIST SUPERSTAR. For those of us who grew up on the records, and even the movie version, it was a rock, pop, rhythm and blues, funk, and music hall influenced opera that produced a bumper crop of wildly tuneful and intriguing compositions. JESUS CHRIST SUPERSTAR opens The Muny's 99th season and it's a fabulously constructed and performed production that's jaw-droppingly amazing. Back in the day the songs themselves conjured up mental images that are unique to each individual, and on this stage they came alive anew, with loads of energy, and a heavy dose of anachronistic charm. The action is superb, the vocalists shine, the orchestra sounds fantastic, and I simply can't think of more uplifting way to spend an evening under the stars.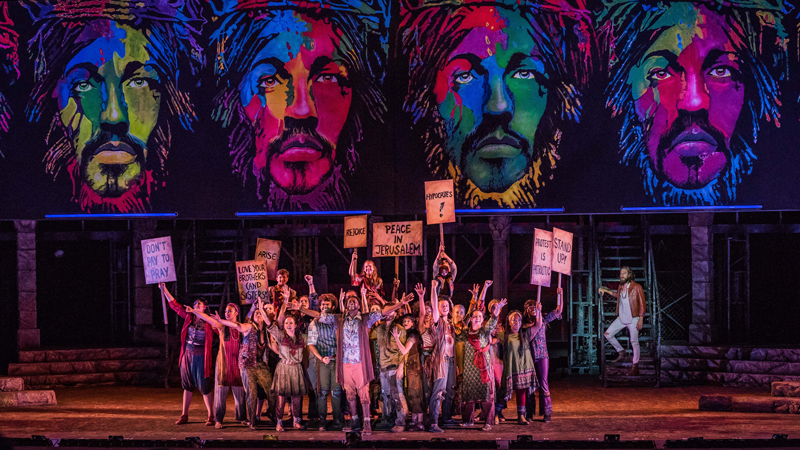 The story follows the last days of Jesus, arriving in Jerusalem with his disciples, and eventually being crucified. But, the text isn't strictly biblical, and explores his complex relationships with both Mary Magdalene and Judas. The Last Supper is followed up with betrayals which land Jesus before the Roman occupiers of this city; Pontius Pilate, and eventually King Herod who renders his sentence after demanding a miracle be performed. But, it's done as pure theatre meets rock opera, mingling excellent production values with numbers that rock, groove, and move you emotionally.
Bryce Ryness is superb as Jesus of Nazareth, striking just the right chord with his vocals, and compelling you to care deeply about him. Constantine Maroulis is the perfect misguided and forthright Judas of Iscariot. Ciara Renee is a fetching presence as the conflicted Mary Magdalene, delivering up a heartfelt rendition of "I Don't Know How to Love Him" that perfectly sums up her relationship with Jesus. Christopher Sieber brings flair to his interpretation of King Herrod, while Ben Davis is sharp as Pontius Pilate, whose dream comes to fruition. Nicholas Ward brings power and strength to his role as Caiaphas, corroborated by Annas (Mykal Kilgore) in seeing Jesus as a genuine threat.
Gordon Greenberg's direction is phenomenal, and makes use of a great deal of inventive pieces, making each song its own in the process. Jon Rua's choreography takes the cue of "going for it" and mixes familiar styles with original movements that add greatly to this sung-through piece. Colin Welford's music direction give this genre-hopping score a spectacular run through, and Paul Tate DePoo III delivers a truly memorable scenic design. Tristan Raines' costume designs are eclectic as well, and utilize color in creative fashion. Greg Emetaz's video designs give the show added eye candy, and Nathan W. Scheuer's lighting runs the gamut from flashy to subdued.
Categories: 2017 Shows, Muny News