Muny Announces More Disney's The Little Mermaid News
ST. LOUIS (April 20, 2017) – The Muny announced today its ensemble and design teams for Disney's The Little Mermaid, the second production of its 99th season, which plays June 20-29. Disney's The Little Mermaid is proudly sponsored by Emerson.
"We've set out to create real, honest to goodness enchantment with this production," said Muny Artistic Director and Executive Producer Mike Isaacson. "This incredible company is sure to deliver. They'll stir countless hearts and minds with their talent."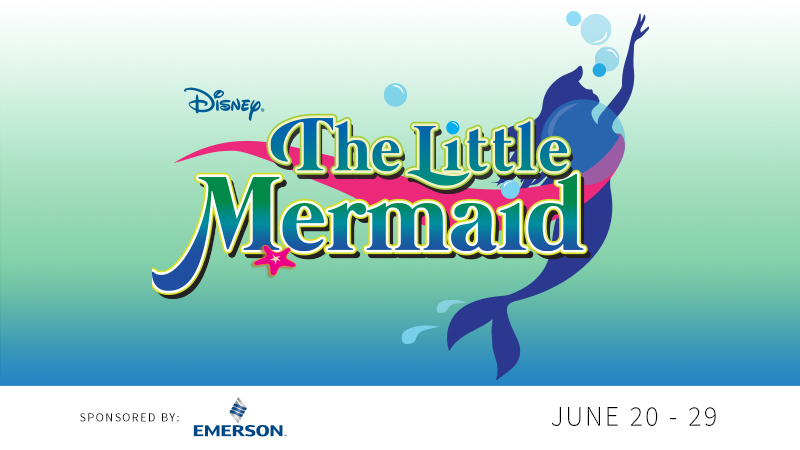 This talented ensemble includes Jordan Beall, Stephanie Bissonnette, Joseph Fierberg, Emma Gassett, Berklea Going, Marina Kondo, Matthew Aaron Liotine, Alex Miller, Halle Morse, Kenneth Michael Murray, JJ Niemann, Commodore Primous, Scarlett Walker and Brion Watson. The company will also be joined by the Muny kid and teen youth ensembles. They join the previously announced Emma Degerstedt (Ariel), Jason Gotay (Prince Eric), Emily Skinner (Ursula), Jerry Dixon (King Triton), James T. Lane (Sebastian), Jeffrey Schecter (Scuttle), Richard B. Watson (Grimsby), Spencer Jones (Flounder), Kevin Zak (Flotsam), Will Porter (Jetsam).
An outstanding design team leads this production with scenic design by Michael Schweikardt, costume design by Robin L. McGee, lighting design by Nathan W. Scheuer, sound design by John Shivers and David Patridge, video design by Matthew Young, wig design by John Metzner, with production stage manager Larry Smiglewski.
As previously announced, direction is by Marcia Milgrom Dodge, with choreography by Josh Walden and music direction by Charlie Alterman.
---
Set in a magical kingdom beneath the sea, Disney's smash-hit The Little Mermaid tells the tale of headstrong Princess Ariel and her dreams of the world up above. Defying her father, she risks gadgets and gizmos aplenty to chase her dreams no matter the consequences. Featuring splashy sidekicks, a villainous sea witch and a romance as deep as the ocean, this Muny aquatic adventure will leave the entire family happy as a clam.
Season tickets are now available. Single tickets will be available beginning May 8.
The seven shows in the 2017 Muny season are: Jesus Christ Superstar (June 12-18), Disney's The Little Mermaid (June 20-29), A Funny Thing Happened on the Way to the Forum (July 5-11), All Shook Up (July 13-19), The Unsinkable Molly Brown (July 21-27), A Chorus Line (July 29-August 4), and Newsies (August 7-13).
World Wide Technology (WWT) and The Steward Family Foundation have once again made a leadership gift to continue as the Muny's 2017 Season Presenting Sponsor. They became the first overall season sponsor in the history of The Muny in 2014 and will continue in that role through 2017.
The Muny's mission is to enrich lives by producing exceptional musical theatre, accessible to all, while continuing its remarkable tradition in Forest Park. As the nation's largest outdoor musical theatre, we produce seven world-class musicals each year and welcome over 350,000 theatregoers over our nine-week season. Now celebrating 99 seasons in St. Louis, The Muny remains one of the premier institutions in musical theatre. For more information about The Muny, visit muny.org.
Categories: 2017 Shows, Muny News